Genesis. Zero. One. Apollo's arrow loosed into the unknowable void. The missile of time will never cease, the spearhead sallies forth, dragging reality in its wake, creating the physical, fashioning the knowable. Time's arrow, Time's arrow is loosed, antecedent of life, progenitor of death, dictator of mechanical heart and blood. Universal pulse felt in all animate/inert. absolute tyrant Absolute dominant. A God of Infinite veracity
We're proud and excited today to bring you the full album stream from the highly anticipated new SPIRE LP "Temple Of Khronos", officially releasing tomorrow February 19 2021 via Sentient Ruin on LP, CD, tape, and digital formats. Press play on the player below and strap your self in for one hell of a wild ride because what you are about to witness is one of the most cinematic and imaginative metal albums of the year – not just a listening experience but an authentic voyage full of plot twists and unexpected events deep inside your own imagination, consciousness, and self:


SPIRE is, or was, a great atmospheric black metal band whose past pinnacle was the 2016 debut LP "Entropy", a masterful work of "doomed" mid-tempo ambient black metal that bridged various interpretations of the genre, ranging from Hate Forest to Craft, to Walknut to even more droney and abstract black metal in the vein of Urfaust, Darkspace or Ruins of Beverast. Fast forward six years, and not much of that is left, if not, the distant fading echo of black metal weeping in the dust of a future that is millennia ahead of it and us, as its soul is eradicated from our plane of existence and catapulted far into a future unknown where it will live again incarnated into something new, unseen, unknowable… Gone is the standardization and every recognizable cliche' the genre demands to be credible and recognizable, replaced by a futuristic and awe-inducing cinematic kaleidoscope of sound that surrounds you and makes your imagination spin out of control like the score to a sci-fi movie that has never, and probably will never exist, but which you can almost see, deep inside your mind. Gone is the familiar black metal "haze" of purposely foggy production that clouds the senses, welcomed instead is a new and unseen clarity that pierces the mind and splits it open like… an arrow, loosed into the unknowable void….

One thing that stands out about "Temple Of Khronos" is this humongous and immense evocative force that it holds and which, aptly, makes it so cinematic, full of shapeshifting aural images and fearless storytelling. The album is almost like a portal that connects the listener to this world the band has envisioned, of a future that lies beyond anything we've ever known or imagined this far, woven, and patiently constructed by the one god and tyrant our existence will ever know: time. Lyrics blending greek mythos with futuristic, philosophical, and scientific concepts revolving around the concepts of time and the physics of destiny, unavoidability, and precognition are conjoined with an immense architecture of sound that takes the concept of "prog" to an extravagant new height. A telluric earth-shaking rhythm section designs the energy pulse that thrusts the album into our psyche, making our imagination explode, while waves, pillars, storms, and cyclones of basses and guitars coalesce into an unstoppable maelstrom, tracing the immense path the of album's concept of unavoidability and ultimate unknowable destiny.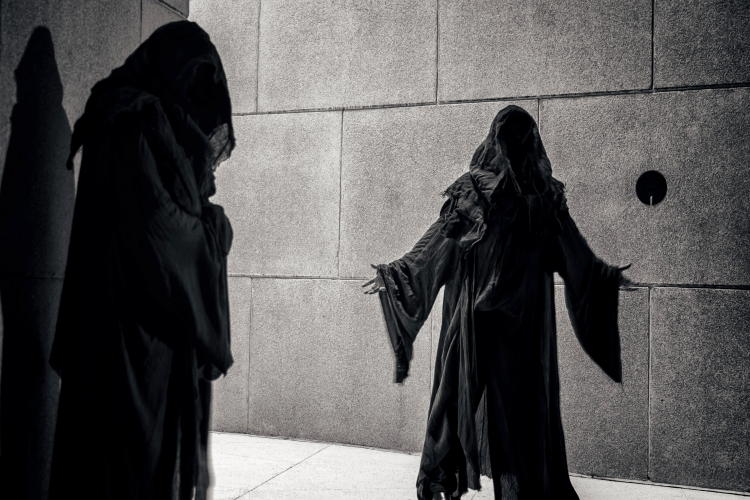 And last but not least… how to not mention the "temple's choir'? Something about the album's vocals might be the turning point that defines the albums force as one of the most powerful sonic hallucinogens you will come across this year. Cascading and layered vocals ranging from hypnotic mantras, to solemn proclamations and harrowing howls are emanated like a ceremony from an otherworldly choir, as time and philosophical spells are ritualized to form a sonic liturgy unto time, destiny and existence itself, as reality melts away, perception distorts, matter dissolves, and consciousness expands unto infinitum….

While SPIRE's conceptual meanderings at this sonic horizon where the edges spirituality, philosophy, consciousness and imagination meet into the unknown may seem alien and overwhelming, they key is not attempting to follow but letting one self go, surrendering to where the album wants to go, and will take you if you let it. It will take you far far away, both from "here", and from "now", into all that may become. As for the present, one of the greatest underground metal albums of 2021 is here.

Find it in all formats from Sentient Ruin HERE or HERE. Aussie customers or rabid collectors can find even more from Brilliant Emperor, or the Band.