The True Meaning of Freedom…
Sadgiqacea // Hivelords Tour Diary Part II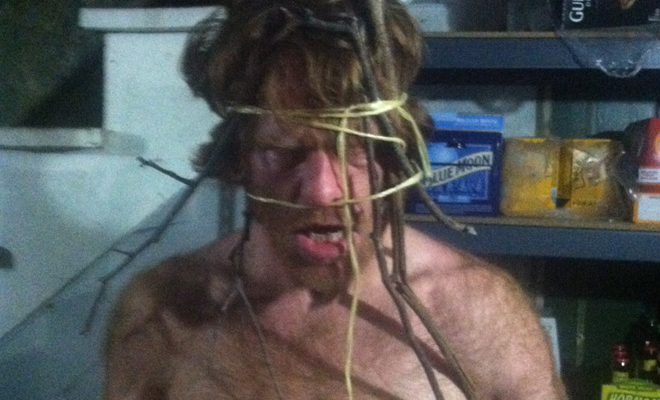 Read PART I here!
Text: Will // Hivelords
We drove to Port Huron to play the Schwonk Sound Stead. Ajax Stormwood from under your house and Ardent Vein performed mystic outlaw blues lullabies that utilized an assortment of house instruments. We crushed a living room and confused a few fools who had some inquisitive complements. Two 22 gauge icings occurred. Feeling too big for your britches? Man down with a Manischewitz Ice.
Covington Kentucky/Cincinatti was a flower trip. After a killer show at 3 Kings, we ruminated on the true meaning of freedom literally all night. Perfect build up to the best 4th of July parade/party we've seen yet. All of the hippies, freaks, weirdos, stoners, bikers, jocks, unicyclists, political nerds all came together for a trippy day of freedom-loving. Then it was time to live the freedom in Indianapolis. We're used to strange times there by now. Will of the Hive couldn't handle all of the freedom, went completely insane, and chewed through a can of ravioli. The venue was an old school turned athletic club with basement bar. They have a top notch locker room and communal shower that we capitalized on in the name of freedom. SADGIQACEA played an exclusive set with belly dancing accompaniment. One of the bands wore matching nicknamed fitted hats and played their set twice. Freedom has a price. We had the rare pleasure of crashing in the van and trailer this night, heightening the glory that is Chicago the next day.
Neverender greeted us with beers, brats, little pups and warming talks of the Bulls' former glories. We Jar'd a killer show Loose from the Cobra Lounge and in the morning cranked the baller talk to eleven, squadded up, and went hard in the paint in Dylan's backyard while listening to smooth yacht rock.
Madison got off to a shady start due to a notoriously cancerous local whom we had the misfortune of having to personally bounce from the show. Seal Team Recess & Regulate courageously leapt into action when danger became apparent. A gaggle of amiable freight train freedom riders showed up and saved the show with their attendance and gave us some whiskey, fungus, and other assorted transient hospitalities. Ajax crowd surfed on a BMX. We brooded with unwelcoming Chads, were hustled the fuck out at musclebound dawn, and rambled on our way.
Franks Powerplant in Milwaukee, Wisconsin was a mad hatting success. Jason of Subjugation treated us to a most healthy dosing of Northless, we made some new friends in Asatta and Celascean, and were treated to tacos and bottomless Old Milwaukee. The night was capped off with lots of Nic Cage sympathizing in Wild at Heart.
Heavy news on waking: HIVELORDS lost a drummer. Doesn't matter, there's another in-band and a sound guy Millen who knows the songs better than anyone on guitar. The Stank in Wausau helped out in a big way by allowing a quick practice with the new lineup before the show. Refuse to miss a step, and Poney is your new favorite band. Capped the night with a Troll 2 drinking game for all the teens. Drink when: unnatural green is seen, Grandpa or Nilbog is said. Wake up from a cold sweat and turn off the TV. Brad cleaned out our rancid cooler in the morning and then we lit the tires once again.
Minneapolis house show was damn killer, none triller, Aziza sizzled and doomed the best inaugural set seen yet; Morality Crisis caused existential dilemmas. A most valued and loved homie let us learn the lap of luxury with pulled pork and Castle Freak. Reluctantly relinquishing the pleasures of AC, we ramble on and are here, now, driving, in the back of the van at the halfway point in our tour.
Sadgiqacea / Hivelords Tour REMAINING DATES
Wednesday, July 16, 2014 – Nashville TN – THE SPRING WATER
Thursday, July 17, 2014 – Atlanta GA – 529 ROOM
Friday, July 18, 2014 – Knoxville TN – THE POISON LAWN
Saturday, July 19, 2014 – Asheville NC – THE ODDITORIUM
Sunday, July 20, 2014 – Charlotte NC – THE MILESTONE
Monday, July 21, 2014 – Wilmington NC – REGGIE'S 42ND STREET BAR
Tuesday, July 22, 2014 – Richmond VA
Wednesday, July 23, 2014 – Washington DC
Thursday, July 24, 2014 – Baltimore MD
Friday, July 25, 2014 – New Brunswick NJ
Saturday, July 26, 2014 – Brooklyn NY – THE ACHERON
Wednesday July 30th, 2014 – Philadelphia PA – JR'S BAR
Enjoy this post? Donate to CVLT Nation to help keep us going!