The Bleak World of Cold Showers "Matter of Choice"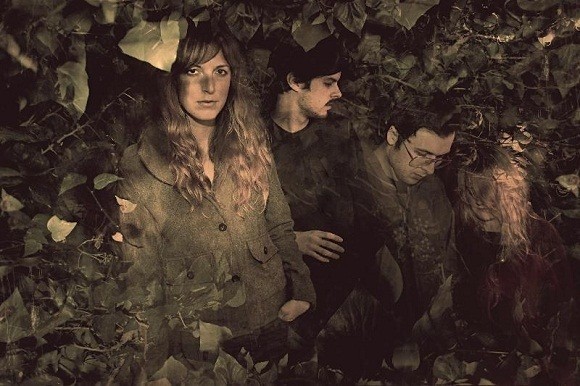 To get post-punk right in 2015, you need the right blend of cynical indifference to go with a personality that sets you apart from your peers. Hailing from California, Cold Showers continues their five year journey into the dark and smokey corners of the night and further polish their dark, dream-like sound. If you want a Joy Division tribute band, go cruise your local hipster bar and they will show up sooner or later – and I already own Siouxsie's entire discography, so good on impersonators of Ms. Sioux. This bands pulls from a wider range of influences; guitars are often not the focal point of the songs, but just another color added. Guitars offset the synths, giving the intensity of post-punk a cloud of smoke from black lipstick-stained clove cigarettes. Synths fill up most of the space, but these guys never come across as just button-pushers. In the odd purgatory of not being overly dramatic enough for dark-wave, the danceable underbelly of the songs takes most of the punk out of the equation. Cold and detached, they drone on with the downtrodden as they explore the frailties of human interaction. This exploration is narrated in a very deadpan baritone. By the third song, you will agree that this album is best listened to with sunglasses on at night.
From the echo of the guitar's western re-verb on "Crowds," to the nostalgic flare of the 80s that is "Heaven Can Wait," they indulge in the past without coming across as blatantly retro. They hide their sharply-written hooks in the darkness, and it keeps you returning to the songs. If you want to say they have pop tendencies, than it is done in an even more obtuse fashion than pre-MTV The Cure. If these guys ever cross over into a more mainstream indie rock audience, then it's happening on their own terms, as they have no radio aspirations to pander to. Lyrically, their subject matter remains on the dark side of sex, drugs and rock 'n roll. The topics are not from a decadent, "we came here to party" place, but as self-medication to deal with the oppressive world around them. On the bass-driven "Undone," the singer declares that he is never coming down – an anthem for kids everywhere who find themselves peeling their noses off mirrors as the sun rises. The"redux" of the song "Crowds" is not a re-mix, but approaches the song from another direction, with saxophone haunting the dense shadows this song now casts. If David Lynch needs to cast a band for another seedy bar scene when he re-visits Twin Peaks next year, then this band should fit the bill. Each spin of this album, draws you in further to its addictive throb. If you are a fan of dark indie rock or dark wave ranging from Interpol to Night Sins to War On Drugs, this should scratch your itch for for dark grooves with an attitude.
Enjoy this post? Donate to CVLT Nation to help keep us going!