Hailing from Louisville, Kentucky, FOTOCRIME's Ryan Michael Patterson has over two decades of experience in writing and performing in punk and post-punk bands, with his previous project Coliseum steadily bridging those genres over its twelve-year run. Patterson takes this sound even further with FOTOCRIME, a very introspective and emotionally intelligent project that recently signed to Profound Lore Records, and is touring in support of its new album "HEART OF CRIME". They've also just released a video for the track, "Politi Policia Polize" which you can check out below.
Patterson was kind enough to give some thoughtful responses to our questions during a break in his touring.
Cvlt Nation: You've finished the first leg of your first headlining tour with the FOTOCRIME project; what are some things you've learned? 
Ryan: I've been touring actively in bands since the late 1990s, almost always on a relatively small budget and with a small group of people. Through that time I suppose I've learned a lot about touring, I've certainly experienced a lot. Up to a certain point it's just drive / load-in / play / sleep / repeat so there's no particular science behind it other than treating people the way you'd like to be treated, being efficient, economical, honest, getting enough rest and the right food, being safe and smart. I know how to enjoy it and how to manage the parts that I don't enjoy.
I've noticed a couple of lineup changes over FOTOCRIME's existence. What made you choose your current bandmates?
A huge part of enjoying traveling and touring is the people with whom you are traveling and touring. It all centers around the show, so the performing and playing need to be great, but there are 23 other hours in a day that you're with these people and that needs to be pleasant too. So, I bring along people I love and respect, people who are close friends or trusted parts of my music community, and who can give up life at home for a bit to join me on these crazy adventures.
Nick Thieneman is one of my closest friends and longest musical collaborators and has been the guitarist for nearly all of Fotocrime's shows in North America. Will Allard is another good friend that I've worked with quite often and recently played bass live. Shelley Anderson was the first Fotocrime bass player and will be joining us for a run of shows soon. Erik Denno is another friend who played guitar on the first two European tours. All four of them have played on Fotocrime recordings and I consider all of them part of the family of the band. I toured solo in 2019, but after the pandemic began I realized that I really wanted to share traveling and playing music with other people again.
FOTOCRIME is now half the age of your previous project, Coliseum. While a couple of years of that were during the pandemic which limited your ability for touring, how are you settling into this new project, style, and sound? Do you feel like you've shaken the "the new project from the guy from Coliseum" tagline? Is this now your musical identity?
I took a year-plus after Coliseum ended to focus on writing the first Fotocrime single and album, 'Always Hell' and 'Principle of Pain', and to find my perspective and voice in a way that was different from what I'd done before while still retaining my personality. I think I was relatively successful at that and each release since then has dug deeper or explored different avenues along that same route. For fans of both bands and of my music/art in general I think the through-line is very clear.
That said, I suppose I did want to shed a bit of my previous sense of self in the early days of Fotocrime, having credited myself with an alias or just an initial is a pretty clear indication of that, and with 'Heart of Crime' I returned to crediting myself under my full name. My attempt is to always have the music I'm making at any given time be the purest distillation of who I am at that moment, then once that song or moment is over it hopefully represents me at that time. The music I made in the past was as much 'me' as I could accomplish at that time and hopefully, the music I'm making now or in the future will be even more directly me.
When developing tracks, do you consider how they will be performed live? Do you ever restrain yourself from adding too much electronic production or instrumentation?
That does come to mind but I generally try to suppress it because I don't want the concern about playing a song live to affect how I write or produce that song. Recorded albums and live performances are very different experiences on every level and I try to keep that in mind. There are songs I love that I've recorded that I'll never play live and in some ways that keeps them pure for me on a listening level. I also enjoy the challenge of creating an arrangement for a song that's different from the recorded version. I did not consider how 'Heart of Crime' would be played live and I think the album is better in some ways because of that.
Listening to some of your earliest work, like [the bands] Black Widows and Automatic, with their raw, intense sound and short track length, made me wonder: what would the late 90s / early 2000s era Ryan Patterson think of FOTOCRIME-era Ryan Patterson's music? 
I'm still very connected to that music and to the punk/hardcore I love, so I do see it as being part of the same mission and journey that I am on currently. Fotocrime songs are fairly short and to the point and I see Fotocrime as a punk band. I don't generally like long songs and I don't like meandering or self-indulgent playing. I can't really guess what a younger version of me would think of me or the music I'm making now. I can't say I really care about that past person's opinion or that I spend much time contemplating my own past. I'm always focused on the now and the future.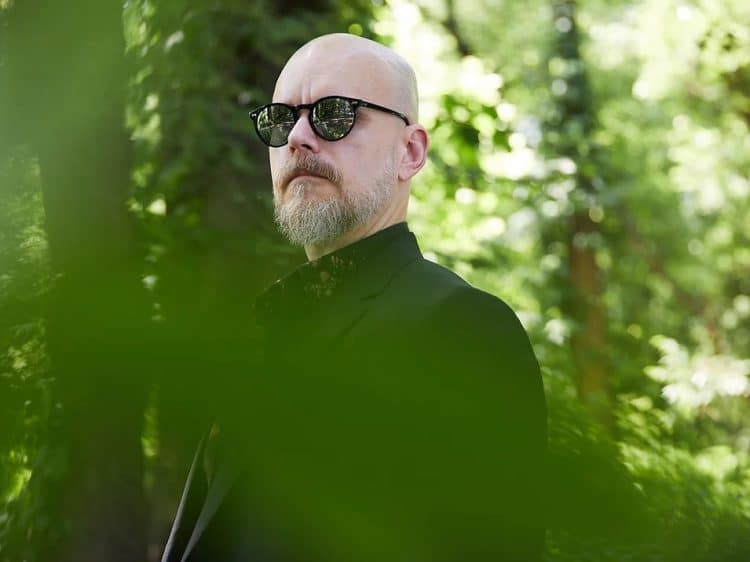 It seems like your vocal style has evolved over the course of the project — the debut single Always Hell, in my opinion, has a more punk delivery whereas the most recent tracks like So So Low have what I would say is a more identifiably post-punk style. Has this change been a conscious one? Are you satisfied with where your style and tone are at?
When I started Fotocrime, one of my goals was to find a vocal approach that felt more comfortable than what I had done in the past. I wanted to embrace my natural voice, which is rather deep and naturally baritone. From there I'm always trying to grow, learn, develop, challenge myself… This is my approach with all of my art and abilities, I don't try to repeat myself and I always want to get better or do something new that is exciting for me. I can't say there's been a conscious vocal change throughout Fotocrime's catalog, I attempt to approach each song individually and I have generally been happier with my singing in Fotocrime than in anything else I've done.
Is the FOTOCRIME image/aesthetic/storyteller of the songs a persona, or is it Ryan Patterson? The songs seem less broad and more focused on the singer or single person's perspective on Heart of Crime. Has sharing in this way been a challenge? Do you ever find yourself wanting to cover topics that might not fit within the kind of themes established around the project?
As I mentioned earlier, Fotocrime is very directly me. At the same time, there is an element of persona, elements of character and theatricality. I find that I feel more comfortable on a personal level having some distance in this way, both in image and content. Some songs are personal, some are narrative, some are satire, some are fantasy. I suppose each song has a blend of all those elements as well. I'm very conscious of being comfortable with what I share with others, I'm very open with the people that I'm close to in my personal life but try to know where the boundaries are elsewhere. That can be a challenge, as my default mode is being open and earnest. In terms of the subjects of the lyrics I write, I feel total freedom in that regard and truly love writing lyrics and singing. It's one of the great joys of my life.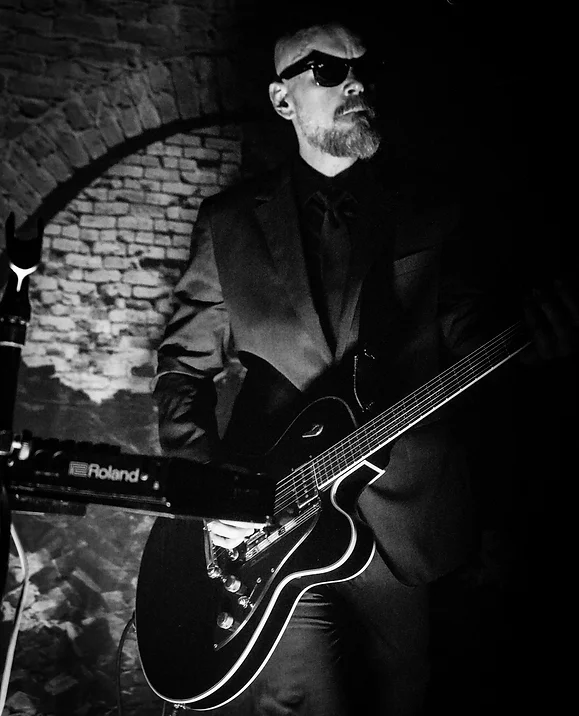 How did you know [new album] Heart of Crime was "finished" in terms of its length and the tracks included on it? Was there a sort of balance or symmetry you looked for in the order of the tracks and the sounds they have? And what about tracks that drift away from being sonically similar enough?
My feeling is that if it's a song I've written and I'm singing it, then it's a Fotocrime song. I have freedom to do whatever I want, obviously, so I make the songs I want to hear and don't worry much about whether they fit into a genre-specified category. I always try to give each song its own personality and sound, rather than attempting to do the same things over and over again. In terms of album length, I think ten songs is best… But I did squeeze eleven onto 'Heart of Crime'. When an album has too many songs they start to get lost. I always write and record more material than is needed, then pick my favorite songs. The balance is tricky. I'm not sure how many people listen to music in the album format anymore, but the cinematic nature of the album, the narrative, and the flow is very important to me.
Can you tell me the process you run through developing a FOTOCRIME track? Do you start with the melody, lyrics, thematic concepts…? Particularly, I'm interested in the stories behind the stripped-down "Politi Policia Polizei", "Crystal Caves" with its female vocal accompaniment and almost serene mood, and sonically dense "Inferno Rebels".
I usually start with an element of the music and build the song around that, whether it's a guitar line, bass idea, or rhythmic idea. I often start with programming a beat and synth sequence, I record bits of music then return to them later to see if I feel like developing them into songs. Lyrically I take a lot of notes, jot down ideas and phrases, lines or just words. It may be something I [want] to use or something that I find interesting or inspiring and want to revisit or research.
"Politi…" was the last song written for 'Heart of Crime' and was somewhat inspired by both Joe Jackson and Grauzone. Joe Jackson's "Steppin' Out" is a song I've known since it was released when I was a small child. My parents had the 7" single and it's a song that's always had a place in my heart. At its core it's a minimal synth song. I believe that song uses a Korg Rhythm 55 drum machine and I used the very similar Kory Rhythm 55B on "Politi…", along with a Moog, a 70s Korg preset synth, a bass VI, and saxophone through a tape delay. Lyrically the song is intended to be a bit of trolling cops and the police state. I don't like on-the-nose-of-the-moment lyrics and felt that I couldn't begin to sum up or approach the events of last year in a song with any nuance in regards to the state of racist policing in America and around the world. So I thought of the Exploited song "Cop Cars" and how everywhere we go in the world we're always hearing police sirens in cities. I picture the Keystone Cops fumbling through the city when I listen to "Politi…".
"Crystal Caves" was inspired by amateur cave explorer Floyd Collins who was trapped in his Crystal Cave during the 'Cave Wars' for roadside tourist attractions in Kentucky in the 1920s. The attempts and ultimate failure to rescue him became a media sensation and a part of local folklore, inspiring movies and songs by Billy Wilder, John Prine, and others over the past century. Building on this story from my home state's history, I explored my own fears of emotional and physical claustrophobia, as well as the brutal power of nature. The music dictated the vibe and subject of the song, it felt cold and subterranean. I imagined myself trapped underground as I recorded the vocals. My friend Janet Morgan sang the backing vocals, representing the character that the narrator of the song is calling out to for help.
"Inferno Rebels" is about a lot of things, there are a lot of ideas thrown in there in an almost "Subterranean Homesick Blues" way. In a basic way it's about post-apocalyptic punks. There's a little bit of Can and JAMC in the musical DNA, although when we play it live it makes me think of Nuggets-style garage punk. I wanted something dirtier than I had done before, fuzz-bass driven with really simplistic drums and spacey, surfy guitar. Maybe if Eddie Cochran had a drum machine he would've written a song like "Inferno Rebels."
Do you have a favorite track on the album?
Currently "So So Low" is my favorite song I've ever made. That will certainly change whenever I get to writing my next album.
Your latest release is on Profound Lore. How did this come about? Who approached who? Has offloading certain tasks to a label allowed you to focus more on the creative process?
I reached out to Profound Lore on the recommendation of a few friends. It's a really great, iconoclastic label and I'm very thankful to be working with them. Certainly working with labels relieves some financial and logistical burdens. It's nice to feel like you have people on your side and working to get your music heard. I've been incredibly fortunate to work with a lot of absolutely amazing labels in my life and Profound Lore definitely stands tall among them.