Any list of the world's best guitarists is likely to include Tony Iommi, Jerry Garcia, and Django Reinhardt among the legends whose legacies are totally secure, whose playing impacted nearly every guitarist in their genre for generations to follow. Besides being arguably in the top five of their respective genres, the three immortal guitarists also share the trait of permanent injury to one of their hands. While Garcia was only four when his brother chopped his finger off in a wood-chopping accident, Iommi and Reinhardt were 17- and 18-year-old guitarists, respectively, when they received their injuries, and they were each faced with the potential end of a musical life that had seemingly just begun. Thankfully for the world of music, all three artists managed to transcend their limitations, practicing in spite of any medical prognosis that said they would never play guitar again. Necessity is the mother of invention, as the proverb goes, and the necessary inventiveness these musicians employed–along with a healthy dose of stubbornness and determination–allowed them to play in ways no one had done before, in ways many have tried to emulate since.
In 2014, Takafumi Matsubara was the VIP guitarist of grind in Japan, playing in bands that are still largely unrivaled such as Corrupted, Mortalized, and Gridlink. Gridlink had released the critically acclaimed, genre-shattering Longhena just months before. It would have been a time for touring and celebrating, for making future plans. However, the cosmos don't care about human plans.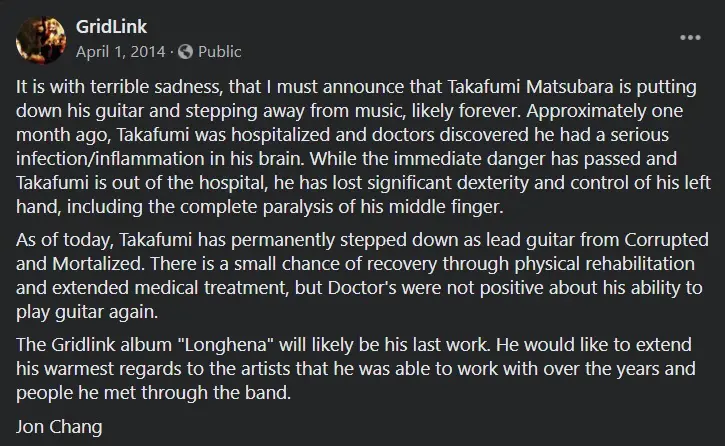 In discussing his newest release with his project Retortion Terror, Matsubara-san was kind enough to share some thoughts about that time in his life.
"After I suffered from brain infarction, I could not play the guitar. Because some of my fingers didn't work. But I started Retortion Terror with Nicholas. I used one finger for song writing. Thanks to the rehabilitation and practice, my fingers become better. But only my middle finger has not had feelings yet. That made my playing and song writing change so much. Nicholas didn't have career as a drummer, so I need to write easy songs. But his passion and ability was so great. He tried various songs. His growth and my recovery were done simultaneously.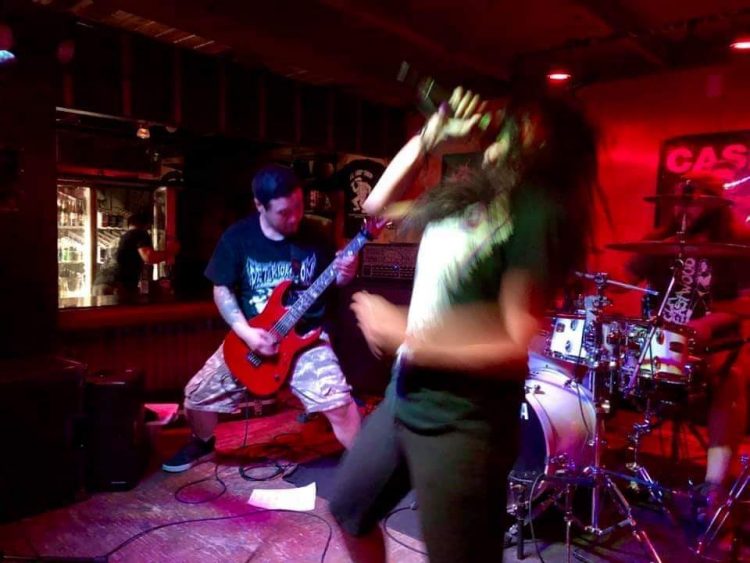 "At the same time, I had prepared for my solo album. And the experience that I wrote songs for someone gave me much changes. I listened to their playing so much and thought of the way to match with riffs.
"A few years ago, Nicholas left the band because of personal problems. Retortion Terror had some schedule to do live shows and recording. So I asked some friends to help me. They said yes. So I started to play with the musicians who help me. I'm the happiest guitarist in the world. My best friends and favorite musicians always give me great with playing and lyrics."
That solo album was to become 2019's Strange, Beautiful, and Fast, an irrefutable masterpiece of modern grind. Following an EP and two splits with Retortion Terror, as well as some features with Palm and Holy Grinder, Takafumi Matsubara's first solo album was the long-awaited confirmation that he was a guitarist reborn. Like a new sunrise after a long, cold night, Matsubara had arisen with a new and different power. The album, one of 2019's best releases by any measure, was highly collaborative in terms of writing and performing, drawing on the talents of members of Full of Hell, Wormrot, Cognizant, P.L.F., Kill The Client, Maruta, and Chepang, and it celebrated the life of friend and collaborator Hee-Chung, who passed away in 2015. In 2020, Matsubara-san contributed significantly to the equally genius and equally collaborative Chepang release Chatta, which Cvlt Nation reviewed here, and whose "immingrindcore" traversed the globe with worldwide talents, dissolving borders of nation and genre.
Allowing no physical ailment to sway him from his creative drive, Matsubara has continued to build on the collaborative spirit that created Strange, Beautiful, and Fast. "Yes. This is destiny. I must fight with it. I always think.. if my middle finger works well, I can play better. But this is my life and ability. What I can do is only to give up and fight and practice. Recently I noticed, I can't play well. But the members can play well. That makes the song stronger. Do you know the word " 他力本願"?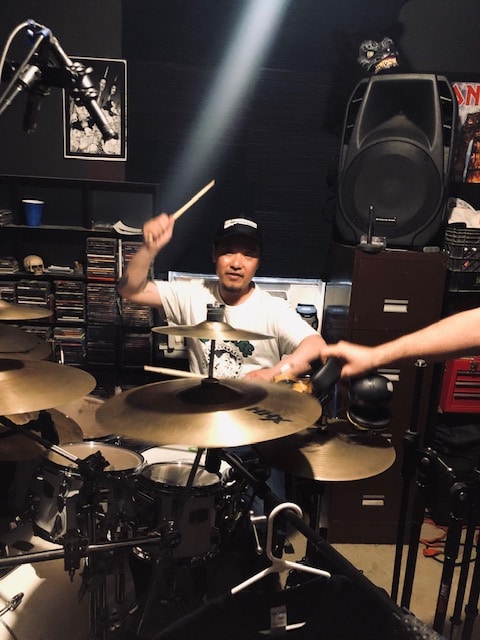 The Japanese transliterates, more or less, to "tarikihongan." Part invocation of Amida Buddha, the phrase informally means ""using the help of others to reach your goal," which captures the "stone's soup" approach that has characterized Matsubara-san's post-infarction releases, where he invites his creative neighbors and friends to contribute what they have, what they're best at, and to add it to the musical cauldron. One of his most notable projects, and one that may well be his most prolific by year's end, is Retortion Terror, whose gallery of contributing talents continues to grow with each release.
On Kizuna, Retortion Terror's upcoming split with Texas grind unit Daggra, Matsubara-san enlists two of his split-mates, Daggra's JD De La Rosa and Ryoko Minowa, for drum and vocal duties, respectively, while Matsubara executes guitar and bass with a prowess few could ever hope to manage.
For its side of the split, Daggra carries on the legacy of fellow Texan grinders Insect Warfare, Kill The Client, and P.L.F. while incorporating influences from Discordance Axis, Wormrot, Napalm Death, Fuck The Facts, Nasum, Rotten Sound, and Gridlink in five genre-exploding head-punchers that are so white-hot they peel the paint from the walls.
In a move that makes Kizuna, released through Memphis grind label Wise Grinds, one of the rare splits that could be sold as a full-length, the Retortion Terror side feels like a logical progression from the Daggra side in a larger musical arc. While Daggra are terrorizing machinery, Retortion Terror is transcending and expansive, like looking skyward as the technology of the world combusts around you and you look to new planets to inhabit.
A possible consequence of his necessary reinvention, Matsubara has added more sustained notes to his grinding toolbox. With as much edge and riffing mastery as ever, his exploration of the fingerboard, particularly with regard to held notes as a backdrop for his feverish and harmonic shredding, creates a symphonic effect. Incorporating more melody than most grind bands would dare to do, Retortion Terror defies convention and expectation to allow for full creative endeavor.
While some of Matsubara's favorite bands and musicians–such as Candlemass, Mercyful Fate, and Voivod–are more readily apparent, its possible that some of the melodicism of other favorites he cites, like Living Colour, Eddie Hazel, Michael Hampton, and Ian Carr might trickle into the songwriting, for these five songs are unbeholden to genre, integrating melodic and harmonic elements that supplement the already top-notch grind at the center. At various times sounding like grind's answer Celtic Frost or Strapping Young Lad, Retortion Terror builds on the innovation that became most explicit on Longhena, an album produced by a band whose bona fides were incontrovertible and who had license to spread their wings.
While Retortion Terror are more tuneful than your average grind outfit, they sacrifice no venom or fury. These five songs are drooling, junkyard dogs, whose raw strength and ferocity match perfectly the pulverizing Daggra side. Ryoko and JD might well be household names, as their performances on both sides are exemplary and singular. For Matsubara-san, this album is another jewel in his well-adorned crown.
Takafumi Matsubara is a guitarist who has stared down the nightmares of all guitarists. He has rebuilt himself to be better, faster, and stronger. He has reached the stage of musicianship that one normally only sees with shadowy studio and touring musicians who never receive the renown they deserve, a stage where he seems to be perpetually in a state of grateful, joyful play. His competence and excitement are a rare combination, especially considering that, even if he had retired after Longhena, he would be considered one of the best ever. Instead, he continues to expand on his own impeccable artistry. This split is some of the best work he's done.
Asked if he has any more to share, Matsubara-san answers as only the happiest guitarist in the world would:
"Tortoiseshell cats are cute."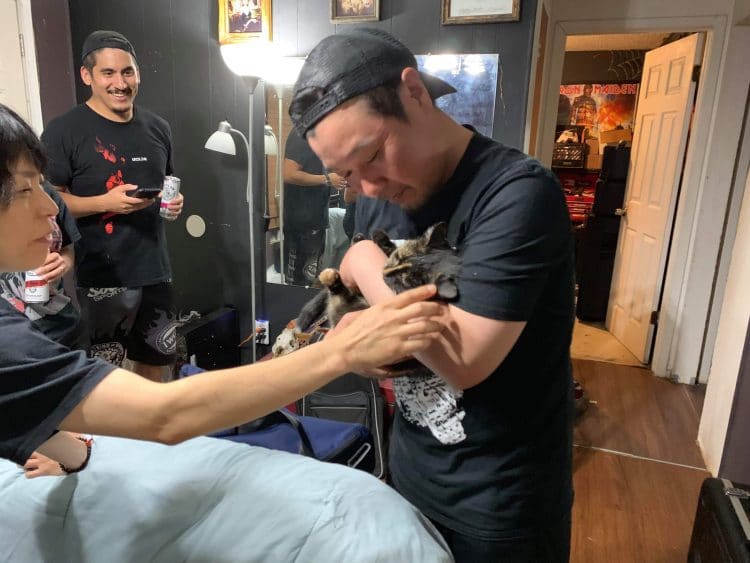 The Retortion Terror/Daggra split is available now for preorder through Wise Grinds Records.
It was recorded at RAG Studios in Osaka, Japan.
Cover art by Fred Gonzalez.