From their original home in Kathmandu, to their current home in New York City, Chepang have built a following for their approach to grindcore, and with the release of CHATTA, their second full-length, their sound is more global than ever. Incorporating talented solo artists from Bhutan, Norway, Japan, and Brazil, Chepang have expanded on the already worldwide scope of their grind.
In 2016, Chepang released Lathi Charge on Nerve Altar and Holy Goat, introducing the world to "immigrindcore," their own brand of politically charged grindcore. That release showed the influence of bands like Brutal Truth, Napalm Death, Nasum, Rotten Sound, and Discordance Axis, and the quickly developed a reputation through word of mouth due to their utilization of two drummers to handle the complex blastbeat attacks for which they've become famous. With all the band members hailing from Central Nepal, an area known for intense poverty, it is no wonder that the musicians, intimately familiar with the conflicts of wealth disparity, choose to gear their combative, two-vocalist-driven lyrics against classism and economic elitism. Unfortunately, for many young people in Nepal, immigrating is the only way to find some upward mobility socioeconomically. Chepang is speaking for them and for the similarly disenfranchised. Hence, "immigrindcore."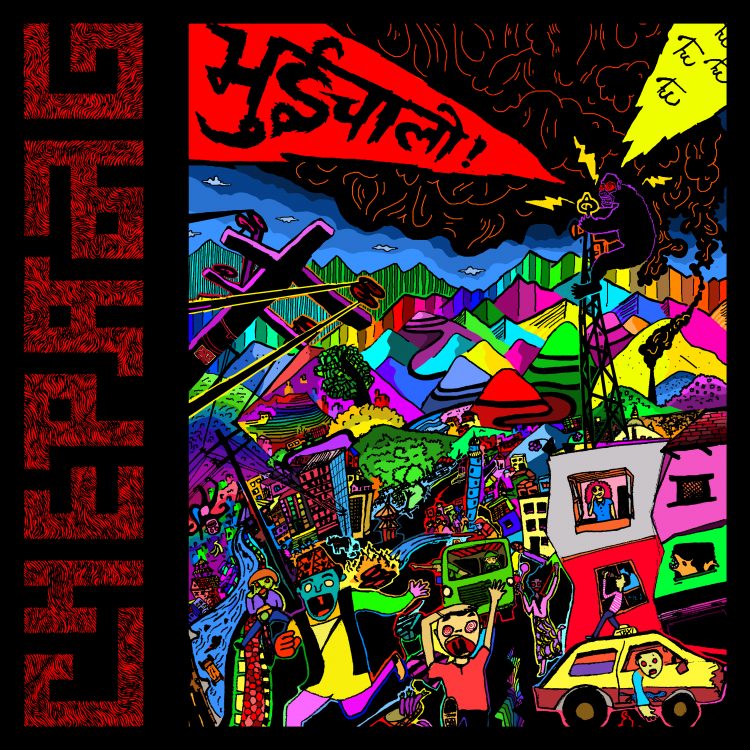 Early releases Lathi Charge, 1 Love, and especially the band's debut LP, Dadhelo, earned the band a spot alongside Full of Hell, Wormrot, Maruta, Kill the Client, and Flagitious Idiosyncrasy in the Dilapidation as one of the new generation of grindcore bands making waves. The five piece—featuring Mountain God and Bhotey Gore on vocals, Captain Bhudey a.k.a. Tone Lord on guitar, and Trisula Da Hammer and Bijuli Da Himalayan Leopard on the dual drum attack (some of these members also play in the excellent Sangharsha)—wasted no time building a following based on memorable, powerful songs that relied on excellent execution of grindcore conventions. Fast, heavy riffs; scathing screams; unyielding blastbeats: these were the hallmarks of the first three Chepang albums.
In 2018, Chepang partnered with Brazilian "nomadic of grindcore" band TEST, who is a predominately live grind band from São Paulo. This split included more tribal instrumentation, most notably in the diverse percussion instruments used throughout the release. At a time when much of a grind band's sound generally comes from their pedals, amps, and production, it was exciting to hear acoustic instruments that will be unfamiliar to many American ears. This kind of risk-taking loyalty to their roots and to their artistic vision would be brought to its extreme in Barriga de Verme, a collaborative, experimental noisecore tour-de-force including members of Brazil's TEST and Nepal's Antim Grahan as well as Aaron Nichols (of Nerve Altar and A Death Between Seasons) and Colin Marston (of Krallice, Gorguts, and Behold the Arctopus) On Chepang's Bandcamp, they said of the release: "This music is almost a metaphor for freedom from all the boundaries and disciplines we create that sometimes persuades us to not be a human. If one is truly free the happiness is automatic and the creation ensure is more clear and beautiful than anything that they created."
The lessons learned on that stylistic departure have stuck with the band for CHATTA. This new release finds Chepang combining the catchy, punishing grind of Dadhelo with the avant garde, international experimentalism of Barriga de Verme. CHATTA exhibits a band at the peak of its powers, eager to explore but fully founded it what made it an international sensation in the first place. As with Barriga de Verme, CHATTA boasts an impressive lineup of featured artists who add their various and singular talents to the grinding, artsy milieu of Chepang's most important album yet.
A member of the Gurkha Commando Blast Team—Chepang's name for their stable of insanely talented friend-artists who are featured on Barriga de Verme and CHATTA—Metta Rasmussen opens this album on the track "Pahilo Bhet" with her shrieking saxophone, giving certain listeners flashbacks to John Zorn's Naked City. Her Zorn-esque playing would have most listeners putting her on an album with Matana Roberts or Colin Stetson, but the other-worldly wailing of her woodwind is the perfect way to open Chepang's second LP. Captain Bhudey's guitar joins the beautiful cacophony shortly. Despite Chepang's having two singers, Bhudey's expressive playing really establishes his guitar as its own voice. And voices this album has. Among the many talented artists on this album are the brilliant acoustic guitar experimentalist Tashi Dorji (who joins Rasmussen on several tracks and who built a larger Western audience with a recent tour with Sumac), the legendary Takafumi Matsubara (Gridlink, Formless Master), and, aptly named, "The Himalayan Halen," Diwas Gurung (Ayurveda). Members of TEST and Deafkids also contributed to some of the album's remixes. Although stacked rosters like this can sometimes create a "too many cooks in the kitchen" situation, the chemistry of these artists is such that everyone's contribution enhances the others'.
The 1-2 palm-mute riff that serves as a foundation for "Pahilo Bhet," supporting the song's perfect and insectoid shredding, becomes a recurring motif, vertebrae in the spine of the album, its chug-chug reappearing in several tracks as the fast fingers of Captain Bhudey, Matsubara, Gurung, and Dorji fly.
Where Barriga de Verme explored ambience, noise, avant garde jazz, and acoustic folk, CHATTA is grounded in grind. That said, these grindcore songs are stylistically all over the map. "Andho Manis" initial riff is nauseatingly bendy. Rasmussen and Dorji's contributions make the breakdown in "Bhramit" totally unexpected and inspiring. "Hantakari" is reminiscent of Man is the Bastard in its brevity and fury. "Pakhandi" is a boot-stomping knuckle-dragger with a sinking-ship breakdown. Gurung's deft soloing in "Sano Dhukur" and "Kalilo" contributes an early-metal melodic flavor to complement Bhudey's dissonant chord-work. The malfunctioning-machinery rhythm and crowd-vocals on "Samajik Suchana" make the song feel like unpaid laborers demolishing their own factory. "Murkha" is old-school hardcore meets grindcore meets . . . Dokken?
"Antim Bhet" is the album's apotheosis, the full realization of the potential of these many disparate artists painting on the same canvas. Featuring Rasmussen, Dorji, Matsubara, and Gurung, this is fully experimental jazz, fully doom-death, fully grind, fully noise. It is a magically summoned wall of arms, each individually reaching for your attention while collectively tearing you to pieces. This song is what grindcore is about. It is about breaking boundaries, breaking convention, and breaking eardrums.
Following "Antim Bhet" would be difficult, but Chepang follows up its powerful chaos with an improvisation focusing on Rasmussen's and Dorji's gifts, and its understated expressionism is the perfect denouement for an album that's already given grind fans everything they came for.
Throughout this world-tour of an album, the dueling drums of Trisula Da Hammer and Bijuli Da Himalayan Leopard never relent, creating complex beats that one drummer could never execute. Meanwhile, Mountain God's and Bhotey Gore's distinct voices channel the fist-in-the-air rage of the underserved people of the world, those whose issues have concerned Chepang from the start.
Chepang's CHATTA is a shakeup that grindcore might very well need. Instead of trying to be a faster Insect Warfare or a more eccentric Agoraphobic Nosebleed, Chepang have abandoned any "grinder than thou" ambitions and have, instead, embraced creative sincerity and artistic exploration. If all collaborative albums were like CHATTA, if all bands took as much joy in the process of creating the art that they wanted to make, the musical world would be better off. Chepang see no borders, creatively or geographically, and this album has the power to make others see that way too. With any luck, more bands will start following Chepang's path, by setting off on their own.
CHATTA was produced, engineered, and mastered by Colin Marston at Menegroth: The Thousand Caves.
Cover art by Srjt Bhandari, with color layout by Dib Gurung.
CHATTA is being released by Nerve Altar and Holy Goat Records.