Getting high and immersing yourself in a fantastic Netflix TV series is a blissful experience. The streaming service offers a tremendous variety of trippy shows to watch stoned.
Why not enhance the enchanting stories and wonderful visuals with beautiful buds from Seed Supreme? The euphoric effects of many cannabis strains complement the alluring aesthetics of these shows.
Start rolling and check out this list to discover six excellent Netflix series to watch stoned.
1. Black Mirror
Black Mirror is a British program, and it's among the finest Netflix has to offer in any genre. Most tokers agree it's one of the best shows when you're high. The series looks at the exponential growth of technology and society's increasing dependence on it.
Episodes are like individual movies, each providing a unique glimpse into a hypothetical future. Some offer a dramatically dark outlook, while others take a more comedic approach.
A consistent dystopian theme runs throughout each episode. The show explores various near-future outcomes of humanity's reliance on technology, from artificial intelligence to smartphones.
Black Mirror is often dark and haunting but balances moments of emotional substance and humor. The series is famous for the powerful effect it has on viewers. The sci-fi elements complement the show's palpable realism, leaving the audience speechless.
Fans frequently speak of each episode as feeling like an unforgettable lucid dream. The series is brilliantly ominous, thought-provoking, and strangely funny. Black Mirror is the top show to watch stoned if you want an intense experience.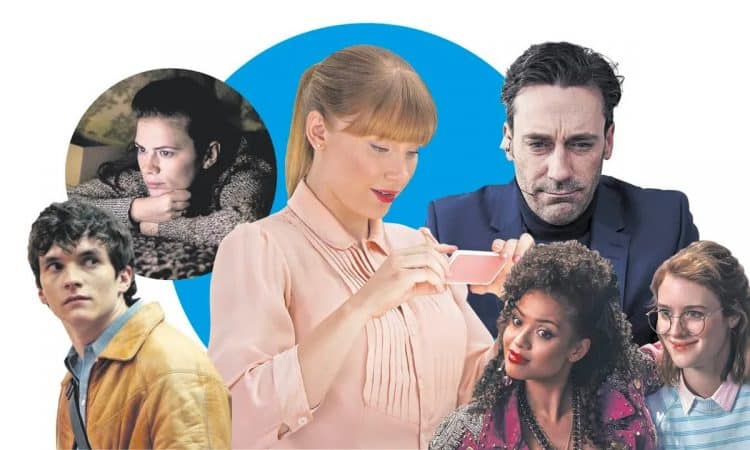 2. Rick and Morty
Rick and Morty takes the animated family sitcom formula and puts it through a four-dimensional blender. This show transcends traditional comedy with intelligence and brilliant humor.
Follow mad genius Rick and his teenage grandson Morty as they travel the multiverse seeking adventure. Various forms of cosmic chaos ensue as things rarely go smoothly.
This extraordinarily clever comedy uses authentic theories from quantum mechanics to weave masterful plots and jokes. They explore mind-bending concepts with colorful animations to create some of the best TV to watch high.
The show's loyal fanbase is enormous, and many celebrate the release of Rick and Morty season six. Followers of the series are exceptionally patient while waiting for new episodes. They understand and appreciate the time and work required to produce such quality.
Rick and Morty is a blast of hilarity, creative ingenuity, and adult-themed wackiness. You feel uncertain about whether to laugh hysterically or applaud its brilliance.
3. Dark
Dark is a German series with three seasons. The thriller is a masterpiece of writing, with stunning cinematography and brilliant acting.
Many shows try to tackle the concept of time travel, but the complex ingenuity of Dark is phenomenal.
The effects of a thought-provoking and energetic weed strain can enhance this enthralling story. Following countless plot twists requires concentration, but the payoff is worth it.

This series leaves you contemplating the nature of time on a profound level. Dark is one of many fantastic foreign language programs on Netflix and among the best TV shows to watch stoned.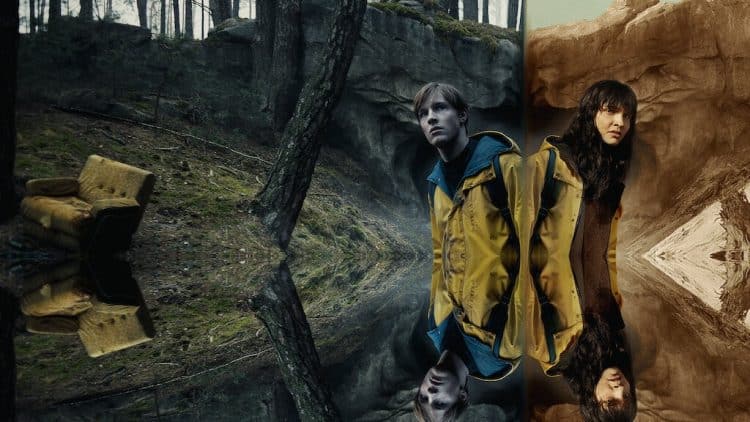 4. Love Death + Robots
Love Death + Robots is a spectacular culmination of different animation styles and plots. This adult-themed anthology series is a collection of short stories ranging from sci-fi and horror to comedy.
The show is visually stunning as it brings together world-class animators. It's not just eye candy, though. Each story is unique and triggers a variety of emotions. The episodes are short, so expect to laugh one moment and fearfully clench your seat 15 minutes later.
Love Death + Robots has three seasons, and its popularity has Netflix renewing it for a fourth. Stoners celebrate news of further episodes, as this is among the best TV shows for a high viewing experience.
5. The Midnight Gospel
If you're seeking a psychedelic television experience, The Midnight Gospel is the trippiest show on Netflix. Animator Pendelton Ward and comedian Duncan Trussel join forces to collaborate. Their work is an adult-themed animation like no other.
The Midnight Gospel defines trippy shows to watch when you're high. Each episode explores the nature of consciousness, reality, existence, and everything in between. The intense visuals, rapid pacing, and obscene yet hilarious jokes are a wild ride through captivating and beautiful chaos.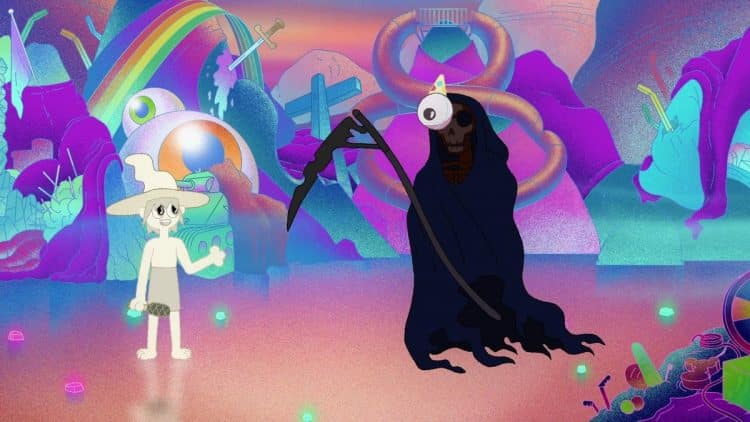 6. David Attenborough: A Life on Our Planet
The Planet Earth series is iconic among stoners for its scale and stunning imagery of nature's beauty. David Attenborough's soothing and hypnotic narrations are legendary. He's the official voice of good shows to watch when you're high.
Attenborough's latest work has a profound message that underlines the visuals. He reflects on life while considering the future, celebrating the wonders of nature while lamenting the impact of humans.
Our Planet is among the best documentaries on Netflix. It's a magnificent film that provides hope despite humanity's neglect of nature. If there's any voice people could listen to, it's that of David Attenborough.
Trippy TV is Better With Weed
Netflix has an enormous catalog of good TV shows to watch while high. The series on this list stand out as some of the trippiest.
These shows can make you feel high without weed, but watching after a few tokes is a deeper trip. Prepare for hours of Netflix entertainment while binging on brilliant TV and blazing with beautiful buds.