Deformed Babies in Jars… Museum Vrolik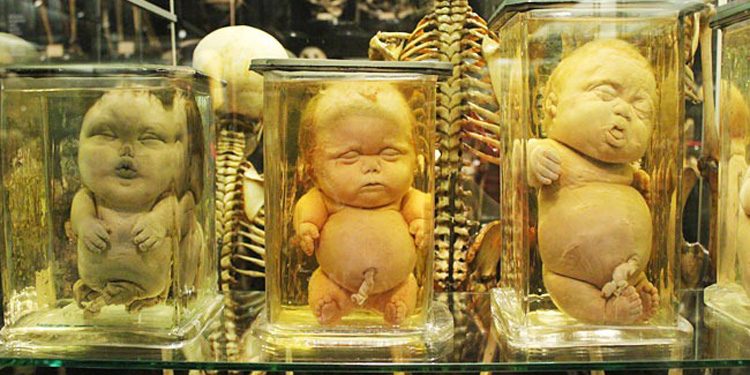 Amsterdam is one of my favorite places in the world. It's a stunning city, a laid back, beautiful population – and they have the creepiest museum in the world, the Museum Vrolik. I confess that I haven't actually been to this museum, which I am pissed about missing out on now that I know about it. It would have either made my love for Amsterdam run even deeper, or given me hideous recurring nightmares – maybe both. The Museum Vrolik started as the pathological collection of scientist, anatomist and teratologist Gerardus Vrolik, member of the esteemed scientific organization the Dutch Mathematicians (1755-1859), and it was carried on by his son Willem (1801-1863). It was bought by a group of Dutch citizens and made free to the public as the Museum Vrolik Academic Medical Center, and it houses some of the most disturbing abnormalities and deformed embryonic specimens I've had the pleasure of viewing over the past 5 years of finding weird shit for CVLT Nation. It takes a lot to shock me these days, but I think being surrounded by floating, bloated, cyclops conjoined twins would definitely freak me out. The museum has continued to collect medical specimens over the past two centuries, and it now houses more than 150 specimens of physical deformities. Here are just a few, below…next time you're at Roadburn, make a pit stop here!
Enjoy this post? Donate to CVLT Nation to help keep us going!