Drawing from some of the best grind projects ever to come out of Canada, Bleeding Out has no choice but to produce some of the most bonafide, head-denting grindcore of the decade. With members from Fuck the Facts, Pick Your Side, Column of Heaven, The Endless Blockade, Slaughter Strike, and Abyss, this band's lineup looks like someone has been playing Fantasy Football with grindcore.
Following up on an excellent demo and an equally great split with Skullshitter, released in 2018 and 2019 respectively, Bleeding Out's debut full-length will satisfy and surprise those who have been on tenterhooks, impatiently waiting for what this monstrous gang of grind geniuses could do with a longer release.
Lifelong Death Fantasy both builds upon and diverges from the two previous releases as well as on the members' other projects. Integrating black metal, death metal, Japanese hardcore, d-beat, sludge, and even some subtle jazz elements, this release is daring, eye-opening, and vast. There are no creative limits to the expressive powers of these scene- and life-hardened musical veterans. Rejecting any idea of what is or isn't "grind," this is a band who is confident enough in its powers that nothing is off the table. It is bold and brazen, vicious, and varied, and it is a great example of the genre-bending, boundary-breaking qualities that have always typified the best grind bands since before anyone became preoccupied with fitting into that particular genre box.
Bleeding Out's Dave Kristiansen was kind enough to share some thoughts about Bleeding Out and Lifelong Death Fantasy.
Each of you has dedicated years to the Toronto/Ontario music scene. What motivated you to form a group together?
More than anything, we wanted to form a band that could convey simple, powerful ideas in an interesting way propelled by absolutely superior riffs. Middle age brings with it a crystal clear distillation of one's anger and worldview, and we wanted to form a band that could equal that intensity sonically. Eric and I have spent years playing in bands together (Slaughter Strike, Column of Heaven) and before we knew it, we were lifers. Johnny immediately understood and grasped our vision of an unrelenting whirlwind. His Downing/Tipton symbiosis with Marc made for the perfect grindcore Voltron form.
While your other bands are diverse, Bleeding Out still feels like a stylistic departure. How did you decide on your musical direction for this project?
There is a lot of weak ass grindcore out there, and we really just wanted to create something powerful that stands apart, both recorded and live. Our prime directives are endless riffs, pulverizing blasts, and breakneck d-beats. Forward driving energy. There is also a classified 4th-directive involving jazz timings, but that is CLASSIFIED.
Who are some of the musical and lyrical inspirations for Bleeding Out?
Musically we are a natural distillation of decades of combined idiocy. Somewhere in the Bermuda quadrangle of early Earache, Japanese hardcore, Wes Montgomery, and starving, howling cavemen pounding each other's skulls in lays Bleeding Out. Lyrically and philosophically, we are informed by eschatology, the horror of watching history repeat itself, the profound divorce of humanity from the natural world, end times, and Devo. Devo are geniuses.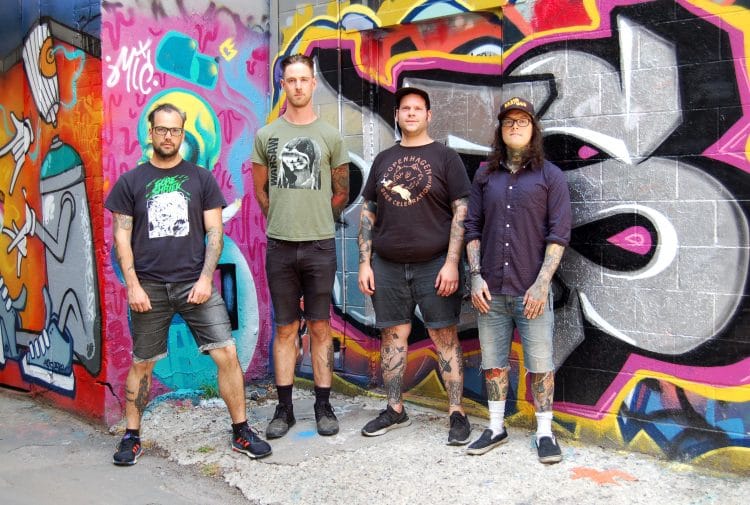 The sound on Lifelong Death Fantasy seems like a major evolution from the already fantastic work on Stimulated by Subservience and even from the work on the Skullshitter split. How have you grown as a band in the short time you've been together?
Every recording is a snapshot in time of a fast-moving object, and by the time we lay it down we've usually got the next batch of songs incubating and mutating. The refinement process of arranging has become instinctual, and we've grown into a very natural rhythm of deciding what the feel of each recording will be. Johnny is constantly churning out new songs and riffs, as well as pustulent fluids and acrid scents. The alchemy continues to boil and bubble.
Toronto has been a major hub for grind and related genres. What are some factors in the area's prominence? Is it cultural, or have there just been enough influential bands that a scene developed?
It's definitely cultural. And by that, I mean it's 100% directly due to Rush.
Are there other Ontario bands who deserve more attention?
There are some fantastic bands doing genuinely awesome things these days! Mount Cyanide are the absolute best band we've seen lately, mark my words. Hussar is a superb local death metal band. Kawthra is a fucking killer band. Also, have you heard Hateful Snake? 
What are some major takeaways you want listeners to have after listening to Lifelong Death Fantasy?
More than anything, that all those nagging, burrowing thoughts you have about breaking free from a miserable existence/the painful repetition of humanity's worst tendencies/the fallacy of limitless growth/the supremacy of humanity/the possible redemption of our species that you often have: THEY'RE ALL TRUE. And also that real, visceral grindcore is eternal and endless.
What are your thoughts on the current state of death and grind?
I hate to sound like a token wizened old fart here, but I honestly feel like a lot of today's Death Metal and grindcore is more concerned with genre identification and aesthetics than just channeling real energy. To me, the real litmus of a band is how they are live, and a lot of today's bands are pretty stiff. There are some absolutely real bands and maniacs out there, but there is a level of saturation occurring that is very evident. But this is true with any genre, and beneath the pablum, there are always great things happening.
Is there anything else you'd like people to know about Bleeding Out and Lifelong Death Fantasy?
Living in the modern world is challenging and alienating and often soul-crushing, and that's if you have it good. There is so much cruelty, pain, and indifference sewn into everyday life that sometimes raw, raging catharsis is the only thing that makes sense. It may sound painfully simple, but it's the one genuine truth that compels us as a band and especially the sounds and thoughts on Lifelong Death Fantasy. Crack your skull, melt your brain, liquefy your pain.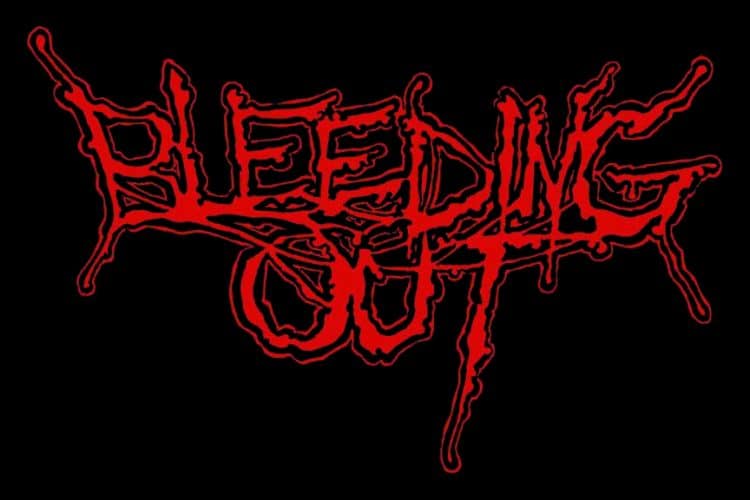 Recorded and mixed by Sean Pearson at Boxcar Sound.
Mastered by Brad Boatright at Audiosiege.
Art by Arthur Mills at Wartooth Tattoo.