Check out our feature called Inspiration is the Vibration where we talk to creative humans that inspire us. This is a space where they can talk about the music that enlightens their creative vision. Now step into the mind of Deacon Mackin, the human behind the Lo-Fi and awesome The Rocker Show. My kids and I just watched an episode and could not stop laughing! I'm stoked The Rocker Show has taken part in our new feature Inspiration Is The Vibration.
THE ROCKER SHOW YouTube – IG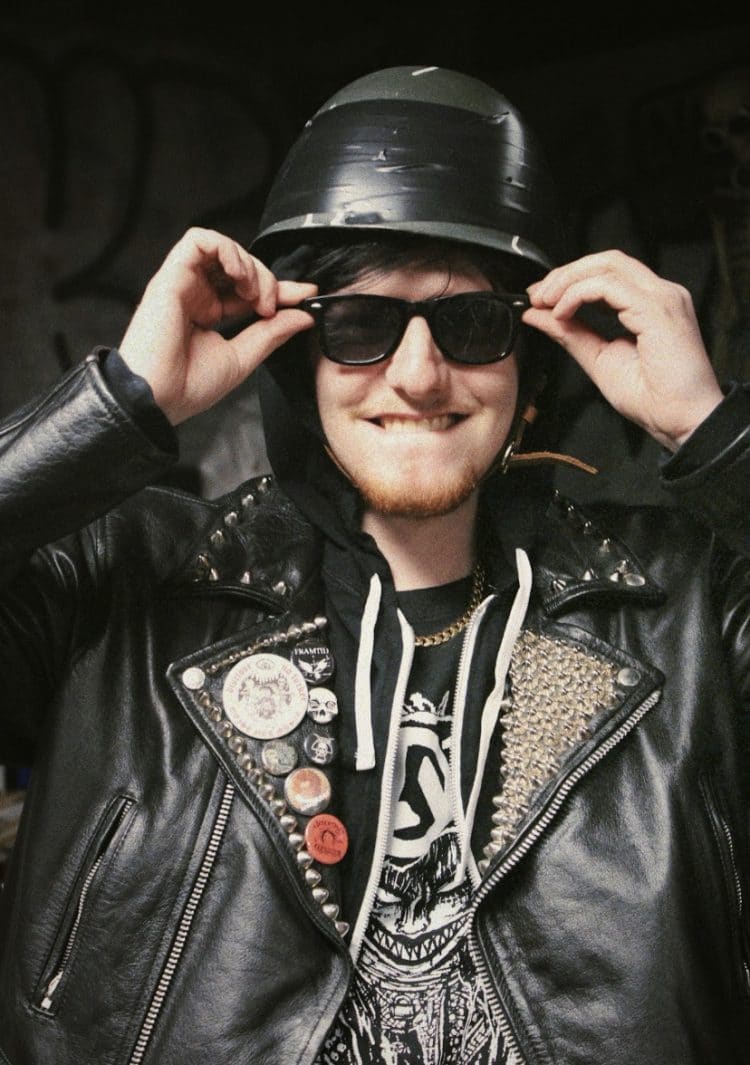 What five albums define the ethos of your Show and vision?
GUITAR WOLF-PLANET OF THE WOLVES
Guitar Wolf was a band I was definitely listening to the most in the earliest planning stages of The Rocker Show. Not only is their music full of raw energy, their videos and overall look, in general, are just plain fucking insane. Lasers, explosions, guitars that turn into swords, and other pure rock n roll nonsense. There's a movie starring these guys called "Wild Zero," it's a crazy b-movie zombie flick with all the stuff I mentioned before, and it played a huge role in building out the look we ended up cultivating for the show, especially since most of the projects I've worked on before the show were stark black and white with a super serious tone.
Teengenerate!-Get Some Action
This album is fun as hell, it's another band with a gnarly blown-out production style with a real old-school look, and another album that pushed me to really start pumping some color and goofiness into what I was working on. At the end of 2020, I was running a tape label called Komatose Records, we were kind of spitballing around the idea of making a show to promote all the bands we were working with at the time, and at one point I was just kinda like "Man, I'm really not having any fun with this shit," and ended up coming up with The Rocker Show a couple months later, and legend has it I've been having fun ever since.
Gai-Extermination EP
This one blew my mind when I first heard it at like, 14. I think it's up there as one of the best punk EPs ever, and Blood Spit Night is one of the best punk singalongs ever, even if nobody knows the lyrics. All their other releases are great too, but Extermination is always gonna be the most iconic. This one sits here because beer and noisecore play a huge part in creating the show, obviously.
GISM-Military Affairs Neurotic
This gem in metalpunk history is the album that opened my eyes up to metal sounds when I was a stuck up punk kid who refused to listen to anything metal, and now most of the guests on our show and some of my closest friends in the scene are all death metal dudes, funny how things work. Sakevi's artwork and GISM's overall image were always pretty mind-blowing to me too. A couple years ago, I got the VHS tapes they put out in the 2000s and those were pretty inspiring to the show, especially our glitchy intro and how we shoot the bands each episode.
Wesley Willis-Rush Hour
This album isn't what anybody would expect to influence the show, but I can't explain how much Wesley Willis' music is involved in the show. We all love it. This album is loaded with classics, if you haven't heard it, you gotta get on that and fix it.
What two historic events or subcultures impact your creative worldview? 
I can't think of any historic events that lead to the creation of The Rocker Show, but ultimately the show is a blend of everything we like. We drink forties, watch kung fu movies, and throw punk shows, the show just comes naturally once we throw a couple ideas around.
A big inspiration for a lot of the humor we pull for the show comes from early 2000's/2010's Youtube videos and low budget exploitation/cult flicks like Wild Zero, Dead Sushi, The Toxic Avenger, Kung Fury, The Room, etc. The Rocker Show is basically just a love letter to independent cinema and punk/metal, and you can definitely see that from a mile away when you watch the show.
If you could give one piece of advice to a young person thinking of getting into DIY video production, what would it be?
Get out there and get as much footage as possible, and then don't be afraid to scrap all of it and start over if you don't like it! It's not all about nailing everything on the first shot, too, don't take yourself too seriously and have fun with it, that's the whole point!
What are some of your favorite episodes of THE ROCKER SHOW and why?
I think it's a tie between the Christmas special,
and Episode 4.
Both episodes had some pretty good jokes and both had some killer performances from our homies in Charcuterie and Concrete Caveman. I think my favorite is still the Christmas special because of the Jesus vs Satan fight, but I know a lot of people think Crutch Vaulting or the Christopher Walken cumshot scene from episode four were total winners. It's kinda hard to choose! Obviously, we liked them all enough to put them out on the internet.
The Rocker Show IG shoutouts!
@charcuteriegoregrind @concretecavemanband @blemish.nj @whoisthemysterygirl @jivebomb @brat_balt