HEXIS / PRIMITIVE MAN Split
Review + Exclusive HEXIS Stream!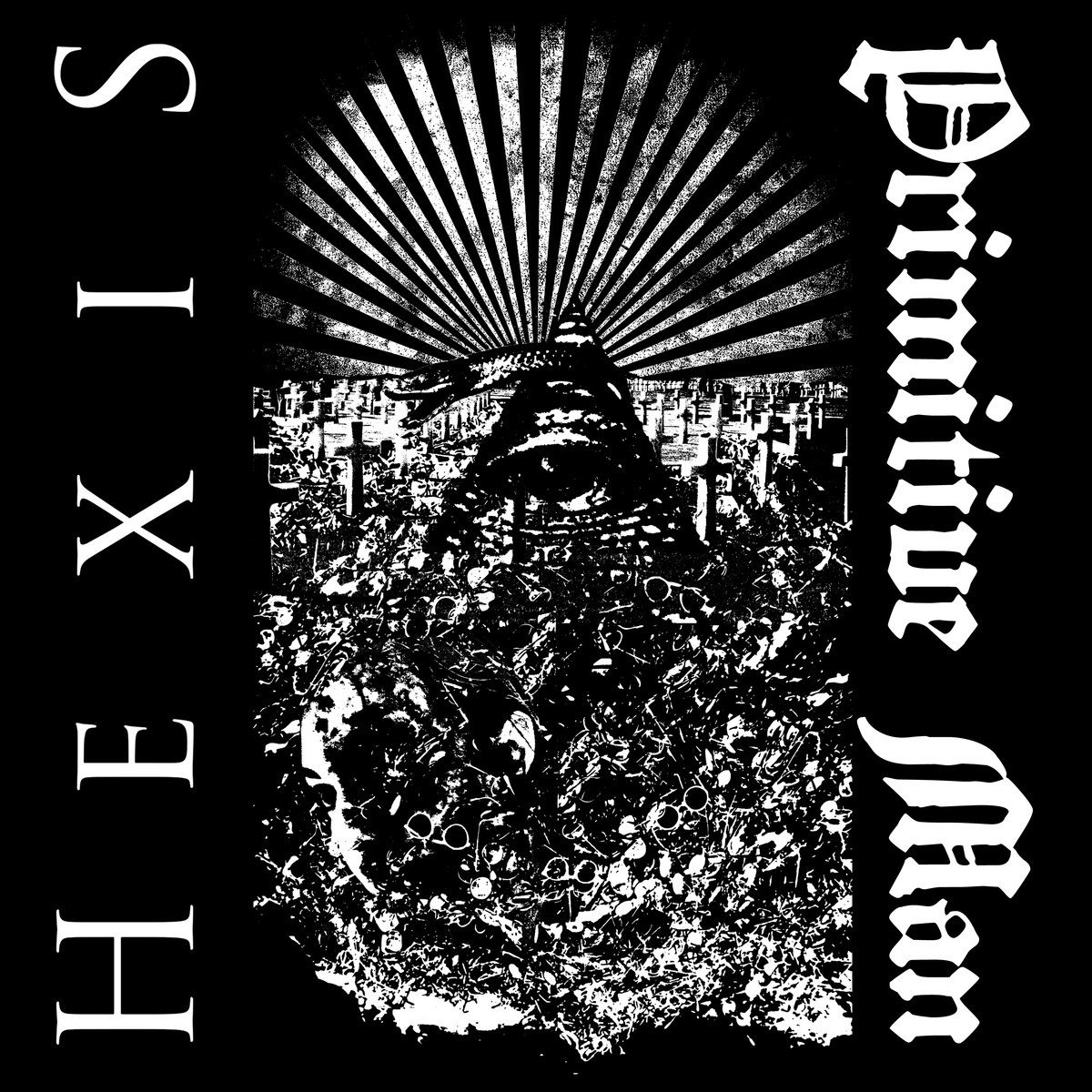 Label: Halo Of Flies
Hexis and Primitive Man both have recent triumphs under their belt. Hexis finally released their first length Abalam in January while Primitive Man were signed by Relapse Records and had their malicious debut record Scorn re-released, and unleashed on a new unsuspecting audience.
Both bands share a certain sonic kinship, but broadly speaking, these are two quite different bands, each with their own unique flair, which is what makes this short split all the more compelling.
Hexis are occupied with straddling a line between visceral hardcore and unforgiving black metal. Primitive Man are misanthropy defined with blood curdling sludge and doom. The common ground that these bands trample on is the same conviction and passion, and they each get this across with just one track each on this 10".
With their eight minute dirge, 'Excrucio', Hexis trod familiar ground. This feels like it didn't quite make the cut for Abalam but has been given a new lease of life and reason on this split. It's a slightly more broody number compared to their searing avalanches of BM-meets-hardcore that we're used to and does more to craft unnerving atmosphere than anything else.
Primitive Man really steal the show on this 10", though. Their track 'When Getting High Is Not Enough' tells you straight away what the band's attitude is all about but the track itself is anything but laidback with fierce unforgiving rasps of bitter sludge that picks up where Scorn left off. First things are eerily calm and trudging but anyone familiar with Primitive Man will know not to be fooled by such a display as ghostly guitars soon twist and contort into vile towers of sludge complemented by roaring drums. This is Primitive Man mastering their craft once again.
To be fair, this split may not be essential listening and may be more for the completist in you, but it certainly accomplishes one thing, and that's ramp up the anticipation for the next Primitive Man record.

PRIMITIVE MAN & HEXIS Summer Assault 2014:
7/19/2014 Hi-Dive – Denver, CO
7/20/2014 West Wing – Omaha, NE
7/21/2014 Davey's uptown – Kansas City, MO
7/22/2014 Rail 2 – Peoria, IL
7/23/2014 The Melody Inn – Indianapolis, IN
7/24/2014 Corktown Tavern – Detroit, MI
7/25/2014 Cobra Lounge – Chicago, IL
7/26/2014 SurfinBird Skateshop – Appleton, WI (early show)
7/26/2014 Cactus Club – Milwaukee, WI
7/27/2014 The Triple Rock – Saint Paul, MN
7/28/2014 Zoo Cabaret – Winnipeg, MB
7/29/2014 Local 510 – Calgary, AB
7/30/2014 Biltmore – Vancouver, BC
7/31/2014 Highline – Seattle, WA
8/01/2014 Ray's Golden Lion – Richland, WA
8/02/2014 Tonic Lounge – Portland, OR
8/03/2014 Starlite Lounge – Sacramento, CA
8/04/2014 Sub Mission – San Francisco, CA
8/05/2014 First Church Of The Buzzard – Oakland, CA
8/06/2014 Witch House – Santa Cruz, CA
8/07/2014 5 Star Bar – Los Angeles, CA
8/08/2014 Holland Project – Reno, NV
8/09/2014 The Sugar Space – Salt Lake City, UT
8/10/2014 TBA – Colorado Springs, CO

Enjoy this post? Donate to CVLT Nation to help keep us going!