Before the world went into quarantine, Brett Ray's Dreary North Fest was one of the most highly anticipated events of the year. Now that shows are resuming, nearly two years later, fans of extreme music are even more eager to attend this talent-to-the-rafters event.
The fest is an unholy union of extreme genres such as harsh noise, power electronics, grindcore, and powerviolence. Contributing to the mayhem are must-see acts such as, among others, MIDWESTLUST, PSYWARFARE, Hallucination Realized, Livid, The Smudge, In Cold Blood, Dental Work, Slutbomb, Citizen 213, Organ Failure, Bullshit Market, UGLYBONES, SNUFFED, Sarin, Shrivel Up, Magical Mind, BobxLazar, Democide, and Tardive.
This event sold out quickly, but Ray was able to free up some tickets in addition to updating the roster of bands, a who's-who of extreme music artists, classic and up-and-coming. While any event of this magnitude is a serious undertaking and particularly so in these uncertain times, Brett Ray has followed through in curating what will, with any luck, be just the first of many annual Dreary Noise Fests.
If you are a fan of noisy, violent, harsh music, do not sleep on this extraordinary event.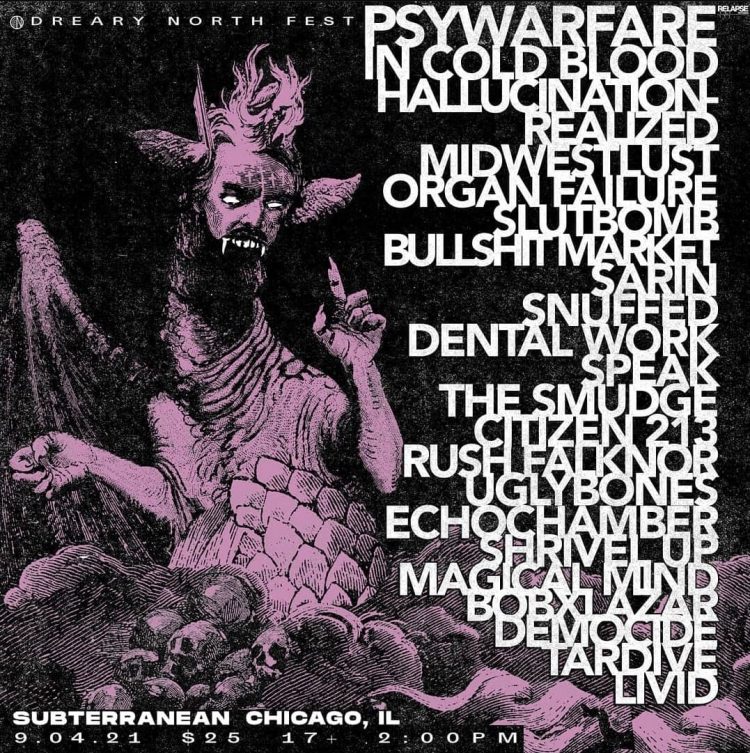 Brett Ray found some time between recording with his band, managing his label, and planning this event to talk to Cvlt Nation.
What inspired you to start Dreary North Fest?
I started Dreary North Fest out of my love for Noise and extreme music. A lot of people wanted in on this, so it turned into a fest. I wanted it to have a lot of representation of the Dreary North, which I consider to be part of the northern central Midwest, where it gets all grey and gloomy. I got thrown for a bunch of loops from the Pandemic. Some acts changed, and now we have Psywarfare, which is Dwid from Integrity, which is excellent. What inspired this all is my love for extreme sounds and community, to be honest. This has been a waiting process and a lot of juggling with the pandemic, but now we have adapted more or less, with having people wear a mask inside required and proof of vaccination or a negative covid test within 72 hours of the fest. I am now 39 going on 40 here real quick, and I have been attending shows since 13, been booking them since 16. I also run a label called Suspended Soul Tapes Records, and I do projects and the main band called MIDWESTLUST, so it's just a natural evolution, I suppose, and just the fact that music has always guided me and been there for me through the darkest and brightest moments of my life, It has helped me get through a lot of tragedy and depression, so I wanted to set up something to give that to others and to have a bunch of stuff I love. I could lose money on it, and I'd be happy. I'd even be happy if no one cared and I was the only one, hahaha, but I'm glad it isn't like that
How did you choose which bands to feature?
I wanted to make it diverse, with Noise, Grind, PV, just Extreme Music together. That as well as the people and bands who work hard and give back to the community. Also, friendships I have made. I feel really lucky to have the friendships and love and community that I have and that we all have. Even if it was just me alone, I would still do it because it has been 3 to 5 kids in the past at shows. Psywarfare joined the lineup, which, like stated before, is Dwid from Integrity doing powerelectronics, industrial harsh noise, and he hasn't been to Chicago since 1997, which was the Expo of the Extreme. It's been a lot of navigating. In Cold Blood were added also.
Tickets went fast for this event. How did you get the word out? How have you felt about the response?
Yeah, tickets went fast, like within 7 days when they went up. Now, I think 8 may be back up for sale. There have been some returns, so people should keep their eyes out on Subterranean, the venue's website, and on the Kickstand Productions website also. A lot of the publicity was spread through word of mouth. On my end, it was mostly friendships and connections old and new as well as some social media and flyering. That all played a part in getting the word out, so yeah thank you to everyone. It takes a village to do this.
Your project MIDWESTLUST has been working hard and will be performing at this fest. What should people know about that project?
MIDWESTLUST has been working hard. We started out a little over 2 years ago with my pal Jeff Landgraf as a harsh noise pe project with just him and me. I have always loved stuff like Man Is The Bastard, Sea Of Shit, etc. We kind of wanted to mix extreme noise with extreme fastness but do our own thing while still having our influences. Jeff went to guitar and we added our pal Aaron from Democide and Martha's Got A Limp Wrist on drums and our pal Tyler on noise. Jeff and I still do some of the noise as well. I do vocals also, and Aaron does back up. So far, we have done a demo, a split with Pain Chain on Mutual Aid Records and my label Suspended Soul Tapes Records, and a split with Conditioned on Deathbed Tapes. We have some splits in the works, and we also have our own full-length coming out at some point.
Our band is very anti-capitalist even though we are stuck in it. Some of us are very pro-Animal Liberation, but all are for Earth Liberation and about spreading something better in this world than what has been shown. We're about making changes outside of music even if they are small and if they better the world because I believe small actions have rippling effects.
Are there plans to make this an annual event? If so, who would be some artists you'd like to see participate in the future?
Yes, this will be annual. I already have a bunch in the works for next year's, which will be going on at Subterranean upstairs, Sept 9th, 10th, 11th. People should check out the Instagram page. I have already announced some acts. I even have some hip-hop artists on it like Chip7 from Bangkok. He is a pretty well-known graffiti/street artist and professional artist. You'll also see more women, and trans and queer representation next year. This year has that, but I want everyone to feel included. I want this to be an event that is as diverse as our community is. We'll always fight for a world where all are accepted until that day the war must be waged.
What should people know about Dreary North Fest?
What people should know about the fest is that it takes a lot of work to put this together, but really without sound/friendships/community, it is nothing. I love you all, and I love music. Thank you to my love, Margo, for sticking by me with everything I have juggled. I would have been checked into a ward without her. Also, I'm grateful for having Team Skylar out to sell some things and to educate people. They have a kid with cancer, so their mission is to educate people on it and to raise money for hospitals that fight children's cancer and help out lower-income families. As punks or whatever stupid label we use, we need to put our actions where our mouths are. People need to enjoy the sounds of revolution.
Is there anything else you'd like to say?
The only thing I would like to add is thanks to you for doing this with me and thanks to all involved. I want to encourage people to make someone's life more positive. Or to make this world more positive if possible. You can make a difference, no matter how small or big, but don't over-extend yourself. Don't doubt that a small group of people can change things. It is the only thing that ever has. I have to remember that on bleak days.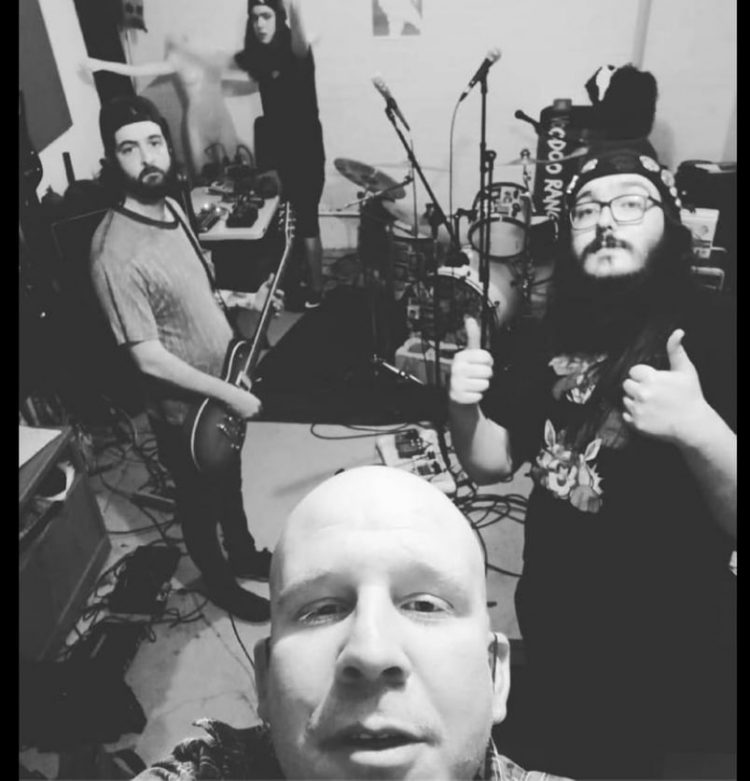 Pick up tickets to this amazing event at Kickstand Productions or at the venue's website, Subterranean.