There are some bands whose music is such a t-bone crash of a listening experience that you're never quite ready. With each release—2015's Dirty Demo, 2017's Meathead, and the newest release, Gun—Ingrown have again and again caught the hardcore fanbase unawares and unprepared. In fact, even after dozens of listens, restarting Gun at track one is like obliviously wandering back onto the track of a monster truck rally in your bare feet and being caught off guard when you are once again fully pulverized by heavy objects moving at high speeds.
One of the reasons the band continues to surprise its listeners and earn new ones is its work ethic, its ability to work harder and more tirelessly than most musicians are willing to do. This effort goes not only into their strenuous touring but also into honing their songcraft. Too many bands give into the instant-gratification-driven pressure from fans and media outlets to put out more material than they're really able to develop and finetune. With only three releases in six years, Ingrown have demonstrated that they are willing to dedicate the time and energy necessary to make their releases real diamonds, multi-faceted, beautiful, and with an unparalleled hardness. With God's Hate's "combined weight of 2000 pounds" condensed into the speed bag punches of Scapegoat and No Comment, Ingrown songs are industrial cutting edges and drill bits. While their demo and debut EP drew unanimous and enthusiastic praise from hardcore fans and critics, Boise's Ingrown have outdone themselves on the vertebrae-powdering Gun.
First single, "Waste," caught the world of hardcore's ear with its special blend of beatdown-violence. This Cold As Life-meets-Weekend Nachos track deals with feelings of hopelessness and existentialism about the world as one knows it changing, dissolving, never to return to its former glory, and it does so with the pointed pummeling power of a ball-peen hammer to the temple. The sound is so big, and the various instrumental parts so demanding, that one can't help but imagine a much larger band. Comprising only three people, Ingrown is really a product of amazing songwriting and stellar musicianship. With the guitar parts influenced by guitarist-singer Calvin Hansen's history as a banjo player. As any country/bluegrass fan will attest, banjo playing requires a combination of precision, rhythm, and melodic timing that is nearly unparalleled, and this skill appears in Hansen's ability to play parts that are really meant for two or three guitars with fury and finesse, all while focusing half of his energy on barking with a hostility that would make any belligerent cattle wrangler sit back on his bar stool.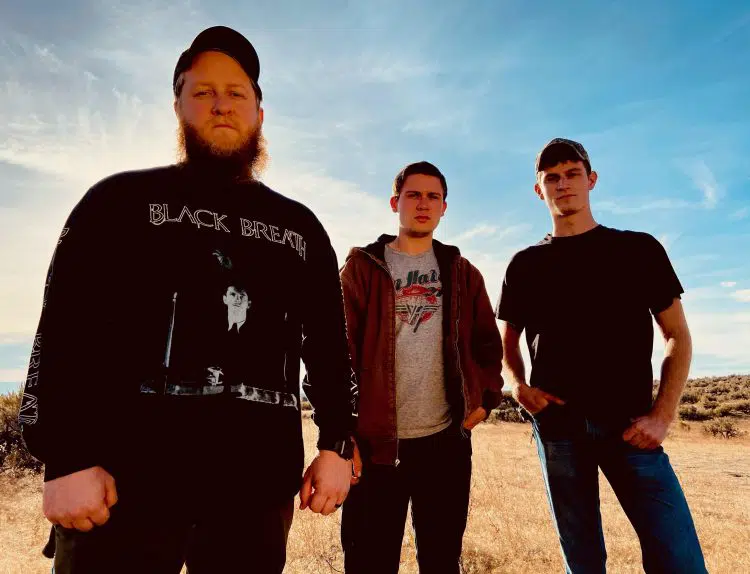 Hansen's prowess on guitar and vocals would easily make him the star of the show if he weren't flanked by such consummate musicians as bassist Charlie Ritch and drummer Dave Shaffer. When not doubling Hansen's guitar parts–even the fastest ones, which would blister most guitarists let alone bassists–Ritch is hitting the listener in the duodenum with his subterranean, prehistoric rumble, one that is evil, dark, and violent while maintaining enough giddyup to put the "jock" in jock powerviolence, particularly on songs like title-track "Gun"–a love song to the 2nd Amendment and a sneer at its detractors–and "Snake Stomp"–a boot-stomping, galloping mission statement for anyone whose been betrayed by friends, by family, or by the media in a post-truth era. The lines should be tattooed on the inside of any thinking person's eyelids:
"Stand tall
Stick tight
Can't trust anyone
Don't look
Too close
But keep your eyes peeled
Stay true
Stand up
They're out to fuckin get you
Only got
One chance
Don't let snakes inside"
Holding this monstrous musical behemoth by the reins, Shaffer is a drummer who does his job so well that people may forget that he's the reason this music works so well. These songs are tough, grunting, and angry, but what makes them special is the band's airtight playing, all of which is bonded by the perfect pacing, transitions, and driving accompaniment of Shaffer's stick work, which is somehow simultaneously effortless and impossible.
Ian Shelton, co-head of Alternatives Label and centerpiece of bands like Regional Justice Center and Militarie Gun, "Ingrown always played the Northwest a lot, and they were way better than they ever had to be. It was so clear the extent that they took this seriously. They practiced. They cared about writing an interesting song. They cared about packing all the tricks and knowledge that they had into any given moment. There's something just so raw about them. They're the most sincere band. They don't present as anyone other than themselves. They're from Idaho. They love 25 ta Life and Crossed Out. That's who they are, and they're not going to filter that or censor that because it's not in vogue. They never tried to be anyone else. My partner, Waylon, was the person who wanted to work with them originally, and why I agreed to do it is the band is just unapologetically themselves in a time when people fake who they are to get the look they want or play the show they want. Ingrown defiantly said, 'We're from Idaho, and we're somewhere between a beatdown band and a powerviolence band.'"
A man of unplumbable creative talents himself, Shelton's endorsement should speak for itself. Fortunately, though, a single listen has been enough to prove to even the most cynical hardcore listener that Ingrown is the real deal, and that, six years after their first demo, they are really only getting started.
Guitarist-vocalist Calvin Hansen talked to Cvlt Nation about the band and about Gun.
First, can you list the band members?
I'm Calvin on guitar and vocals, Dave on drums, and Charlie on bass who's also in Rejection Pact.
Ingrown already established a strong following with your demo and especially with Meathead. Can you describe those releases briefly and how audiences reacted to them?
Ingrown's first ever out-of-town show was last minute at Olympia hardcore fest the first year we went in 2015. Our good friend Mirce from Odd Man Out moved up there years after introducing us to shows here in Boise and when we came up that's when he proposed that we introduce our new shit. We couldn't believe people went nuts for songs no one had heard before so we started planning when we could come back first thing to make a tape.
We played Seattle then Tacoma after we recorded the Dirty Demo with Mirce that November out in the TransFX Mobile cabin in the forest. Indescribably fun. The tape was alive the next night and my dreams had come true. We loved Gag and loved Dave Harvey's recordings, so once 2016, was over we had a New Year's celebration show at the legendary Ralph House in Olympia and then recorded our very first 7" at his studio. That was when everything took off a bit and we started touring as much as we could. People thought there was a little something for everybody on that record which is exactly what I'd hoped.
After those releases, what were your main goals for a debut LP?
I just wanted it to be crazy and to once again feature Dave's crazy blasterpieces.
Can you describe the writing process?
I'd been focusing on banjo for most of the time and after going back to guitar I applied a bit more technical power and intensity, so I had riff ideas that now sounded well over gnarly enough for me and it was exciting as shit – and once I realized I wasn't totally terrible at guitar I started seeing where we could go next with new Ingrown shit.
What were some of the main musical influences for Gun?
I'd been listening to a lot of Powerage by AC/DC – straightforward and powerful.
What about lyrical influences?
Interesting events over the year or so following Meathead kept me angry and frustrated with life overall, but betrayal too made me clouded with hopeless confusion and gave me more hostile things to say and write. Loss is horrible, I don't think there's any worse feeling – too much grief-induced sickness would drag me downward into negativity more so than ever before, with writing too. There's a lot of pain there, really. Living through 2018 and so on was crushing and changed me for good – I had to eventually escape where I was at and that was the same time me and Dave started to jam some new ideas and get the songs together. Finding a way to dig out of that darkness and not give up entirely, was a strong enough push to wake me up and get my soul back into making some songs again.
How did you connect with Andy Nelson?
I was lucky enough to be in KC with the Spine boys when Charlie proposed the idea over text. I didn't know who he was yet but when I mentioned him to Antonio all he had to say was that Andy is the man above all. I'd never heard better heavy recordings in my opinion and a trip to Chicago is always ideal so we had to go for it.
Can you describe working with him?
Words can't describe something so fun and rewarding – it's like he knew the vision before we arrived.
You released Meathead on Ian Shelton's Alternatives, and you released Gun this on that label as well. Can you describe working with him and his label?
Ingrown and RJC destroying Western Canada summer of 2018 was a party boys trip and the spirits were so high we had to start talking about the next Ingrown release and that's where Gun was first ever imagined. Wasn't a serious idea it just sounded good. There was an entire year after of planning NOT to do it but then ideas and energy came together at the right time and things sprung back into action shortly before 2020 began.
What do you love about heavy music right now?
The bands Extinguish and Outta Pocket. I love seeing less and less fear to play whatever the fuck you want. Embracing not sounding exactly like the buddy band right next to you. I love that hardcore is completely insane and the folks are still very weird, genuine, and different from each other.
What should change?
Faster!
What should people know about Ingrown?
Team Glock.
About Gun?
It's for the Idaho boys.
Is there anything else you'd like to say?
Anything I am begins with Conrad Hansen.
Gun was recorded and mixed by Andy Nelson at Bricktop Recording in Chicago.
It was mastered by Nick Townsend.
Pick it up at Alternatives Label or at the band's Bandcamp.