Any conversation about American hardcore—and especially powerviolence—is incomplete without a mention of Eric Wood. If there a list of must-listen records for powerviolence is worth respecting, it will include genre-defining releases by Wood bands like Crossed Out, Charred Remains/Man Is The Bastard, and Neanderthal, all of which continue to be majorly influential, especially on bass-forward bands like Godstomper, Water Torture, Sea of Shit, Sex Prisoner, Sordo, Cave State, The Endless Blockade, and Internal. His earlier hardcore projects, Pillsbury Hardcore and Pissed Happy Children, have been similarly influential, paving the way for much of the underground hardcore of the early nineties, especially in California.
In addition to Wood's hardcore credentials, he may be the most important figure in the history of noise music in America, reaching the global artistic status of Masami Akita, who shares Wood's iron-willed advocacy for animal rights. Amps for Christ and Bastard Noise—both projects that featured longtime Wood-collaborators Henry Barnes and W. T. Nelson at various times—were trailblazers in the early American noise community.
Wood stands out among his contemporaries not only as someone who has maintained—if not increased—his musical output, but also as someone who has held steadfast to the DIY ethic that defined early punk and hardcore, managing his own website, selling his own records and merchandise, and constantly connecting with other creative minds to explore new sonic territories. Seemingly tireless in his efforts to construct sounds that no one has heard before, he continues to add to his impressive list of collaborations, splits, and full-length projects. It is rare and refreshing to find someone so dedicated to an ethos, a vision.
Eric Wood was kind enough to answer some questions about his storied and important career.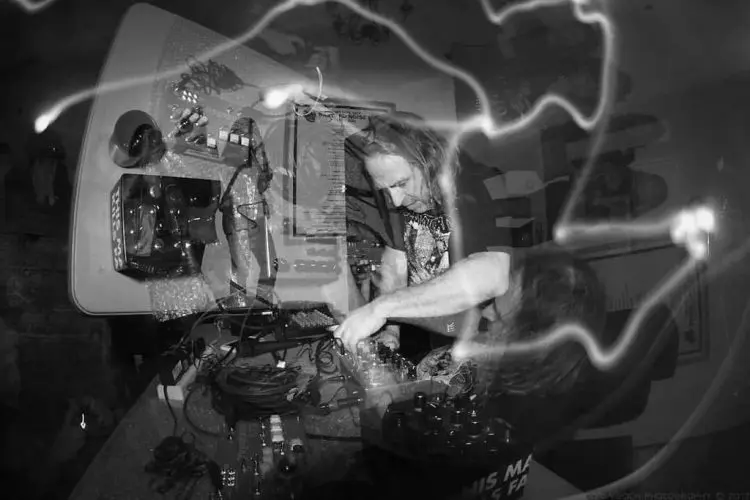 What motivated you to make music early in your career? Have your motivations changed? If so, how?
Being a fan first motivated me early on to actually pursue music/sound, but also my early childhood and always being told by my parents (especially my mom) that "creativity is life" and "creativity is a positive bug desired by the heart and soul of your being." My general motivations have not changed, but my focus certainly has. I mean, being in bands for nearly 38 years (obviously of the D.I.Y. HARDCORE PUNK ETHIC) taught me a lot. It is a very fine line as to what "happiness" is. I still believe that doing it for "the long haul" is very important because you can never realize your true potential without perseverance, creative evolution, patience, and being humble about your failures especially.
Since I have always been the biggest fan of those artists and composers who receive less acknowledgment by the "mainstream" audience, I for some reason gravitated to that world with a passion. Experimental sound is truly a passion of the heart. Now and then, you will hopefully receive some kind words and respect which is all you can ideally hope for. It is a thing of joy to create sounds unheard by your own imagination. Another change in motivation is make every single recorded document of the highest caliber so that I reward myself before rewarding others. You will not achieve anything without being happy to begin with, and without my producer, Michael Rozon, I wouldn't have the caliber of recordings I do today.
How is recording different from performing for you?
It is very, very different. In the studio, I have the time to strategically take my time to assemble compositional-based pieces that are unique to each recording and each release. Working with a REAL PRODUCER is the key for me at least! Michael Rozon is my George Martin for sure! He has taught me so much (especially about tracking vocals!!!!) In a live situation, I MUST BE PREPARED AS MUCH AS POSSIBLE with a good sound check (I will not play without one as I have been burned by yahoo dickwads who suck asshole and only THINK they can run sound. If I am going to rehearse and take into consideration all the things that can go right and can go wrong, than I expect the same from a sound person. Doing experimental electronics takes a certain person running sound as well, as often when they hear the BN electronics, they are threatened by their energy output and believe (without any proof) that their beloved sound system will cower and be blown. Many, many people SHOULD NOT RUN SOUND! They are ill-equipped mentally and technically. One of the best experiences BASTARD NOISE ever had was the recent Oakland, California performance last January (pre-pandemic) at The First Church of The Buzzard. Owner Kent Cates "GETS IT"!!!!!! He is not afraid to use his system and therefore makes positive memories for all in attendance! Absolutely SLAUGHTERING CLARITY, THRUSTING LOW-END, AND EQUILIBRIUM TREMOR-BASED NAKED HIGHS!!!! MEYER SOUND FOREVER!!!! The only places that have come close were in Richmond, Virginia; Dresden, Germany; Helsinki, Finland; and Japan in general.
Both environments (live and performing) are very rewarding when done with a lot of preparation from BOTH sides.
Your projects have always been very innovative and influential, changing the musical landscape in profound and lasting ways. Who were some of your most important influences early in your career? Who are some of your influences now?
Well, influences cover a huge spectrum, but early on, they were primarily in progressive rock, early German rock units, and of course some of America's finest. Some of those would be as far as listening exposure goes (from the ages of 7-16 years old): Cream; The Beatles; Focus; Alice Cooper; early Rush; Gentle Giant; Yes; Lucifer's Friend; Traffic; Jimi Hendrix; Janis Joplin; Crosby, Stills Nash and Young; Be Bop Deluxe; early Scorpions; Uriah Heep (the BOX, BYRON, HENSLEY, THAIN, KERSLAKE period especially); Robin Trower; Emerson, Lake and Palmer; Budgie; Shylock; early Genesis; Armageddon; early Judas Priest; Mahavishnu Orchestra; Humble Pie; Free; Gong; U.K. King Crimson; etc.
Punk when it was new blew my mind as well. Bands like M.D.C., FLUX OF PINK INDIANS, CRASS, RAPED TEENAGERS, STARK RAVING MAD, KORO, BLAST!, DIE DRUEZEN, SAIRAAT MIELET, RAW POWER, TH' INBRED, MIGHTY SPHINCTER (who were anything but punk but were friends of J.F.A.), of course my friends in CROSSED OUT(Rich had the BEST bass sound!!) later on. All of them just grabbed my consciousness and had me listening avidly to each and every release. The list of good punk and hardcore could go forever, by the way.
But due to the time I grew up, many other types of groups permeated my consciousness due to the radio actually being listenable and due to my mom also buying her selection of music. That combined list of artists would have definitely included: Stevie Wonder, Minnie Ripperton, Diana Ross, The Bee Gees, War, The Stylistics, The Four Tops, Sylvia, The O'Jays, Sugarloaf, Wild Cherry, Rufus, and many, many more.
For bass playing, I sure was attracted clearly to Dennis Dunaway of Alice Cooper, Burke Shelly of Budgie, Dieter Horns of Lucifer's Friend, James Dewar of Robin Trower, Jack Bruce of Cream, Gregory Reeves of C.S.N.&Y, Francis Buchholtz of The Scorpions, Chris Squire of Yes, Billy Talbot of Crazy Horse, Geddy Lee of Rush, Greg Ridley of Humble Pie, and especially Andy Fraser of Free!!! All of these players early on had an impact on me as a child even before my dad bought me my first Fender Precision bass (it was a 1975 natural body, rosewood neck with a white pickguard!). It was the beginning of my musical persona being forged…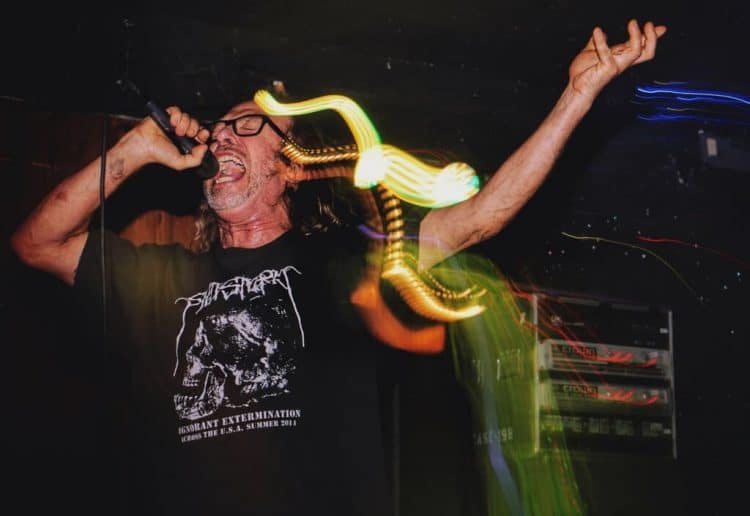 Only when I got into my late teens did I realize how huge the world truly was and how many other artists there were to discover, which ultimately led me to experimental music and sound. I remember going into ZED OF LONDON in Long Beach California around 1976 and getting a Budgie album (NEVER TURN YOUR BACK ON A FRIEND) FOR ONLY $3.77!!!! I asked the owner, Michael Zampelli, who was always there, if he had anything in the electronic medium, and he recommended this 12″ LP on Virgin Records(!!) that had been released the previous year by an artist named David Vorhaus and his one man project entitled WHITE NOISE. It was his second full-length release titled WHITE NOISE 2. I was enchanted by the cover painting of red and black platys (a tropical fish breed) swimming in a heavily planted aquarium, so I took his recommendation, and upon listening I had "the bug"!
Now, some decades later, my influences have taken on a strong metamorphosis to include many non-musical entities as well. Environmental issues are THE MOST IMPORTANT issues for the world. Human self-righteousness is A FUCKING CANCER. Alan Watts, Jiddu Krishnamurti, Noam Chomsky, Craig Hewlett, Terence McKenna, animal rights activists, etc. are among the humans that have kept me appreciating being alive. The influence of all that this shit species is unable to control is my higher power to keep going.
Your influence on modern hardcore is difficult to overstate, and it is fair to say that most current hardcore bands (and all powerviolence bands) owe much of their sound to you and your bands. How do you feel about the way hardcore has changed over the years? How do you see your influence on bands today?
I feel hardcore, etc., etc. has not evolved much currently speaking. There are always a few standout bands in EVERY genre and sub-genre, but for the most part, there is a lot of "filler" one has to "wade through" to get to the good/challenging artists. For MAN IS THE BASTARD, we listened to very little hardcore to be honest, compared to other styles/genres. We DID have a solid community though, so it was definitely a "hand-in-hand" experience back then (extreme music of any angle and community).
I'm not really sure of the impact the bands I have been in have had. It's a bit hard to define. I am 100% grateful people STILL CARE about the music though. It has helped me with BASTARD NOISE certainly and in a general creative sense as well. I feel no one owes me/us anything unless they feel that way personally. The key is to be humble and grateful. The whole time-period was just an organic occurrence that we just made happen. MAN IS THE BASTARD was best when NOT influenced by punk/hardcore music. The community values of punk/hardcore were, however, a staple in our existence.
You have been a powerful voice in the Animal Rights movement for many years. How does the fight against speciesism influence the way you make music?
It influences it on ALL levels. The earth mother is fed up. We are self-righteous pieces of shit as a whole with some good souls "peppered" inside THE TUMOR OF INHUMANITY. This pandemic we are going through right now is 100% proof that a vegan diet could resolve a lot of the world's problems that we and ONLY we are causing. WE ARE THE ONLY PROBLEM.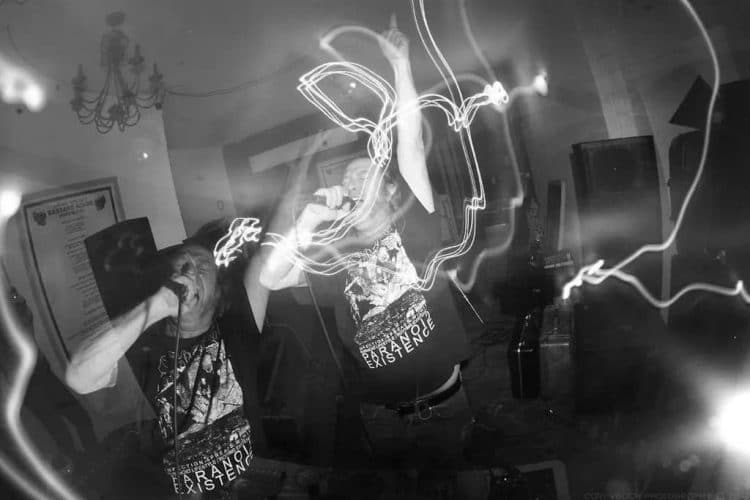 Although Bastard Noise is usually described as heavy or noisy, it seems like there are jazz elements to the music as well, especially in terms of improvisation and on-stage communication. Do you consider jazz an influence on your creative process?
Not in BASTARD NOISE historically. Truly, the jazz influenced aspects were in MAN IS THE BASTARD first. Certainly BASTARD NOISE as well for the time it was bass, drums, noise, and vocals, but those reverences were not a constant. Only from the years 2009-2013 was BASTARD NOISE a "conventional band," and that was due to many factors leading up to it changing temporarily. There were some rewarding times, but being in a "band" is a fucking bitch, expecting all the members to STAY HUNGRY and be rewarded year after year. I feel sometimes that we should have existed in an earlier time. BN was definitely NOT a punk/hardcore focused unit when it was a "band." We had some very difficult times as well. BASTARD NOISE was and is a NOISE/ELECTRONICS/VOCAL unit. That is what it was created for and continues to be. Without BARNES and W.T. NELSON being a constant presence, things would have moved much slower. The "ROGUE ASTRONAUT" tour of 2007 was one of the best experiences in BN's career. Very open minded audiences and a very good time only having two members and a manager to keep things financially straight. Justin Pearson of THE LOCUST was one of our early supporters then and helped us with 5 high profile shows inserted into our one-month tour schedule. He is still family, and to this day those experiences were some of my best memories on the road…
Bastard Noise has been active for decades and is as relevant and creative now as it has ever been. What factors contribute to the longevity of this project?
I think being creatively "hungry" is of the utmost importance. I have always been moved by artists that go "the long haul" and develop/change, all the while keeping high standards with each release. Of course, that doesn't mean that artists that are short-lived in their output are not worthy or valid, but those that continually work impress me and assist me in my own creative drive. To me, it's all about recording first. Live performances are often hard to acquire with the perfect conditions to achieve optimum results sonically, so recording is a way of truly "feeding" one's soul. You have to draw inspiration from sources that might not be direct connections to what you are pursuing (to me at least). I strive to learn something new every day about what I'm documenting in a studio environment and through trial and error on how to perform live very strongly. The experimental realm of expression is not for those with limited attention spans. (which is what "the system" loves to pump out!!)
In addition to having many different members over the course of its lifetime, Bastard Noise also has done countless collaborative releases (e.g., recent releases with Xiphoid Dementia, Transient, Government Alpha, and Actuary). How is the creative process different, if at all, when you are working with different artists?

Well, all the collaborative works are really approached individually, consciousness wise. They have to be approached that way to be uniquely different and special. I have to enter each situation with a clear head and an open mind to get the best/most mind blowing results.
Only in recent times was the collaboration with TRANSIENT truly a "group effort between the band and myself. Especially working with Brandon and Krysta, it was a very specific track-to-track concerning "THE SOURCES OF HUMAN SATISFACTION" 12″. They had very customized ideas of what they wanted, all the while expressing to me that having a broad sense of freedom would give me the feeling of membership on the project, and ultimately this would have the best effect on the final outcome of the album. Without my producer Michael Rozon, with whom BASTARD NOISE has worked since 2005, this unit would not have the same level of quality output that it does. He is a mentor to me, as are BARNES and W.T. NELSON.
In an age of digital media, Bastard Noise is proudly DIY and analog, selling records and merch from a personal website and not streaming on Spotify or other digital platforms. What influences the decision to stick to more traditional music-distribution modes, and is it hard to "stick to your guns" as more fans expect to find music online?
I prefer physical copies of everything. Digital (online, NOT CD) is a fucking soulless format that reeks of douchebag stench. It's simply not for me.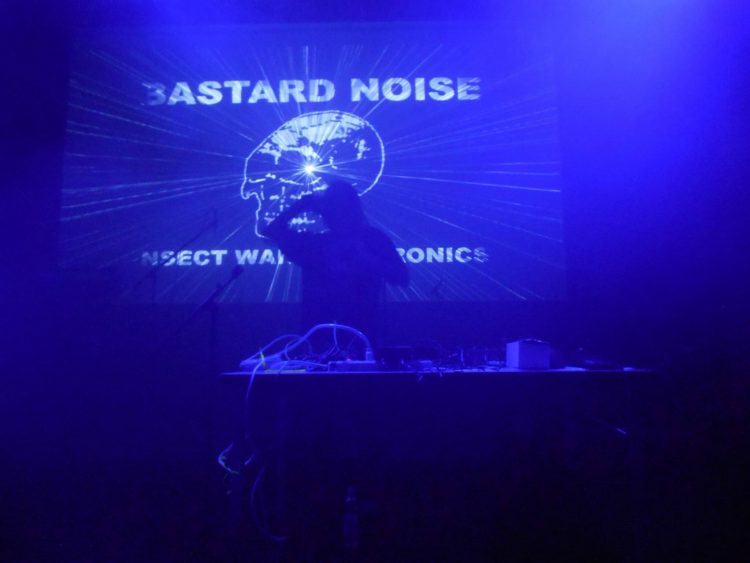 Who are some of your current favorite musicians, in any genre?
One new and exciting act I am excited to have near me (both geographically and as dear friends) is X-EYES from Long Beach, California. Although they have been in existence for a number of years and their physical output release-wise has been very limited, they are "new" to the world. Travis and Cori who are behind this unit are exceptional souls, both creatively and morally. I am excited that we just finished the sessions for an upcoming split 7″ EP that we will collectively release together in the near future (pandemic or no fucking pandemic!) They are artists I would definitely like to continue a working relationship with!!!! Currently, the only others are individuals like BARNES (AMPS FOR CHRIST), MERZBOW (both animal rights activism-wise and sonically), Kenny Sanderson (formerly FACIALMESS now of LIKE WEEDS), always Yasutoshi Yoshida (GOVERNMENT ALPHA), Hiroshi Hasegawa (ASTRO & solo), JOE COLLEY, GERRITT, FINAL EXIT, INCAPACITANTS, GUILTY C., SCUM, THE BLACK SCORPIO UNDERGROUND, the resurrection of Germany's AZOIKUM, etc. The list could go on and on. Of course these are not truly new artists, but these are the "movers and shakers" that come to mind right away. To be perfectly honest though, most genres in the conventional sense cannot hold a candle to the masters of yesteryear. I live in the past somewhat, but am ALWAYS open to listening to anything.
Is there anyone you would like to collaborate with that you haven't yet?
YES!!!! As of now though, the confirmation from both sides has been achieved. There will ultimately be a SUPPRESSION/BASTARD NOISE collaboration and a SHITSTORM/BASTARD NOISE collaboration. Both will be full sessions (full-lengths) Labels that are releasing these will be announced in the future.
Wood is someone who has never allowed obstacle or adversity to prevent him from pursuing his creative goals, and it should come as no surprise that he has seen the challenges of our current world-situation as all the more reason to create art that draws attention to the crises that human selfishness can create.
Keep an eye out for an Amps for Christ/Bastard Noise split through To Live A Lie this year, and look for other upcoming Bastard Noise releases, and support Wood's art by ordering directly here.