You wouldn't know it just by listening to their music, but Circles are from France, not Washington. That doesn't mean that they are DC copycats or that this is going to be one of those lazy articles that just namedrops bands and pigeonholes Circles for easiness sake. They aren't and this is isn't.
It's hard to listen to Circles and not be taken back to a time when emo wasn't still really a thing and hardcore was evolving into something different. There's definitely a feeling of youth and distinct energy that most hardcore bands seem to have lost, with the exception of the youth crew bunch, that rely too heavily on it and disregard everything else. That's a mistake Circles do not commit, they're not only about sing-alongs, mosh-parts or circle pits. This band is melodic without losing their edge, they're intense and sound honest. Circles speak to the heart as much as they speak to the body and the brain. Their music could be called post-hardcore, as it could be identified with DCs early 80s Dischord bands. However their songs don't just emulate an era, and there's some clear 21st-century presence in them. Circles are playing from the soul and the gut while speaking about issues that matter and that have become secondary for a lot of hardcore bands. As Guillaume explains, the band's lyrics are influenced not only by the hardcore legacy but also by the philosophy of Alain Badiou, Slavoj Žižek,  Gilles Deleuze, Hannah Arendt, Le Commité Invisible, Angela Davis. That's political aware hardcore for you.
Maybe the world's problems aren't exactly the same as they were 30 years ago, but the matrix and the architecture are pretty much the same, so it makes sense that these French guys are deeply rooted in politics. After all, that was not only the path of a lot of hardcore bands but also of most European hardcore bands, from Nations On Fire to Larm. The thing is that, instead of laying their ideas flat out on words, Circles take a more personal take on things, something that marries perfectly with their music.
It's not that the band minds being associated with the Revolution Summer of 86, they don't. But they deserve more than that, considering that they sound like a sequel to those bands and not a mere tribute. Truth be told, this is a record that lacks nothing when compared with some of Dischord's more recent releases like Hammered Hulls or Red Hare. Not that such bands aren't good, because they are, but Circles are definitely worthy of the legacy they drink from and might even kick it up a notch. So much so, that if they were released by Ian's label, no one would find it weird or out of place.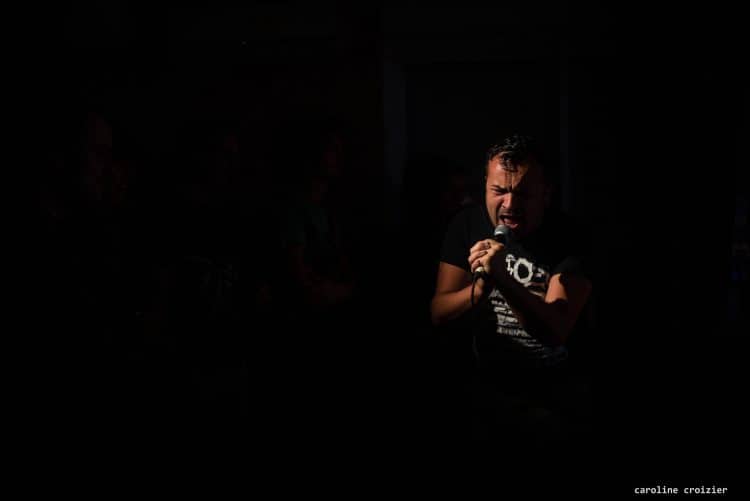 Really, this is a sound that does not have so many followers today, contrary to skramz or all the misappropriations of emo out there. So Circles are more than welcome. We missed a hardcore band with guts and grit, heart and soul, brains, brawn and passion. Particularly because they do it oh so well, sound inspired and inspiring. When the chugga-chugga melts with the breakdowns, then with the slow parts and the emotional refrains, there's nothing left to do but surrender to their songs. Goddamn if the world isn't in need of a band who knows how to balance the different sides of what hardcore has to offer, instead of just sticking to the blueprint of one sub-genre, no matter how good it might be.
Circles record is one that can be listened to over and over again without growing tired of it. Their music has so many layers and depth that there's always something new to discover. These five guys all seem to love playing together, that definitely transpires to their music.
Resonate is their new ep, out on Unity Worlwide Records and, as the band themselves put it, "mainly focusing on the battle going on now between people with a will of emancipation and the repression/reactionary forces and how to cope with this." Hardcore still lives.