The Darkside of the Moon Tour II feat. Buggin, Playytime, MoveBHC, and Zulu starts on Oct. 7th, and in my book, this is one of the most important tours to take place this year. I, for one, can't wait to be in a room full of Black and POC Punx celebrating our creativity, our resistance, and our resilience!
Today we share with y'all an artist to artist interview featuring Bryanna of Buggin and Corey of Move BHC.
B: If you had to break edge and smoke a blunt with three people dead or alive, famous or not who would you choose and why?
C: Lmao, I'd never break edge, but there are absolutely folks I would love to be in conversation with:
Marsha P Johnson: one of the greatest revolutionaries of our time, not only from what she did at Stonewall but what she did after the fact—organizing STAR and having an unwavering dedication to Black Trans liberation and furthermore the liberation of all Black people. Especially due to her not receiving the flowers she deserved during her time on our plane of existence.
Mariame Kaba: who's an abolitionist I really admire and look to for teachings and guidance on what it means to be an abolitionist. She is willing to struggle through the "gotcha questions" and builds a praxis to answer them. I feel like it would be a conversation that's a straight-up enjoyable reality check.
A group conversation with all my niggas on the DSODM tour and people met through the DSODM tour: Nothing more gratifying, energizing, funny, or fun as straight up chopping it up with you, Anaiah, or Obi, or any other cats a part of the tour or met through the tour (Dez, Braxton, Devin, Devon, Christine, Satchel, Aaron, mad heads I'm missing). Especially the times we cross paths and link in the real world, it truly feels like a reunion every time and it always puts a smile on my face.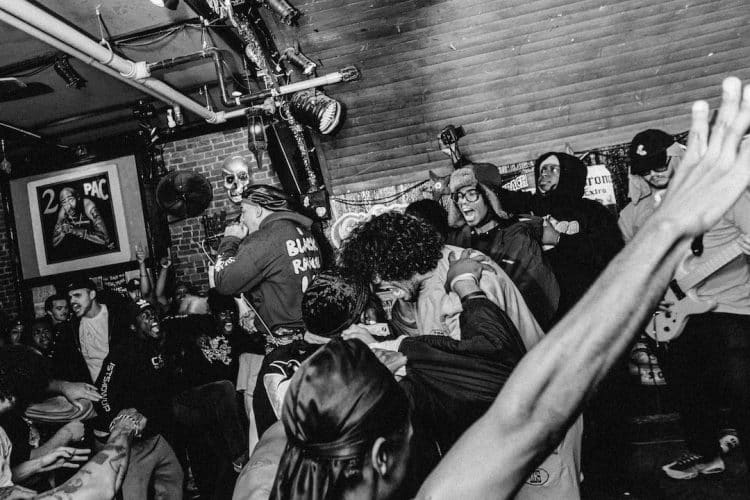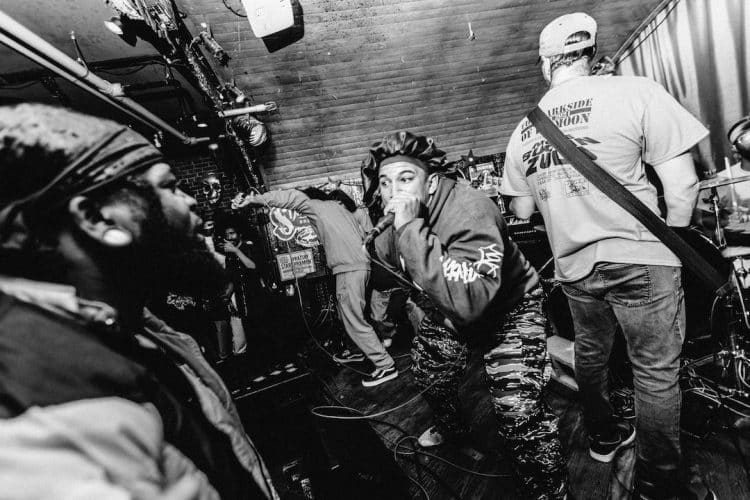 B: What have been some of your favorite non-hardcore releases within the past year?
C: I've been really into house music lately, particularly Jungle / Drum and Bass, so LU2K: Fuck Real Life was on repeat for a grip
I am a minor Kendrick Stan so Mr.Morale & The Big Steppers was played hard.
Then I'd round it out with a single I absolutely got out on to via TikTok which is Coast Contra's Never Freestyle big Wu-Tung 36 Chambers vibes with the cipher style track and I fucks with it heavy.
-If you could go on tour anywhere in the world with any bands where would you go and who would you choose?
C: The forgotten global tour baby would absolutely hit the mother continent in Africa, mainly focused on Western Africa: Liberia, Ghana, Nigeria, Ivory Coast, Guinea, then then the Caribbean: Jamaica, DR, Cuba, Trinidad, Bermuda, etc.. just spots bands can't make it too logistically or just never considered. Line up would be wild; Rico Nasty, Linkin Park, NoName, Buggin, Zulu, Regulate, The OBGMs, Pure Disgust. and System of a Down is a very mixed bill wild line up hahaha.
B: What's your favorite moment from the last dark side of da moon tour?
C: When Black Femmes and Non-Binary people asked for and received their space during the philly show. I think that exemplified what the tour was about, creating an environment in which Black people feel as if they can thrive and belong which enables people to ask for their space and reclaim their time. That doesn't happen at other spots and it was beautiful to see it happen during our set.
B: What's the main thing that keeps you coming back to hardcore no matter what?
C: Firstly the mosh, I don't know why but I just can't stop yet, I think about it all the time but somehow someway I keep coming back to the mosh.
Secondly: the homies, I have been able to foster some beautiful relationships through hardcore and sometimes shows are more like a family reunion than really an event and that is always fun.
Lastly, Black people, I think now more than ever in my time in hardcore you're seeing more and more Black people reclaiming their space, their time, and their sound within this genre and I love being a part of this moment in time. So I want to stick around to see what else niggas I don't know and Niggas I do know bring into this space.