Take us back to your childhood—what music did you hear around your home, booming out of the cars in your hood, or your headphones?
Obi (vocals): I always gravitated towards pop music growing up in the early to mid 2000s. I just had this thing for catchy melodies since a young age, which I kinda credit to Beyoncé's first album because my mom used to play it in the car every day on the ride to school. Outside of that, a lotta old Atlanta rap. I grew up in the burbs for the most part, but spent some time in APS schools as a kid, and I remember stuff like Yung Joc, T.I., Lil Jon etc. being everywhere when they first started getting hot. And then idk, I always liked guitar music since like a real little kid, I guess from the shows and movies I used to watch when I was younger. And then getting into wrestling at around 8, and some of the walkout and intro music being decently heavy at the time.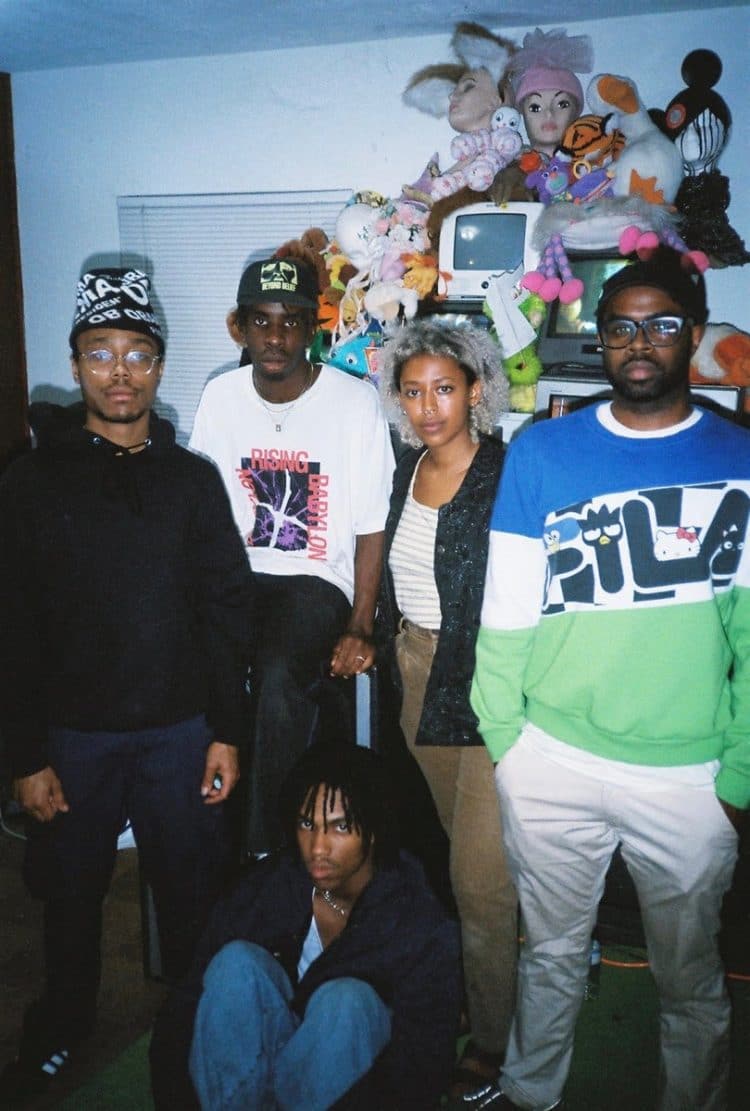 Give us the science behind the title and artwork of your new record, The Fun Never Ends?
Our guitarist Menene did the artwork. We all pretty much agreed that we wanted to make it like a carnival/circus-themed approach. It kinda coincides with the title. The Fun Never Ends is really just a way to say that life likes to toy with you and throw the most heavy shit at your direction, to where it kinda feels like it's just having fun doing it.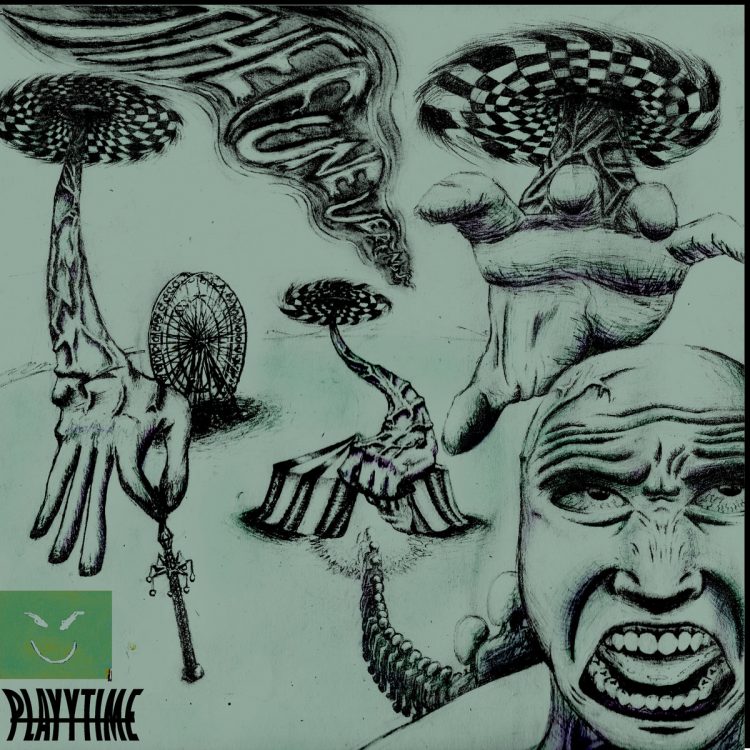 Y'all have a strong sense of self when it comes to your creative vision. What life experiences helped shape the way you see the world?
For me, personally, seeing how cruel the world can be from a young age, but then growing up and realizing that a lotta shit is actually just hilarious when you really think about it. Life's more fun when you treat it like a stupid video game or something.
Top 5 MCs, dead or alive?
I'm in my twenties, so remember that before you read my list lol. Wayne, Lauryn Hill, Andre, Earl… that's all I can think of right now, it always changes though. I been listening to a lotta Pharrell's tapes lately. Listen to Tony Shhnow, Bear1boss, and Muddy Mya. Yvngxchris and Babytron probably my fave new rappers out right now.
Lil Wayne – A Milli
Wyclef battles Lauryn
Earl Sweatshirt
Muddy Mya
TONY SHHNOW
If you could put three of your songs from The Fun Never Ends in a time capsule to be opened by your sons ten years from now, what songs would you put in there, and why?
Man, I don't want that nigga hearing no hardcore music, be normal. I'm kidding…kinda… I'd put the title track and "Windlike" in there, just because those are my faves.
What role do the ancestors (and Black creators that came before you) play in the way you see the world, and how do they impact the way you create?
I don't know bout the ancestors, but Alexis Brown from that band Straight Line Stitch is like everything I wanna be in a vocalist. Truly wouldn't be doing what I'm doing right now if it wasn't for people like her and other Black people in heavy bands back in the day.
Outside of creating music what other ways do y'all express yourself creatively?
Music is it for me lol. Everyone else all has different creative avenues like videography, DJing, visual art, and tattooing. I can confidently say I'm in a band with the most talented and creative individuals in the city and I feel real lucky to be able to make stuff with them.
Y'all's song "Windlike (ft. Stemlines)" sonically sounds different than your other songs (I love this direction)…Will y'all be creating more songs like this?
Stream the fuck outta Stemlines. My fave artist from Atlanta — their voice and production is magic. They're gonna be huge, and honestly you'll just have to wait and see. All Ima say is expect the unexpected from us always.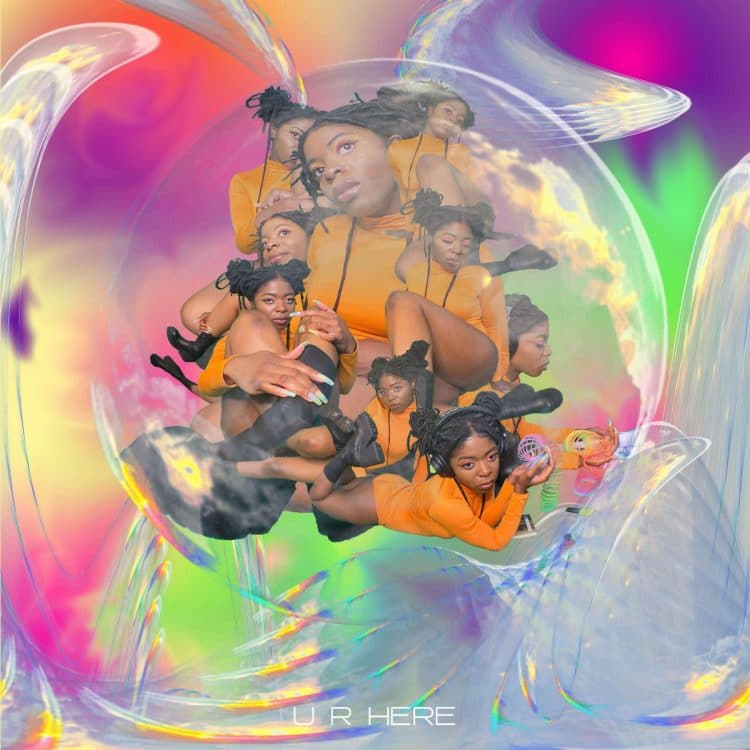 What was the creative process behind y'all's song "Sink In"? The opening riff is sublime! What kind of emotion did y'all want to evoke with this song?
Thank you, it's def a fun one to play. I wrote the lyrics and Travis wrote the guitar parts, but I like it because I feel like it gives people that same feeling I got from hearing old Trash Talk, Weekend Nachos, and Full of Hell when I was younger. Just super aggressive and fast.
Who are you speaking to lyrically on the song "Wonder"?
Good question, lol… I wasn't really speaking to anyone in particular, it's really just a song about being numb. I was dealing with a lot that year and after a while I stopped feeling any type of way about certain things I was going through. I guess that's where "Why I'm all outta pain" comes from because I truly had no more to even feel at that point….dramatic lol.
Describe Playytime's sound as a weapon of mass change or a superpower—what impact do you want to see it have on culture or our society?
I look at a lotta 90s bands and think, "this was a once in a lifetime thing that nobody could ever replicate." That's my goal with Playytime. I want everything to be so uniquely us that it literally can't be compared. The way bands like Rage, Smashing Pumpkins, Alice In Chains still transcend generations because they carved out their own lane. That's the type of impact I wanna leave on the world. I guess the one word I'd use for it is Earthshaking.
What four albums have had a major impact on your creative spirit as a band?
That's hard to say, because we all collectively kinda bring different influences to the band and mesh it into one. I think if I had to pick for myself, it'd be Kid A
by Radiohead, Swoon by Silversun Pickups, every Deftones album up to koi no Yokan, Reanimation by Linkin Park is so sick. It's a mixtape they did after Hybrid Theory that I tapped into kinda recently. It's got like features from a lotta underground backpack niggas from back in the day. Alchemist did some production on it, too. It def gave me a new sense of inspiration hearing it. Ima throw Worship & Tribute by Glassjaw in there as a sixth, I feel like I subconsciously take a lotta influence from that. That's just my side of things, though, it changes all the time.
Have y'all given any thought about how Playytime is laying down a foundation for other POC bands that might form after seeing y'all?
Dude, kids message me all the time telling me that they wanna start bands/started bands after seeing us. It's kinda crazy, but I really love it. I try to be as encouraging as possible and tell them just do it and have fun. I was literally them at one point, so it's just crazy that I'm even in a position where people care enough about what we're doing that it makes them wanna create something of their own. It's def something I don't take lightly.
I feel like right now we're bouta see a Renaissance of that in hardcore and just aggressive music in general. You see what Zulu's doing right now? Niggas is lucky that band didn't exist when I was 16, or I'd be a fuckin problem. I think most Black people are rockers at their core, it's just a lotta us don't have the proper references and guidance to really dive in. And even when you do, most people highlighted are just white dudes, so even if you do like the music, it can feel like maybe the shit isn't supposed to be for you. I def had to dig deeper to find people who look like me in alt culture, but I'm glad it's become more prevalent and obvious in recent years.
How do y'all see the intersection between slavery, the destruction of generational wealth, housing segregation/redlining, underfunded Black and Brown schools, and the prison industrial complex reflected in our communities today? What solutions appeal to y'all?
Idk man, that's something I'm still currently learning about that I'm not knowledgeable enough to speak on substantially just yet.
If you could develop your own curriculum for Atlanta Public Schools that focused on what they don't teach in school, what kind of classes would you include and why?
I haven't been in school in so long I don't even know what they teach or don't teach lol. I didn't learn anything about financial literacy in school, so if they're not doing that yet then that's def one.
How important is it to y'all to represent at a fest like the Break Free Fest?
Honestly, we just wanna rep Atlanta hardcore to the best of our abilities. I feel like we're a city that gets overlooked a lot when, in my opinion, I feel like we have some of the best stuff going on right now. I just wanna show that Atlanta is not to be fucked with. Break Free Fest will be our first Northeast show, so I'm really grateful that Scout and all of em asked us to be a part of it. But yeah, we in Philly with it lol, shoutout Soul Glo and Jesus Piece.
What does a day filled with Black Joy look and sound like?
I think I'm my happiest when I'm recording music and the songs come out exactly how I heard them in my head. Nothing beats that feeling.
I know we're living in crazy times, so what do you do to keep your Mental Health on point?
My shits not on point lmfao… I just be skating. Ima do that today probably.
What are some Black-Owned businesses in Atlanta we should know about?
For Keeps Books on 171 Auburn Ave,
Village Coffee in Little 5
Cam Kirk Studios
Buy a cake from Dre.
There's a shit ton of Black-owned vegan food on the west end. Tassillis is stupid fye.