FIRE IN THE MOUNTAINS Fest 2022 is fast approaching, and if you haven't secured tickets for this one-of-a-kind heavy music fest set against the backdrop of the breathtaking Grand Teton National Park in Wyoming, then you need to get on that. From July 22nd through 24th, 2022, you'll get to witness some amazing artists in stunning surroundings. Camp out on a ranch, eat amazing food, chill with friends and artists, experience some awesome and informative talks, and light fires in the mountains to celebrate music and nature.
Today we're stoked to share an interview we did with the festival's organizers, Jeremy Walker and Shane McCarthy. Check that out below…
What was the spark that started Fire in the Mountains?
Jeremy Walker: In all honesty, Shane's band Wayfarer was the spark that started FITM. I started really liking Wayfarer back in 2014 and loved that they were singing about mountainous landscapes and western culture. Naturally, I connected to not only their music but their lyrical themes being from the mountains of Wyoming. So I decided to reach out to Shane to see if Wayfarer would be interested in playing a DIY total clandestine show in the woods with a beautiful Teton mountain backdrop. He put his trust in us to pull this off, and sure enough, we did. Watching Wayfarer play in front of the Tetons with the sun setting behind the mountains was an epiphanic moment for me. At that moment I knew I had fallen into an idea for a festival that would resonate with people, as the experience of it would be unique and powerful. I've been screwed ever since.
Tell us the story of the setting for FITM.
Shane McCarthy: It is truly one of the most beautiful places on the planet. There is a serenity and majesty here that can't be simulated and can't be felt without being there. It feels magical and separate from the daily world we all toil in, and because of this something about it locks in perfectly with the kind of deep and dark feelings exploited and fleshed out by all of the types of musicians we bring up here. It's a place for kinship among those who want to feel something so singular and impactful, with setting and experience going hand in hand.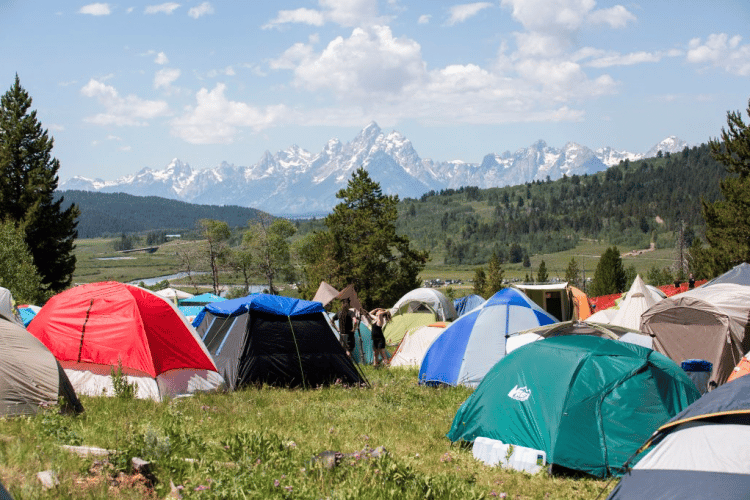 I love your mission statement of being a multi-faceted experience to "rekindle one's inner fire and relationship with the natural world." Besides camping in the stunning setting in the Grand Tetons, how does FITM encourage its attendees to respect and commune with Mother Nature?
Jeremy: We offer numerous workshops at FITM that are designed to develop and deepen people's connection with the natural world. Once this connection has become more profound, the aim is for people who attend FITM to bring this connection back home with them and incorporate it into their daily lives. We want to provide the spark for people who don't immerse themselves often in nature to come to this festival, experience the wildness and majesty of the mountains, and have a deep experience that sticks with them forever.
Has a grizzly ever wandered onto the fest grounds?
Jeremy: No, and we aim to keep it that way by ensuring the grounds are clean and scent-free.
Shane: Just a few grizzly-looking fellows. The organizers of this event have always had not only safety but respect for the land as a paramount concern. That's something I've admired from the jump, and a part of that is creating an atmosphere where the safety of humans and wildlife both are priority one.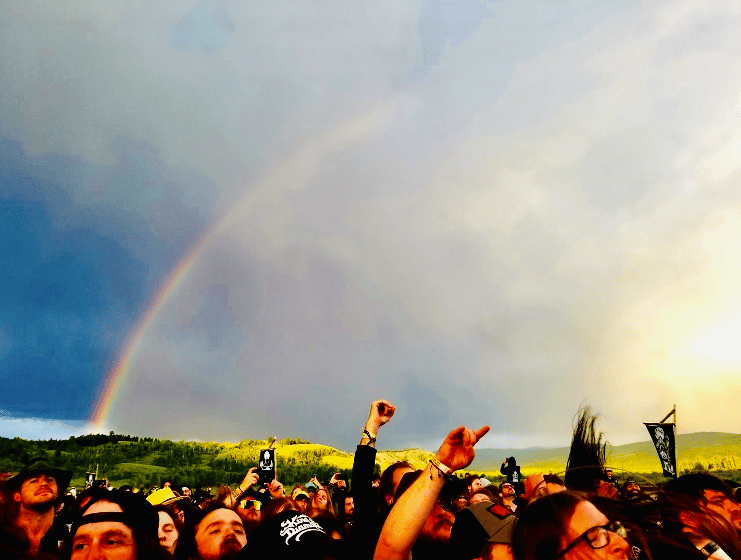 A music fest can leave a big, dirty footprint on the natural world in my experience. How are y'all mindful of the way you leave the site to show your respect for the land and the creatures that live there? How are your attendees involved in making the fest sustainable?
Jeremy: We preach and practice a "leave no trace ethic."  This ethic is essential when being in nature.  Every year we have left the grounds in better condition than we found them.  However, the larger picture idea is to go beyond this ethic by having a large positive footprint on the natural world.  We aim to accomplish this through our Buffalo Fork River Restoration Scholarship, where we provide free tickets and camping for people who can't afford to come to FITM in return for a few hours of work each day in riparian restoration work that we lead.  We also provide financial incentives for all campers to attend a bear safety course offered in the campgrounds and led by Wyoming Game and Fish.  This educates our attendees on how they can contribute to reducing human-animal interactions during the festival.  We have booths and signs set up at the festival that educate attendees on different local environmental organizations and about the wild and scenic river that is The Buffalo Fork River that flows by the festival grounds.  We have a Farm to Festival BBQ that uses ingredients grown and harvested not only by us but other local farms.  
Finally, through our ticketing checkout, we have a way for attendees to calculate how much money they can donate to negate the carbon footprint they have put into the atmosphere through their travel to FITM.  We then invest this money in local and regional carbon offset initiatives. 
Shane: Again, this has been something that from day one has impressed me about the way this is operated. I was amazed to see, and am proud to say now that FITM has taken it upon itself to leave lands not only untouched but in better shape than they were before we set up camp for our weekend.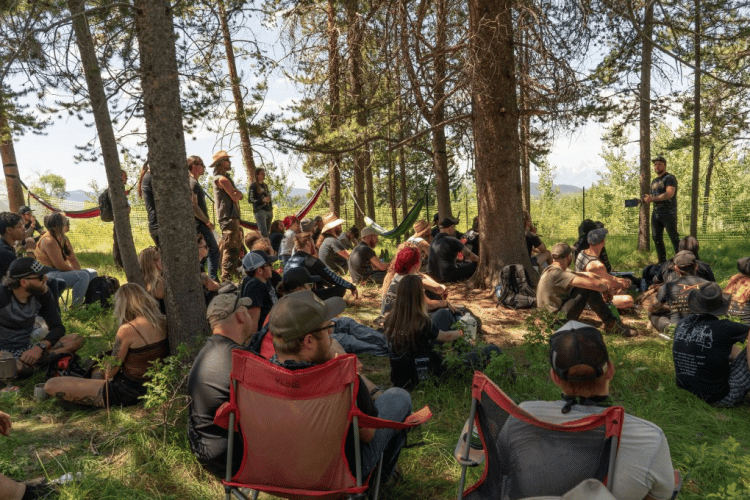 Your mission is to make a positive impact on the land with FITM. Share some of your environmental initiatives with us.
Jeremy: In addition to everything I just mentioned, we donate a portion of every ticket sold to a local environmental organization. Through this initiative, we were able to install the first bear box in Buffalo Valley. We strongly believe that environmental education can have a lasting generational effect. For this reason, our free workshops are mostly environmentally focused and are led by some very prominent and powerful individuals. Creating the connection that attendees will have to nature during the weekend of FITM is one of our environmental initiatives that will have a lasting positive impact on the environment.
We love that you have an anti-discrimination statement on the FITM home page. Why is it important to you to make sure your attendees understand why inclusion in heavy music is paramount? How do you ensure FITM is an inclusive space?
Jeremy: Coming to a heavy music festival in a random place in Wyoming can be intimidating for some people. We felt it was necessary to ensure people that the FITM festival grounds are a safe place for anyone and everyone to be. By posting that statement on our website and through emails we send to ticket holders, we set the tone from the start that this festival doesn't tolerate discrimination of any kind. Additionally, a main goal of ours is to build a community of people who come to FITM. This community naturally develops each year through creating an intimate experience where people commune with one another and spend a weekend together in a rural setting. A characteristic of the community is being inclusive, accepting, and supportive of other people in your community. This occurs at FITM.
Shane: Music is for everyone who can enjoy it, and the festival is for anyone who can enjoy the music and be respectful of the land and their fellow man. If you can't do that, and you have some self-important view or some wild political ideology, this isn't the place for that. It disappoints me to no end that there are people in the world of metal that have brought in the tarnish of their own selfish ideologies, and it's without a second thought that we build an event that is inclusive to all, and shun any kind of reprehensible discrimination. We are here for music and nature, and that is for all.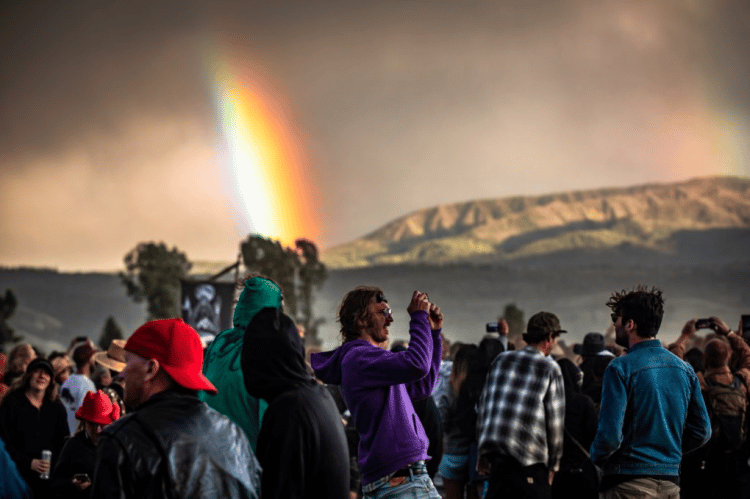 Do you partner with any local Shoshone-led organizations on environmental initiatives? How is FITM working to decolonize the American relationship to the history of the land?
Shane: This is a question I would love to bring Alex in on — he is our festival workshop organizer and has been talking with a few tribal leaders to both get their advice and invite them to speak at the event. Lakota Elder Christinia Eala will be speaking at this year's event and we are honored to have her a part of it. I think this is something we look forward to further integrating, and I know Alex would love to speak more on it.
What does "heavy music" mean to you?
Jeremy: One word: Passion.
Shane: It's one of those things you know when you hear it, and when you feel it. Obviously, metal as a genre exemplifies this and typifies it with the elements of extremity in pace, distorted vocals and strings, and driving rhythms. But beyond that, it is about a feeling, and that feeling can surface through a large number of genres, and that is something Fire In The Mountains works hard to curate. Across our lineup, you will see a variety of genres, but there is a common thread through it all. Each of these bands displays some kind of deep sense of feeling and something that unites them even across the differences in style. Kind of the thing that is much easier felt than explained, but I think we hit our aim of bringing those types of things together in this lineup.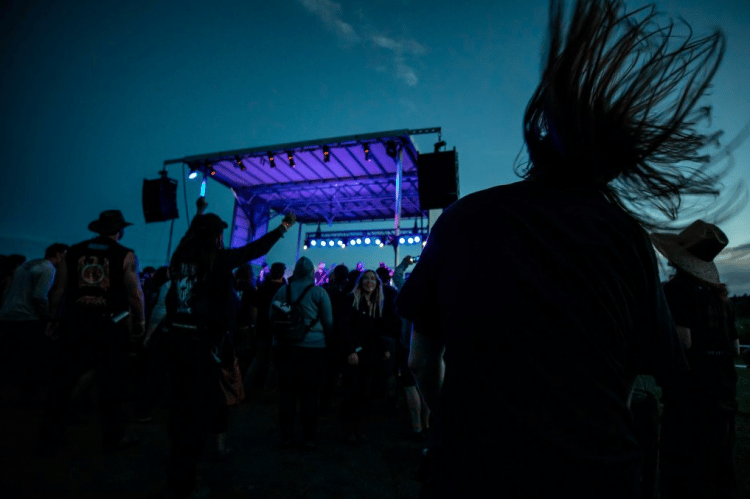 Explain the connection between heavy music and nature through the ideology of FITM.
Jeremy: A central concept with FITM is pairing heavy music with a landscape that compliments heavy music. To us, this landscape is mountainous. Building this connection is paramount. Themes within a lot of heavy music, and the people who listen to it, tend to be focused on nature. FITM provides an avenue for the attendees and bands alike to "walk the talk."
Shane: Again, something about the majesty and seclusion of this place calls for the powerful and deeply pensive feeling that the heavy music creates. Whether addressed more directly by thematics around nature or by the spirit imbued in the sounds and feel of the music, there is a connection between the two. Something about it feels so at home here, and thus why we are so drawn to it.
How will FITM 2022 be a healing experience for people emerging from the fear and anxiety of the past couple of years?
Shane: Oh man. So much has happened everywhere and affected everyone so differently, and I know for anyone who enjoys live music as a part of their life, that void of a couple of years was really difficult. Live music and the community that comes with it is integral to so much of our sanity and happiness, and to have the chaos of the last couple of years paired with a lack of the catharsis and escape that comes with those experiences was tough to weather. We hope to do our part in the return of music and community, and provide an escape to a beautiful place where so many like-minded people can finally just feel what is going on and enjoy it, release a bit — and through the experience of the music, the place and the community I think there is a real opportunity to come back with some feeling of healing. I think it will certainly be that way for us.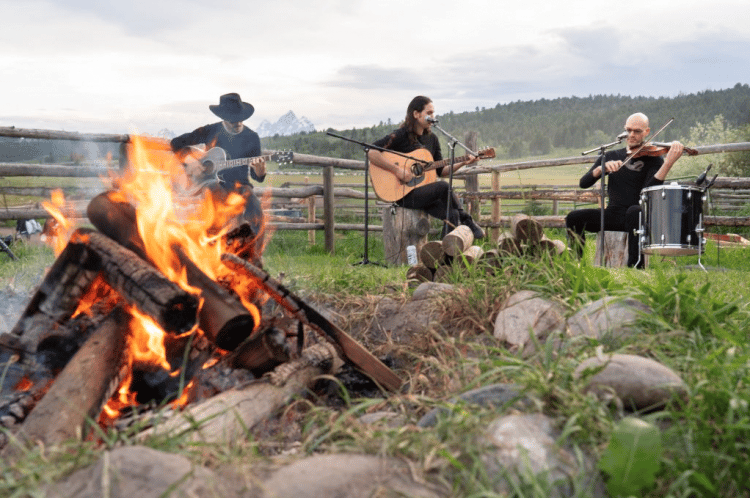 I know y'all are very intentional in choosing the artists for each lineup, so every set will be special to witness. But if you had to pick two sets you're most excited to see in the context of FITM 2022, who are they, and why?
Jeremy: I think I am most excited about Hexvessel because they don't play in the U.S. often and they embody so much of what FITM is, both lyrically and musically. Their version of psychedelic forest folk-rock will be a perfect union with the surrounding of FITM. I see it being a union between a Finnish "Western" and an American "Western." I'm obviously incredibly excited for Enslaved and Wolves in the Throne Room, but I gotta say I'm really looking forward to YOB. Something in my gut tells me it'll be a powerful show in this setting. Also, wait until you hear Lykotonon. It'll blow your mind. Shit, I just listed off a bunch of bands, but to summarize, I'm going to stick with Hexvessel and YOB.
Shane: Yes, there is thankfully a lot to look forward to — but man if I had to narrow it down — I guess I will cheat a bit and say I am most excited to see the combination of Enslaved, and the artists Ivar Bjornson has chosen to be a part of his showcase. It has been an absolute honor working alongside him and the Enslaved camp on this, and the care and thought he has put into it give it the makings of something special. In that showcase, I suppose I most look forward to seeing Steve Von Till playing his songs embedded in this atmosphere. That is one I think I won't forget.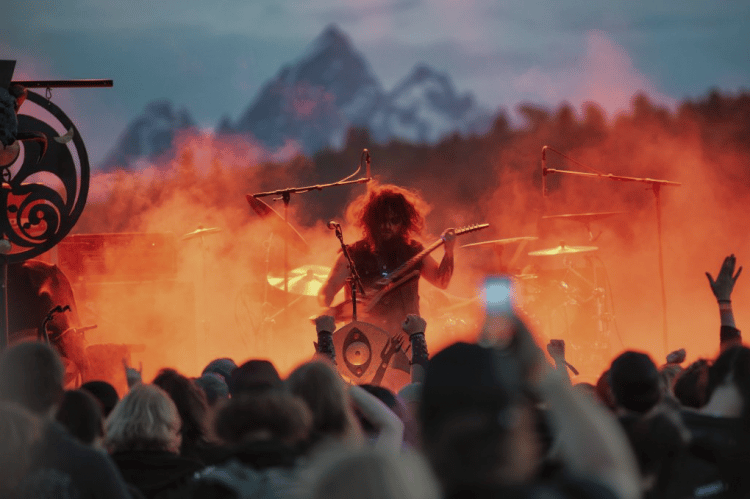 Tell us about the workshops you're hosting at FITM 2022.
Jeremy: I'm really excited about our workshops as this is a part of FITM that helps create the holistic experience we are striving to bring to people. This year the workshops have really come to life, thanks to FITM co-founder Alex Feher.
Mathias Nordvig will be speaking about Viking tattoos based on the 10th-century world traveler Ahmad ibn Fadlan's account of meeting the Rus Vikings.  
Dr. Siv Watkins will be sharing her knowledge of animism to help us connect more intentionally to our surroundings.  
Christinia Eala is a Lakota elder and activist for the environment.  She will be sharing her wisdom and providing a deeper sense of place to where we are in the west.  
Jason Tarpey, the frontman of Eternal Champion, will be showing us how to blacksmith a sword, which will then be raffled off to a lucky winner to take home with them.  
Elena Radford, an Incan Shaman, will be doing a workshop on climate change and the teachings of ancient human values.  I'm really excited about a panel discussion that will occur with some of our workshop leaders and band members together.     
What three albums got each of y'all into heavy music?
Jeremy: Metallica Kill em' All; Black Sabbath Paranoid; Converge Petitioning the Empty Sky.
Shane: An awfully big question, heh. My gateway drug was Cowboys from Hell. The things that shaped me from there were Death's Leprosy and Opeth's Blackwater Park. The rabbit hole is endless.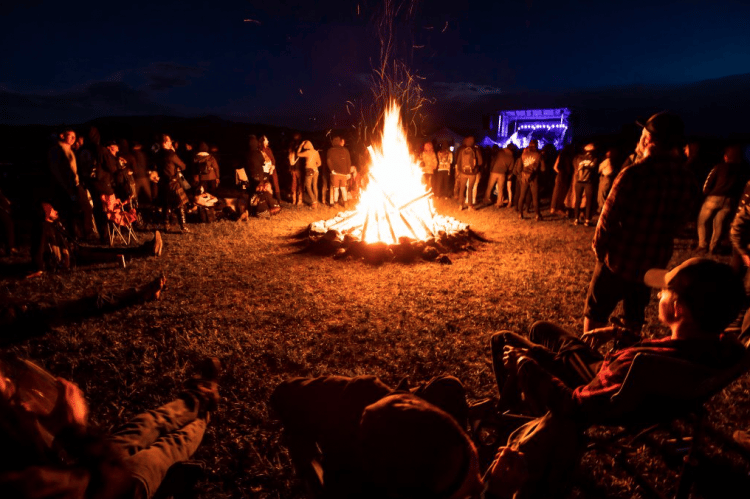 2022 is the third iteration of FITM. What's your long-term vision for the fest?
Jeremy: Technically 2022 is our sixth iteration of FITM. The early FITM was just under the radar in a secret location. This is our third iteration at Heart Six Ranch. We have many visions for the festival, some of which the fate is largely in the hands of the county government and permitting officials. Unfortunately, it's been an uphill battle trying to have this festival in Teton County because the regulations are incredibly strict as they are designed for environmental preservation as well as preservation of an old way of life that doesn't exist here anymore. Don't get me wrong, I'm all about certain types of preservation, but not at the sacrifice of progress. Preservation and progress do not have to be opposing forces. They can co-exist. After this year we will see what we can continue doing in Teton County, particularly at Heart Six Ranch. Regardless, we would like to have this festival with similar concepts and values in many powerful locations around the earth. That's our 30,000-foot view.
Shane: We will see what the future holds, but all I can say is it remains important to us to retain the integrity of the festival. We enjoy all types of events, but this is something that always hopes to be more than just a bunch of names on a flyer for a big party in the woods. As the festival grows it will be important for us to stay true to the idea of this thing the whole way through.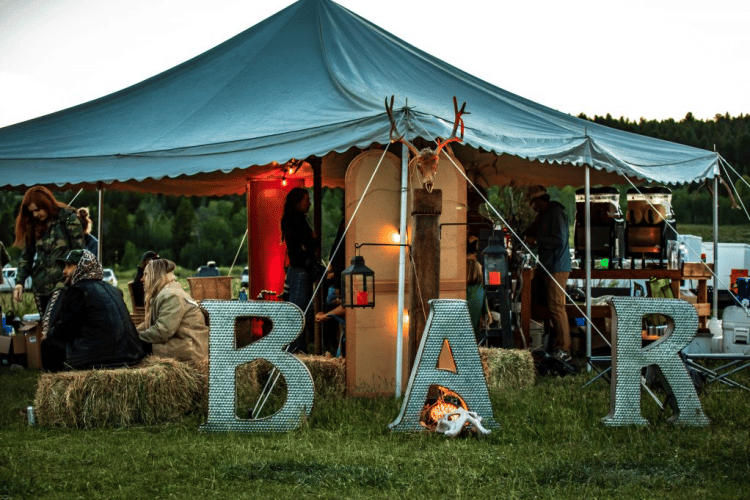 How does FITM encourage artists and attendees to come together in a way that many fests don't? Are the two of you running around constantly, or do you also get time to chill and hang out with everyone?
Jeremy: The artists love playing at FITM because it provides them an opportunity to come see the Tetons and Yellowstone. Because of this many times they stick around for a few days rather than moving on to the next show, the next day. There's also nowhere else to really stay out there in Moran, Wyoming. So the artists tend to hang out at the festival as equals to everyone else at the festival. It contributes to the community that develops over the course of the weekend. Regarding chilling and hanging out with everyone at FITM, that doesn't really happen. I run around like a mad man. I don't eat, I don't sleep. I run on pure adrenaline and I can't get enough of it. There's just too much to do.
Shane: Something about being in a remote place I think brings artist and attendee alike together in a way that doesn't always happen. I think it truly feels like a shared experience in this way and is part of the reason the sense of community is so strong here. People enjoying the same thing under the same stars in a beautiful place. But yes haha it is always quite a blur for us that is absorbed a few weeks later.
What does the ultimate day at FITM look like?
Jeremy: It's already happened. The Ruins of Beverast set in 2019 was the ultimate day at FITM. Lightning behind them as they played, the storm broke around the stage into a double rainbow. Life-changing.
Shane: Couldn't put it better myself. Can't wait to see what stories there are to tell from this year.