Text: José Carlos Santos // Photos: Luana Magalhães
Already on its fourth edition, the growth of the Porto-based Amplifest is noticeable just by glancing at this year's unbelievable line-up. From established veterans of every side of the experimental and alternative spectrum like Swans or Peter Brötzmann to young upstarts like Vvovnds, Hexis or Pallbearer, with detours through unexpected territories like the lovely dreaminess of Marissa Nadler, not to mention exhibitions, talks, films and listening sessions, it's two very, very packed days where you'll barely find time to eat or even sit around the fantastic Hard Club venue, the very heart of Amplifest. It's only been a few days, but we're aching for Amplifest take five already.
YOB
You know you're in for a treat of a weekend when a festival allows itself to start off with a 4pm YOB show. Almost all of the fantastic new album is unleashed (including the emotionally harrowing closer 'Marrow'), and the biggest compliment that can be paid to these initial live renditions of the record is that its cuts more than hold their own against the staples that make up the rest of the setlist – 'The Lie That Is Sin' and immortal opener 'Ball Of Molten Lead'. Now that is setting the standard for the rest of the festival!
Peter Brötzmann & Steve Noble
These two musical giants are, respectively, 73 and 54 years old, and armed with but a saxophone, a clarinet and a drum kit, they played one of the most vital, energetic and downright brilliant sets of the entire weekend. Brötzmann's sinewy and sombre sax attacks are like repeated stab wounds in your gut, while Noble's subtly relentless dynamics just push the dagger deeper in at every unexpected beat. By the end of the show, after a respectful bow, both men wiped pools of sweat off their brows, but the audience was even more exhausted.
Marissa Nadler
A brief respite from the noise halfway through the first day is given by the wonderful pair of Marissa Nadler and Janel Leppin, a remarkably talented cellist/multi-instrumentalist who has been accompanying her on this European tour, but despite the less punishing sonic output, it's far from a step out into the light. Marissa's ghostly, oddly engaging monochrome vocal delivery gives her compositions a ghostly, otherworldly nature, and that effect is greatly augmented by the extra weight Janel brings into the picture. 'I've Got Your Name' or 'Was It A Dream' (yeah, Marissa, it kinda feels like it was) kept eyes, ears and hearts of an enraptured audience firmly fixed upon the singer's elegant figure as if the whole world around her was dissolving. It might have well been.
Pallbearer
Even though the recent Foundations Of Burden seems to have been Pallbearer's breakthrough album that has propelled them in front of a surprisingly wide audience, they wisely don't forget that the Sorrow And Extinction debut still packs a mighty doomy punch – particularly now that Brett Campbell appears much more stable and incisive in his live vocal delivery than on their first treks through Europe. So we get 'Foreigner' and 'Devoid Of Redemption', the first two songs off that album, standing proudly beside three cuts off the new one, including the pitch-dark highlight that is 'Worlds Apart' and its unforgettable vocal melody. Being in the presence of this band's rare and precious emotional presence, a couple of meters away from us, the reasons for their success are obvious – though still sinister and heavy, their music carves a straight route to your heart like very few other bands are able to do, and they pull that off once again at Amplifest.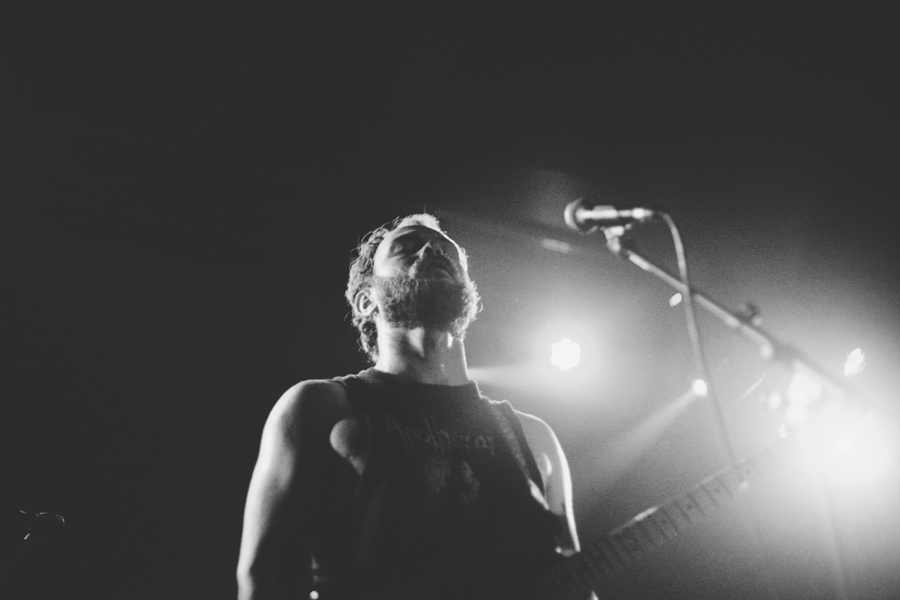 Swans
The sight is always impressive – field commander Gira, surrounded by his five officers, giving out orders and defining massive musical movements with but a swing of his guitar (or the occasional well-placed scream and jump), producing the devastating nihilism of the Swans that washes over the petrified/terrified audience's immobile staring. It doesn't really matter what they play anymore (although the colossal 'The Apostate' does help), a Swans concert, all two and a half hours of it (!), is as much of a tour de force for the band as it is for the crowd. Everyone is crushed, both physically and mentally, about halfway through, but few are the ones that dare move, as if the sheer weight of the performance is pinning them down to whatever spot they chose to be tortured in. Michael even seemed to be in a great mood, smiling and blowing kisses to the front rows, but it doesn't matter. While field commander Gira is up there, you get down on your knees and fucking obey.
Hexis
It's an impossible job to follow up Swans for anyone, so fortunately the schedules allowed for the shortest sets to fulfill that unenviable task. Fortunately, Hexis' furiously short immediacy and instant-gratification kind of violence were the perfect antidote to the go-to-bed-now-and-never-listen-to-any-music-again mood the Swans always leave us with. The Danes arrived, destroyed everything as quickly and efficiently as possible with blows of rabid hardcore punk and left, leaving everyone even more dazed and confused than before. Kickass.
Pharmakon
Following Hexis' short blast, another short blast – but of harsh noise this time. Margaret Chardiet's Pharmakon made up for her cancellation in the 2013 edition of the festival and pummelled sore eardrums with the tenebrous results of her knob-twiddling for just a shade over 20 minutes. We're sure there would have been Family Guy Ipecac-like scenes of mass hurling if she would have kept it much longer, and we mean that as the nicest compliment possible to the performance.
Ben Frost
When it comes to knob-twiddling, however, few can touch Ben Frost. The Iceland-based Australian, armed with a guitar and his usual (let's not get too technical here) table full of gadgets, is one of the current masters of sound-sculpting, and the textures and environments he is able to create by drawing all the best parts of drone, electronica and noise are frankly superb. As one of the very few artists of this kind that is truly unmistakable as soon as he starts playing, he is also a master of the stage, and the effects of his compositions are greatly augmented in this setting. Especially when he is joined by the Swans' Thor Harris on drums, as he was during the latter part of the show, a pair that demands the utmost respect by sheer force of performance alone.
Stay tuned for Day 2 coverage!