For three days in the summer of 1816, in a mansion called Villa Diodati near Lake Geneva, Lord Byron, Percy Bysshe Shelley, Mary Shelley, and John Polidori spent time indoors due to poor weather, entertaining one another by telling stories. Two of these stories became classics of Gothic literature: Mary Shelley's Frankenstein and John Polidori's The Vampyre, a precursor to Stoker's Dracula. It is hard to imagine the electricity that must have rippled the air in the old castle as four of the 19th century's most influential literary minds weaved tales inspired, one would imagine, by the creative caliber of their company. This sort of artistic chemistry—one that moves the minds enmeshed in it to explore and engage with new ideas—must have also been present at tables like Stratford-on-Odeon (with authors Ernest Hemingway, James Joyce, Gertrude Stein, and F. Scott Fitzgerald), The Factory (with artists Andy Warhol, Salvador Dali, Truman Capote, and Bob Dylan), and Billy Eckstine's band (with musicians Art Blakey, Sarah Vaughan, Miles Davis, Dizzy Gillespie, and Charlie Parker). One gets a similar sense of boundary-breaking artistic camaraderie when listening to Grave of a Dog, the debut album by Sightless Pit, a project combining the substantial artistries of Dylan Walker (Full of Hell, Ramuh), Lee Buford (The Body), and Kristin Hayter (Lingua Ignota).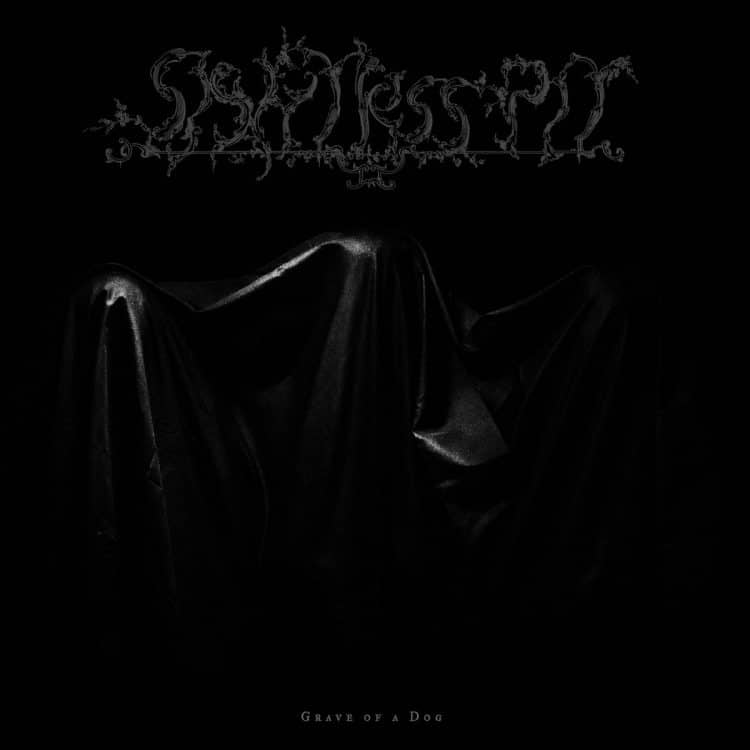 Grave of a Dog finds three musicians who have nothing to prove, whose legacies are secure, endeavoring to compile an album based on exploration, based on friendship and mutual respect. Guards are down. Egos are absent. This album feels pure and unpretentious. This is about art as process rather than product, which isn't to say that the result isn't polished or compelling, but rather that nothing feels designed. There is no artifice. The album feels constructive, like building sandcastles. Only these castles are of shards, needles, and contaminated biomatter.
The album begins with "Kingscorpse." A haunting vocal line evokes Dirty Projectors and Belew-era King Crimson. After a half-minute of this threnody, Walker's familiar caterwaul rams into the mix, along with a wall of overdriven synths. The screams and dissonant power electronics trade center-stage with the original androgynous wailing, all while a lo-fi drum loop holds everything in a tenuous balance.
It is contradictory to say, but this album is somehow more chaotic but more accessible than anything the three artists have produced with their primary projects. Cases in point: One of my high schoolers said that "Immersion Dispersal" sounded like an anxiety attack, while one of my kindergarteners said that the same track sounded like a disco. Both are right. This second track captures the contradictory nature of the album as a whole, in that this album, throughout, is as relaxing as it is upsetting. Catharsis is like that. An artist finds a way to express an emotion that the audience is struggling to express, something deeply hidden, something dark and terrible, and expresses it for us, purging us of that which society cannot bear for us to unleash ourselves.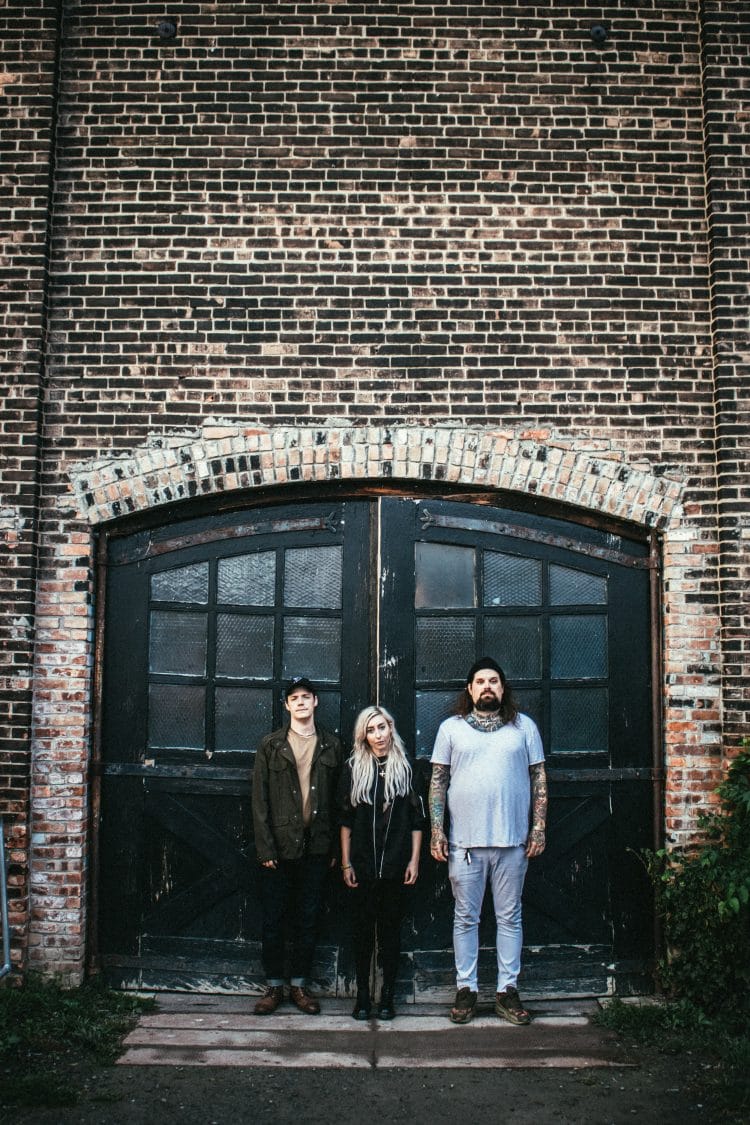 "The Ocean of Mercy" and "Violent Rain." Sounding like Grace Slick reborn, Hayter sings timelessly. Her classical training is evident whenever she is a focus, with her voice familiar and strange. Her melodies are ancient but modern, defying geography, as her vocal lines would fit in a catalog with Hildegard of Bingen or with Schoenberg. These tracks are spare, primal. Contrasting with her bandmates' electronics, Hayter's contributions are druidic, ecclesiastical, apocalyptic.
Hayter provides a melodic anchor for the caustic maelstrom of Walker's and Buford's noisemaking, which, while never absent, peaks its head out more in "Drunk on Marrow." This track sounds like the soundtrack to a noir film written by Jim Thompson and directed by Darren Aronofsky, with the sounds of hurried footsteps and distant, sluggish train horns serving as a backdrop for the frenetic animal-screech of some would-be murderer on the run from his dark desires.
While these songs fully exemplify the creative voices of these three established voices, fans of their other projects will find that these is very much its own beast. It is contemplative and slow-burning. The entire album is tense, with no release in sight. Walker's voice is no higher in the mix than the instruments, giving the effect, as in "Miles of Chain," that someone is trying to communicate inter-dimensionally through TV static, like some ghost in the machine. Throughout the album, as far as Buford and Walker are concerned, this feels like a return to the style earlier releases, to Full of Hell's Noise tapes and to The Body's work with Braveyoung and the Assembly of Light Choir. This might be due, in part, to the feeling that this is a passion piece, a piece put together for the satisfaction of the composers without any audience in mind. Lingua Ignota, Full of Hell, and The Body's 2019 releases were, deservedly, topping year-end lists everywhere, and this project feels like three artists stepping away from they acclaim they have earned, wiping the slate clean.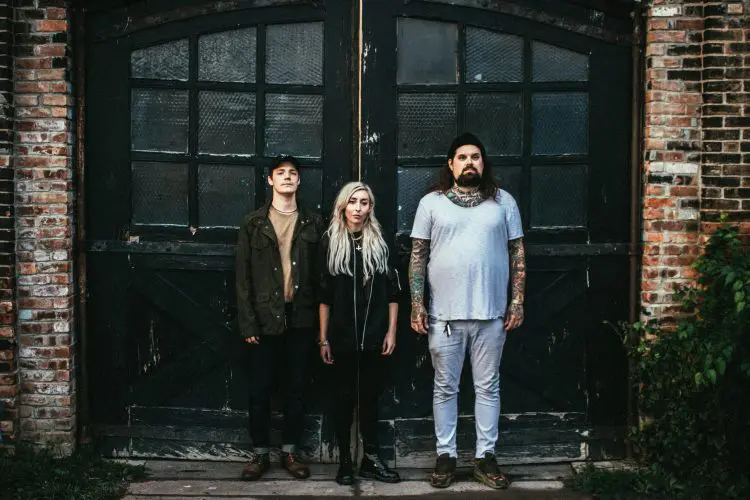 If there is a climax to this album, it is "Whom The Devil Long Sought To Strangle." It is short lived, spending two minutes on the pizzicato sounds of a documentary on spiders before exploding into the screeching, mechanical chaos of a two a.m. highway wreck. And then … nothing. One distant voice, barely rising above the dysrhythmic pulse, muttering "Love is Dead, All Love is Dead," as if meditating on the ruination that preceded it. This reflection, tense, tragic, bitter, is the longest track on the album. It is something you sink into, resigning yourself to extinction as the track and the album ebbs to its conclusion.
These three artists are no strangers to collaborations, so it is no surprise that this album is such a success at simultaneously representing each contributor's creative voice and being something totally novel. Hayter recently collaborated with Alexis Marshall (of Daughters, Fucking Invincible, As the Sun Sets), Full of Hell have released three collaborative albums (one with Merzbow, two with The Body), and The Body has released almost as many collaborative albums as non-collaborative ones. These musicians represent a very special mentality in experimental and heavy music that is growing more pervasive. It is the spirit of Michael Gira and Jarboe, who placed the art over the artist, and today we see it in musicians and bands who don't allow themselves to be branded, who seek collaboration and experimentation. Lingua Ignota, The Body, Full of Hell, Thou, Emma Ruth Rundle, Silver Godling, Moloch, False, Cloud Rat, and so many other, similarly minded artists (perhaps even Saethe, eventually) are the new Algonquin Roundtable, a meeting-of-the-minds of doom and gloom.
Grave of a Dog is Frankenstein, in that it is a masterwork and in that it is a monster greater than the sum of its parts. It is Villa Diodati. It is a castle of detritus, beautiful and horrible.