Vancouver BC's bestial death metal horde Ceremonial Bloodbath isn't playing around. We got a glimpse into their debut LP The Tides Of Blood that's dropping tomorrow on cassette/LP/digital from Sentient Ruin and it's a hair raising slab of bestial aural filth with few equals around. Stream the full abhorrence below and witness this monstrosity for yourself!
While not properly labeled as "war metal" for lack of better terms, The Tides Of Blood is one of the most bestial, savage, primitive, and inhumanly violent death metal albums I've ever laid my ears on. The speed of grindcore and the thrashing dissonance of black metal which, along with death metal, form the core recipe of war metal, seem peeled back here if not totally absent, but in this case, the "less is more" concept works wonders because that's far from any lack Ceremonial Bloodbath are purveying here – quite the opposite. The absence of recognizable and cliche elements to the genre has perhaps just materialized pure unpredictability and paved the way for something totally disfigured and exquisitely unique. On top of that this band comes with a pedigree that has few equals in Canada, basically the elite of Vancouver's extreme metal circuit, with the band's members coming from such bands as Scum Division Cult, Nightfucker, Encoffinate, Radioactive Vomit, Grave Infestation, Mass Grave, Temple of Abandonment and Deathwinds, so you can expect a sound of utmost contamination with influences coming from all over the place.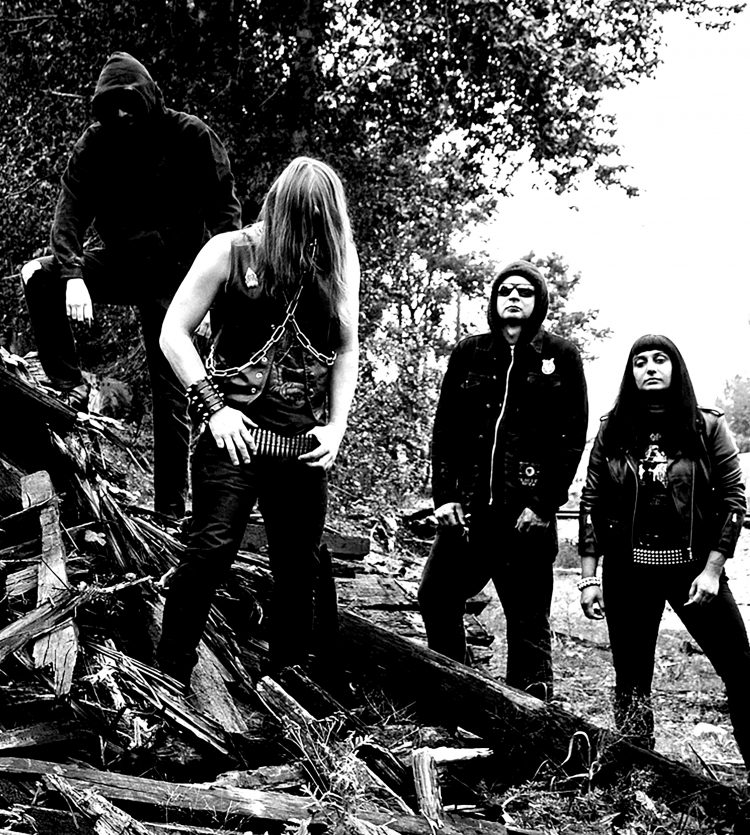 You could surely argue that bands like Blasphemy and Sarcofago have made their way into the band's influences, primarily in the savagery and brutality of the delivery, but what we're mainly dealing with here is an abhorrent mid-tempo, tank-like stampede of dissonance and sonic abandon that attempts to trample the listener with pure weight instead of speed. It's the tonnage here that works the damage and the sheer terror and disgust with which it's delivered. The riffs are a dissonant cesspool of mangled fretwork annihilation that barely has a resemblance of logic, yet they work wonders at creating this massive and inhuman wall of chaos that plunges the listener into a massive and ugly churning maelstrom of filth. Multiple vocal tracks add an extra layer to deformity to the already irrecuperable disfiguration while the rhythm section perpetrates the stampede on the listener with unseen savagery and an even more defiant load of unpredictability.

Right when you thought that aural primitivism, savagery, and brutality could not possibly be renegotiated outside of a given set of established and unavoidable guidelines, along comes Ceremonial Bloodbath to shuffle the cards and reinvent the wheel entirely, cause honestly, this might be the most regressed, savage, and lawless fucking thing since Archgoat, Diocletian or Black Witchery, while at the same time sounding absolutely nothing like any of them. Vinyl, tapes, digital available via Sentient Ruin tomorrow October 23 and can be grabbed HERE.