Diabolic Oath are an extreme metal abomination to behold and contemplate for time and time to come. The mysterious black/death trio from Portland is probably the only known extreme metal band in existence to be fully fretless, and just based on that you can already assume this band is unique and unlike anything else. Both guitars and basses, both in the studio and live, are all fretless. Not only that, but the band has no main vocalist, rather, all three members share vocals equally, and the result of this unique approach to their craft is a tridimensional sonic armageddon that will be just impossible to forget or overlook. Sentient Ruin is releasing their abhorrent debut album "Profane Death Exodus" tomorrow June 26 2020 on LP and tape, (get it at their STORE or Bandcamp), while Mexico's Craneo Negro will be handling a limited CD release, and today we're proud to bring you the full monstrosity streaming in its entirety right here:
Diabolic Oath's approach is definitely unusual, but obviously when we say "fretless", you could be too quick to assume this is going to sound like some extreme metal version of Jaco Pastorious or some improv free-jazz influenced wankery. "Profane Death Exodus" is of course none of that, and is actually an absolutely pummeling and blood-chilling sonic abomination that perfectly and beautifully falls within the familiarity of all the things that we love so much about extreme and war metal in general and then some: dark, violent, lawless, unrelenting, and to some degree, even primitive. Total aural bedlam that immerses the listener into a annihilating realm of chaos. The band's influences ranging from Immolation to Teitanblood to Archgoat are clear and expressed with absolute mastery, but what the fretless execution allows Diabolic Oath to do is to tap into a dimension beyond, and reach a more free-form and erratic state that gives their music a multidimensional feel, which is unusually enveloping and completely unhinged and unpredictable.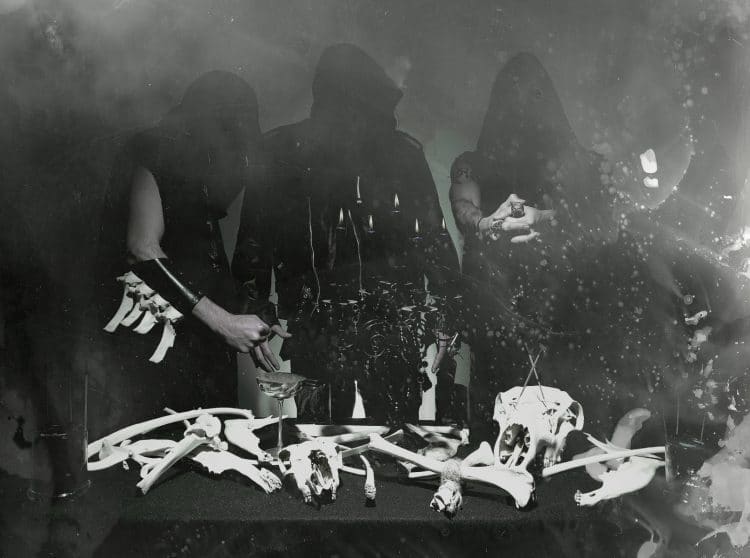 The triple vocal execution makes the music sound like its coming from all directions, the atmospheres are suffocating, and the execution is absolutely merciless. But the speed of delivery is surprisingly brought down a notch, a trait they borrowed from their love for extreme doom. As a result, this isn't a a traditional black/death album that just bombards you with the usual non-stop rainfall of aimless blast beats you'd normally hear in the canonic releases from the genre, but rather it's a thing entirely its own with a more paced mid-tempo trudge that gives the band a tank-like resemblance making their music feel more inescapable and colossal. Additionally, when the tempos slow down, there is no hiding, you either have riffs to put on display, or you're a failed experiment. And Diabolic Oath not only have riffs for days, real fucking riffs, but they also hurdle them toward you in huge fucking clusters like the inescapable metal treads of a massive fucking tank that's about to squash you like an insect.

Beyond of the blinding violence, suffocating atmospheres, ad merciless execution of the music itself, highly worthy of mention is the other half of the band's essence: the morbid occult and esoteric rituals that obsessively permeate the music like a disease, making of "Profane Death Exodus" a multidimensional aural cataclysm made in equal parts of inescapable sonic annihilation and extremely sinister and diseased atmospheres. Diabolic Oath haven't reinvented the wheel, that was likely never their intention, but they have made a familiar wheel seem more abhorrent, unpredictable, and otherworldly than ever before. Open the gates to blasphemic domination!