Pig City, the kings and queen of Copper State Crust, kicked in the door of the nation's psyche with their 2019 To Live A Lie release, Terminal Decline (which Cvlt Nation covered here and here). While their 2017 debut Polemics had already made them a fan-favorite in the Southwest, Terminal Decline had their name in the mouths of d-beat and powerviolence fans the country over, toothless though those mouths may have been after the album's out-of-nowhere seven-song assault.   
The band has been far from dormant since that release, focusing on writing and performing. They have since shared the stage with outstanding and like-minded bands such as Livid, Iced, Regional Justice Center, Infest, Iron Lung, Woundvac, Burnout, Maximum Roach, Sex Prisoner, Misery Bloc, Magnum Force, and ACxDC. The last of these, a band that needs no introduction, is a band with whom Pig City remained in touch.
For their eagerly awaited follow-up to Terminal Decline's devastation, Arizona's Pig City has banded together with California's hardcore iconoclasts, ACxDC, whose 2020 LP Satan Is King (covered by Cvlt Nation here) topped year-end charts with its metallic twist on their already unique brand of powerviolence.
The two bands, both of which are perfect examples of their respective genres while also pushing those categorical boundaries to their breaking points, make for a powerful and dangerous alliance, and like the best 7"s do, this EP packs a full album's worth of discontent, malice, and viciousness into its under-15-minutes runtime.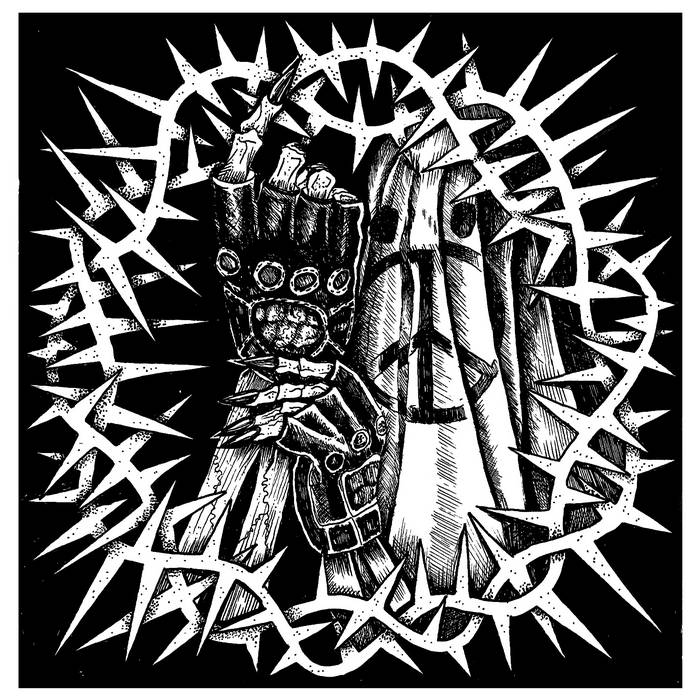 ACxDC's "Brotherhood" resumes the metallic powerviolence assault of Satan is King. Its Deicide-style riffing prowess and its Despise You-inspired knuckle-dragging make this track a stylistically intersectional dream that couldn't have been executed as gloriously by any other band. Sergio Amalfitano's blackened vocals soar over the monstrous mayhem of colliding metals, and this song's slow-and-low, mud-thick breakdown drains the blood from most others that have been released this year.
"Right of Death," ACxDC's grinding, circle-pitting second contribution, is a rhythmic Rubik's Cube, alternating between OSDM, early-Carcass grind, and pick-up-the-change beatdown. The longest track on an EP of short songs, the stylistic variation is a sonic jab-cross-hook-uppercut combo with jagged knuckledusters.
The closer of ACxDC's side is "Party Violence," a track aptly named, as this is the right track to end a house show by rending the venue from its foundations. The interplay between bold, moderately paced power chord work and sprinting d-beat makes for a tense, chaotic, white-knuckled rager that is also very fun, without taking anything away from the sheer evil of ACxDC's long-curated brand of anti-everything violence.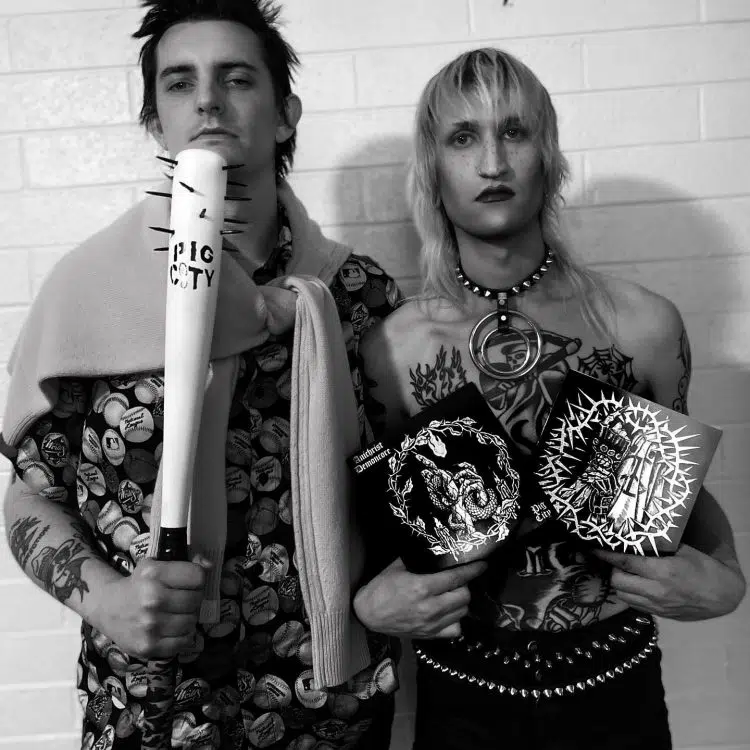 While Pig City has never been lacking in power or intensity, the three songs on this split are meaner, rawer, and more personal than anything they've released yet. These songs come from the heart. They come from the guts. They come from the pelvis. And they are frothing and bloody.
Their side of the split comprises the anaphoric "Fire to the Cops" and "Fire to the Prisons" as well as a brilliant cover of The Ramones' "Got A Lot To Say." The first of these is a rolling, crowd churner that recalls the best of Dystopia combined with the best of Gauze. Oswood's vocals, more self-assured than ever, carry a blacklisted-from-local-bars-for-headbutting-Nazis swagger. She channels the youthful angst of "Nervous Breakdown" Keith Morris, the snottiness of a young Ross Farrar, and the venom of Amy Keim. "Fire to the Cops" is the sound of punk boots parading over pummeled and perforated riot shields and tactical gear. It is the sound of civil disobedience and the sound of hundreds of thousands of people realizing that "to serve and protect" has nothing to do with them.
"Fire to the Prisons" is cop-fighting, prison-abolishing music, with mid-tempo Neanderthal riffs funneled through DeCarlo's mammoth His Hero Is Gone guitar tone. The bite-through-your-own-lip aggression of the verses transitions with Metz's grinding blast beats until Oswood roars, "'til the cages open, no one is free," and we are left with only the beat and the bronchial rattle of McElroy's bass. Oswood continues with spitting ire, "Break down the doors/tear down the walls/kill all the guards/free them all!"
A cover that could easily sound incongruous if executed by a lesser band, "Got A Lot To Say" is adapted so fully to Pig City's chain-link savagery that it might as well be an original. Though it is a stylistic departure from the split's songs on the whole, it, like "Party Violence," is also a catchier conclusion to the aural cat-fights that precede it on its side. While it would be easy to look at the song in isolation as a cute cover adapted to a newer style that shows just how relevant The Ramones will always be, the juxtaposition of these lyrics to those of the preceding ones causes more reflection than one might expect from a hardcore split. It follows two tracks that put a magnifying glass to the broken justice systems in our society, a magnifying glass meant not only to focus our attention but to burn holes in the subjects of this focus. Once the listener has drummed up their humors against the crooked cops and ill-intending jailers, once they've resolved to pull the whole structure off of its foundations, they're met with the futility of The Ramones, through Oswood, singing, "I got a lot to say/I got a lot to say/I can't remember now/I can't remember now." The listener is met with the realization that words, those that have been directed against these same predatory institutions since long before ¡Adios Amigos!, really can only do so much to create change. Pig City are offering a choice to their listeners: You've got a lot to say, so do you continue to lament the futility of systems that are only getting worse, only to forget about them when its convenient? Or do you take to the streets? Do you set the aforementioned fires?
Do not take this choice, or your own power to change things, lightly.
Pig City guitarist Dylan DeCarlo and vocalist Delivan Oswood took some time to talk to Cvlt Nation about the band and about this amazing split.
Can you introduce the members of the band and any other projects they're involved with?
Delivan Oswood (vocals in PC, Bass in Lychee & Brooding) Haran McElroy (Bass in PC, guitar/vocals in Lychee) Christian Martinez (drums in PC and Lychee) Dylan DeCarlo (guitar in PC, bass in Battalion of Saints)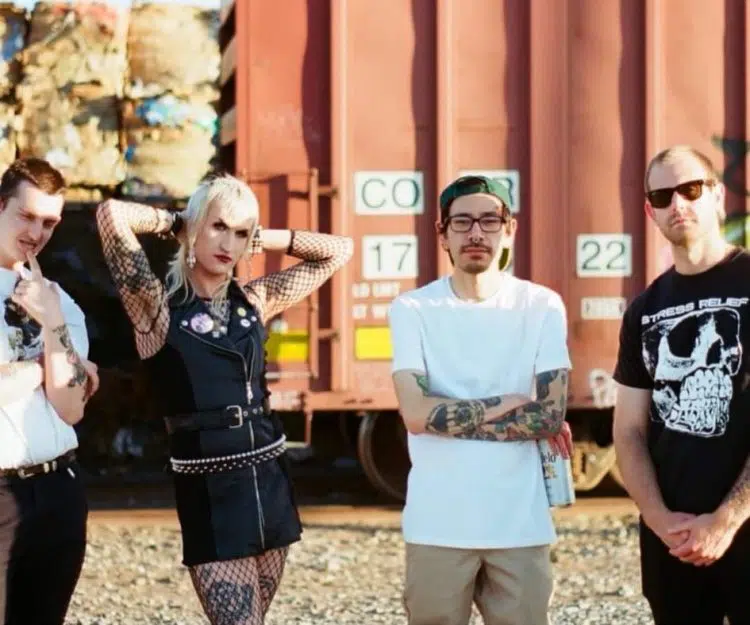 This is your first release since 2019's amazing Terminal Decline. What have been some developments in the band since that release?
DYLAN: Terminal Decline came out late 2019 we were geared up to tour most of the US in 2020 and COVID truly derailed our development and progress as a band completely.  We feel like we are starting from scratch in a lot of ways, to be honest. 
DELIVAN: You know, I think a lot has changed in a lot of our personal lives as well. We no longer all live in the same city, I came out as trans somewhere between TD and the split, and uh, the world ended. a lot of different factors, and that almost "fresh start" has led us to explore a lot of different influences musically, as well!
How did this release come about? Did you already have a relationship with ACxDC?
DYLAN: I grew up in Riverside, CA., and have been lucky enough to see almost every lineup of the band. My friendship with their ex-guitarist, Jose, and current guitarist, Eddie, played a small role, but ultimately I emailed Sergio cold one day and a few hours later we were planning the split. We were all so stoked, it was just an all-around good day.
DELIVAN: Dylan is like, really good at emails.
This is Pig City's first split. Can you describe your writing process for this release? Did it differ from your non-split releases?
DYLAN: We recorded it during the height of Covid (pre-vaccine) so we had to be super careful and we all did our parts separately so that was a challenge to not all be in the room at the same time.
DELIVAN: Well, we had several songs outlined for the next full length, but when the opportunity came along, we picked a couple and fleshed them out for this release. We did also have to learn them standing masked in opposite corners of the room. 
Your Ramones cover on this split is your first cover since the Aus-Rotten cover on your first release. How do you choose your covers, and how do you go about adapting them to your sound?
DYLAN: Before Covid ruined being in a band we actually had a plan to do a whole 7″ of Ramones covers and "Got A Lot To Say" was one of them. When we realized recording and just practicing was gonna be sparse for 2020 we opted to use the split with ACxDC as a way to get one Ramones cover into the world. We all just really love that band, plus we play in C-standard so any song we choose to cover sounds sick in my opinion. 
DELIVAN: I forgot we were gonna do that, we should still do that. There's a lot of Ramones songs.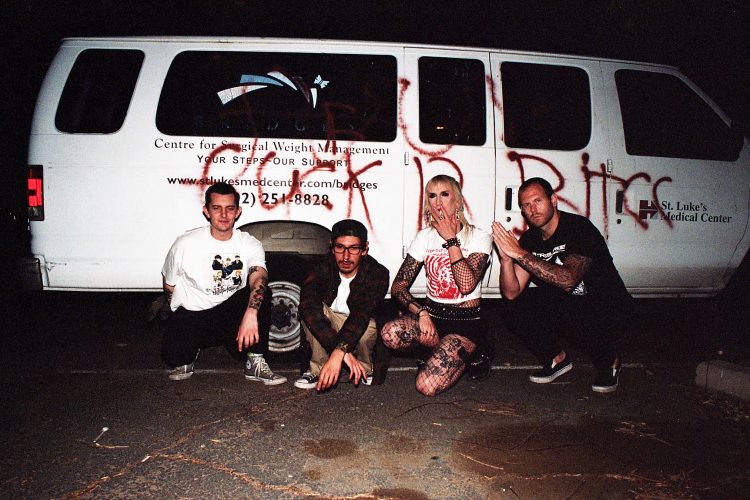 All of your releases so far have been produced by Jirix-Mie Paz. Can you describe working with him?
DYLAN: Jirix-Mie Paz is the most underrated engineer/producer in heavy and alternative music. He essentially becomes a member of your band for the duration of your session and will not let you leave until everything is right. We absolutely consider him to be the 5th member of Pig City.
DELIVAN: Yeah I'm not sure there would be much of a Pig City without him, I think we owe a lot of our success to his craft and passion. Plus he's a cool-ass dude. Did you know he was in Gay Kiss? That band rocked.  
More bands have been putting Arizona on the metal/hardcore map over the last few years. Can you describe the heavy music scene in the state?
DELIVAN: you know, it's hard to gauge since we are barely even seeing shows coming back just yet. Obviously, the bois in Skin Ticket have been making a splash and they're only going up from here. Our next tour is with our friends in Thra who play absolutely crushing doom that you need to check out if you haven't yet. I heard Maximum Roach is coming out of hibernation at the end of this year too, maybe, for a special event. Also, finally got to catch Groin from Tucson bringing some more powerviolence flavor. Overall, I think there are a lot of bands who are developing right now and are gonna come roaring out of the gate with some great music. 
Is there anything else you'd like to say?
DELIVAN: You know, the usual: Be kind to yourself, practice mutual aid, don't kill yourself to make someone else money, be gayer, have fun, stream Pig City. 
DYLAN: We are planning a tour with some southwest and west coast dates and hope to see old and new friends soon!
Be sure to catch Pig City with Arizona's premier dealers of death and doom, Thra, on their upcoming tour.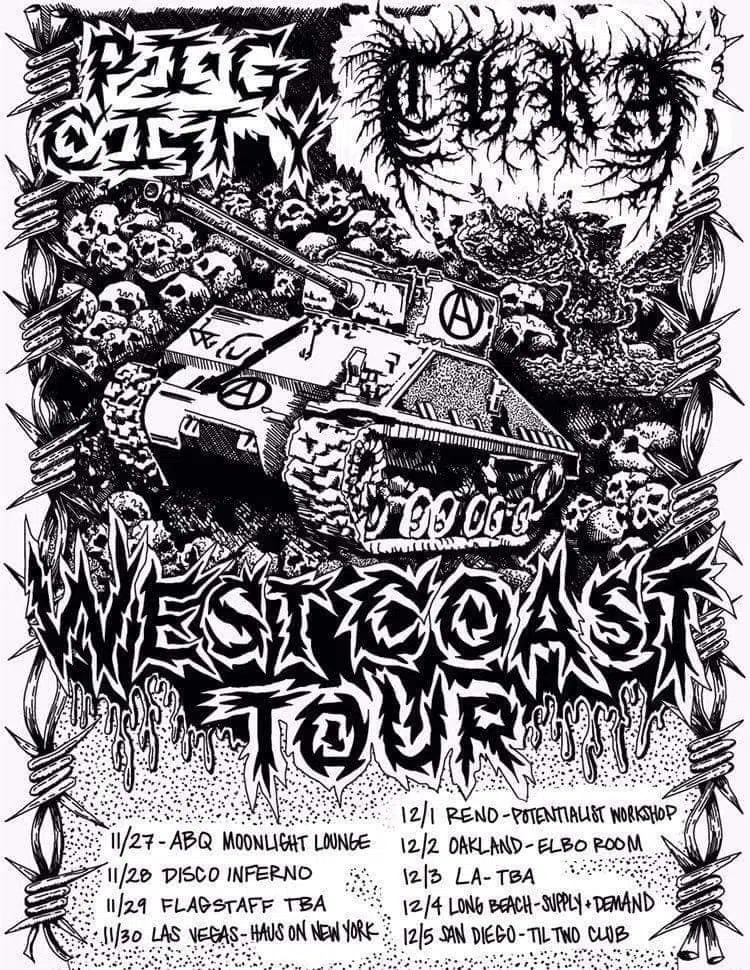 Pig City side produced by Jirix-Mie Paz at Paz House Recording.
Cover art by Laura Westover.
Pick up this split on vinyl at To Live A Lie Records.