One of the beautiful things about hardcore at this moment is that there seems to be none of the "who's harder than who" arms race that has typified certain periods of the genre's existence. Instead, musicians are following their whims, and our metal and punk landscape are finding itself in another sort of golden age like that of the late '70s and early '80s when labels like Dischord in America saw hardcore bands carving new paths and establishing new subgenres, and when labels like Beggars Banquet in the UK recognized emerging stylistic trends in their own punk scenes and gave the pioneers of those styles a home.
Philadelphia's Academy Order embodies the best of both of these approaches to music-making. Sister-band Drïll Sergeant (covered by Cvlt Nation here, here, and here), whose venomous, offensive aural assault is aptly named thanks to vocalist Matthew Green's rare combination of charisma and enraged power, is nearly unmatched in terms of musical aggression these days. Academy Order finds the musicians engaging just as intensely with melody, atmosphere, mood, and thematic darkness. Much like Minor Threat's branching into Fugazi and Rites of Spring, much like Regional Justice Center's branching into Militarie Gun, and much like Pig City's branching into Lychee, what appears to some as a departure is really a very natural stylistic development for a band who has taken angry music to its natural extreme.
Furthermore, like Bauhaus, Love & Rockets, The Bolshoi, and Gary Numan, Academy Order creates synth-driven soundscapes whose emotional ambiance is undeniable and powerfully affecting. However, while the band is solid and strong under the goth rock, death rock, and post rock genres, it maintains much of the biting edge of Drïll Sergeant as well as Norelle Green's brilliant use of earworm catchiness from punk/powerpop sister-group Stud Count, making it less of an homage to the aforementioned Beggars Banquet bands and more of a thoughtful evolution for their respective styles.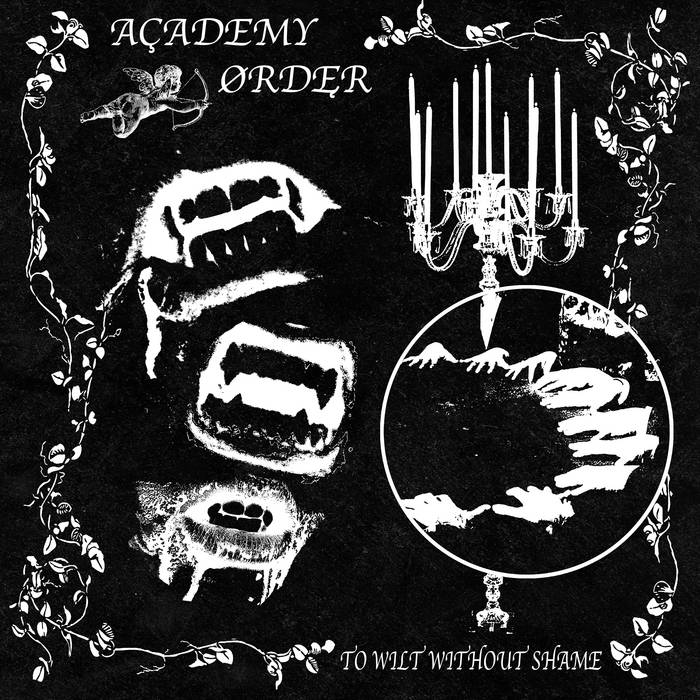 Though mostly a tone-setting introduction, album opener, "Pulse of Ire" demonstrates in no time that this is far from a dalliance for these accomplished musicians. Combining New Order's trans-human drums and Killing Joke's thumping bass with Tears for Fears' enchanting arpeggiations, the band immediately establishes itself as the real deal, as not only a revival of one of the most forward-thinking musical periods in rock history but also as a reimagining of it, a rebirth of it.
The darkness seething under the opening track becomes palpable on track two, "The Glow," a throbbing, swinging two-stepper, with pugnaciously spat vocals, and haunting synths. While Academy Order is a wholly different beast than the members' other projects, "The Glow" is a great exhibition of the melding of their influences, because, though more gothic and more tuneful, there is an unavoidable hardcore and raw punk energy-giving vigorous, confrontational life to this song, as though the listener is finding themselves caught in the middle of a drunken, backlit brawl on an '80s night at their local dive. It is beautiful; it is innervating.
"Victuals" and "Stellar Pangs" are two halves of a masterclass in composition, demonstrating how, when all of the ingredients are measured out carefully, the product becomes greater than the sum of its parts. The synths are used sparely but are enough salt to bring out the potency of these hard-hitting death rock/powerpop anthems. The interplay between Matthew Green's and Norelle Green's vocals is dynamic and mesmerizing, with the former providing the same intimidating energy that makes Drïll Sergeant such an aptly named project, and with the latter contributing the hypnotic, queen-of-the-fairies earworms that demand that the listener keep this whole release set to repeat.
"Killing Machine," a song that focuses on the loss of innocence and loss of willpower faced by those drafted into the military, centers on a groove so pounding that it will punch holes in your psyche, with clockwork Krautrock drumming and Mike Watt-meets-Rob Wright bass that work in tandem to set the hairs on the back of one's neck marching to the irresistible rhythm. The singers' call-and-response vocals emulate a military infantry's morning drills, furthering the cyberpunk militancy of a song that should be a background track for an Apocalypse Now remake.
Closing track, "Slice of Life," answers the question "What if the members of Alien Sex Fiend and Sisters of Mercy formed a Bikini Kill-worship band?" An elusive, meditative song, this closer absorbs the listener, pulling them closer to the speaker, inviting them to move inward, to retreat from the external world. No less driving than the previous tracks, all of which are destined to dominate club nights, this song is existential, reflective, nihilistic. A natural, "back to Earth" ending to an album this stimulating, this track entices the listener to replay the whole EP, to dive back into the glorious escapism provided by the beauty and ugliness that these amazing tracks provide.
As much Primitive Blast as it is Molchat Doma, To Wilt Without Shame is future and past, fighting and healing, hatred and love. The band captures so much of the human experience in this six-song musical tour de force that one has to ask where they can go from here. Knowing these musicians, though, one must trust that this is only the beginning.
Can you introduce the members of the band and any other projects they are a part of?
M: Academy Order started as something of a writing aside, not totally sure if we were going to play live at first, or even if shows were going to be coming back (winter 2020-21) so we're just now finalizing a performing line up which is: Michael Sims & Max D'ambra (Stud Count, Drïll Sergeant, Leashes, Money) on guitars, Bret Hart (Stud Count, Drïll Sergeant) on drums, Norelle Green (Stud Count, Norelle K) on vocals & synth, Jake Beaver (Ridgeway, Leashes, Money) on additional synths and Matthew Green (Drïll Sergeant, Stud Count) on main vocals.
What was the inspiration to form Academy Order? 
M: It was the summer of 2020. The world of live music had been shut down for a while, and, to be frank, I was bored. Norelle and I were in New England working on a video for a metal band in this old, eerie Victorian house and with our other two bands in limbo between demo tapes and recording LPs it was just time. 
This album is musically different from your other projects. What were the major musical influences, and how did you approach writing?
M: I drew a lot from the early 80s LA scene. Bands like TSOL, Agent Orange, 45 Grave, etc. There was something utterly theatrical about that whole era of bands, which is probably why their legacy never really went away. Norelle and I love the poppier end of goth and new wave bands from that time as well, so I really tried to meld the pools when laying down the bones for these songs. As for writing, I think the main difference between this and my other bands is that with hardcore/PV, my intention is to say and do as much as possible in as little time as possible, whereas these songs are written to allow for whatever development they need. 
What are the major lyrical inspirations?
M: This and the LP we're working on are written about the same things anyone would write a punk record about- pain, struggle, ache, life experience, etc. There's a heavy emphasis on spiritual themes as well, which is nothing new for me. The final push to get these songs together came to me while spending time in a repurposed cathedral last autumn, you can hear a lot of that in the tracks.
To what do you attribute the current resurgence of post-punk and goth music? There seems to be a hunger for these genres among fans of hardcore and metal at the moment.
M: Personally, I think it comes down to two main factors. The first is that punk and hardcore bands have been adjacent, if not submerged in goth subculture since its inception. Even my age group got into punk at a time when bands like AFI, My Chemical Romance, and even straightforward hardcore bands like American Nightmare were everywhere we looked; goth aesthetic and influence were inevitable. I can't speak for anyone else, but once all the anger that gets one to write hardcore/punk records reaches its emotional ceiling, the natural progression is either to hang it up or explore other untapped emotions. Something about the indulgent, preoccupied melancholia of goth music speaks to us. The other is that, if you live in a city, the club/party after the gig is a given. Most bands we think of when "goth" comes to mind were largely regarded as pop in their heyday, and a shallow dive into the origins of both punk and post punk will show how important pop has been to the genre since day one. For many of us, the "goth night" and the hardcore gig are part of the same experience.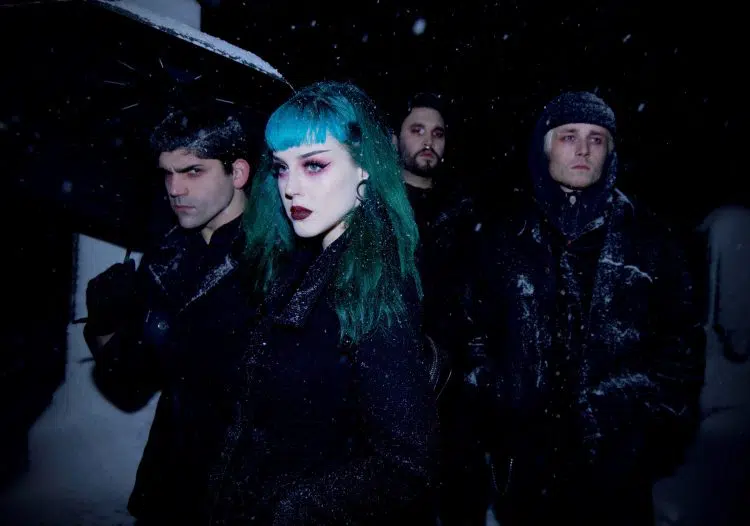 How did you initially connect with Convulse Records? What about Protagonist Music? These have really become two of the labels to watch lately, and it's exciting to see you working with both of them.
M: Adam (Convulse) reached out shortly after Drïll Sergeant put out our demo early last year, we did an LP with them and just started to develop a good rapport with one another. He did the first physical tapes for another band of ours soon after, and at a certain point, he just started trusting he was gonna be into whatever I sent him and getting everything together when I told him I had a new project or release in mind. He's the man and I'll be happy to work with him and Convulse whenever we can. As for Protagonist, Brendan reached out to do the US cassette press of the Drïll Sergeant LP last year and killed it with the tapes. We obviously stayed in touch after and it turns out we've got a lot in common across the board. He offered a couple of times to work with me on any projects I've got going on, and after getting to know him it seemed like a good fit for the repress of the Academy Order EP. 
Are there any plans to perform live and/or tour? What about future writing and recording?
M: Yeah we definitely are planning to play and tour as much as we can. A lot of friends of ours across a few scenes have talked about touring/playing out and I'm really excited to see what kind of bills we end up on as time goes. As for writing, we wrote and tracked a full-length LP during the summer. I'm really proud of that release, and I'm looking forward to seeing what happens in the future.
What is most exciting to you about making music now?
M: Honestly? I think my favorite part is being able to write freely. Norelle and I wrote most of everything for the bands we do together, and that creative liberty makes everything so much easier. Our drummer Bret just gets exactly what I'm going for with all of our projects, and makes bringing everything to life that much easier. All that leaves a lot more room for the fun parts of being in bands; playing live, making friends, expressing ourselves, etc. 
What should people know about Academy Order? What about To Wilt Without Shame?
M: I'd like to think that the music will speak for itself, especially when we're able to perform live. I think it's worth noting that, at the heart of it, we're a punk band. There's as much going for those who want to dance as there is for those who want to get close or sing along. As for the EP, the whole record was written about a proper relationship with mortality. We walk the earth deeply brittle, never too far from death, and yet we avoid the thought at all costs. It's an absurdity, and one of man's most glaring blind spots. Surely we ought to spend more time than we do in preparation for an event promised to everyone who lives. 
Is there anything else you'd like to say?
M: Thank you for taking the time to reach out and talk with me, I value all of our conversations and I'm looking forward to having more in the future. I hope we can make it out your way sooner than later.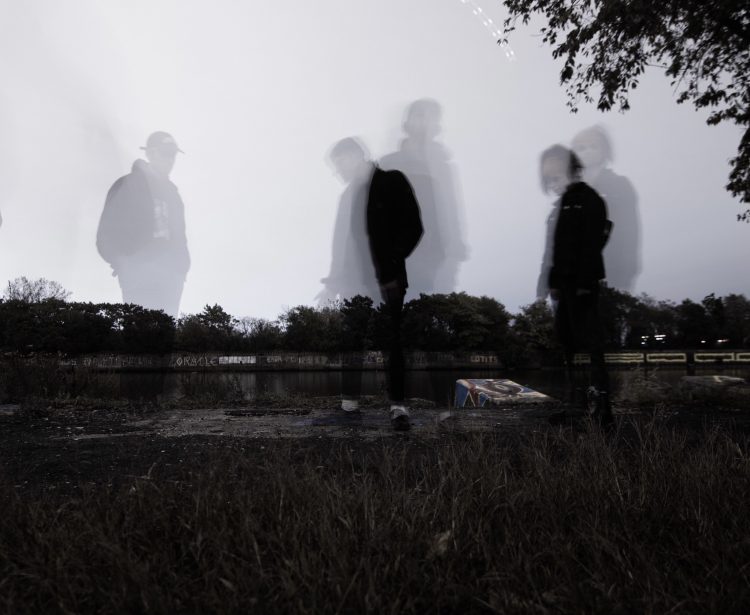 To Wilt Without Shame was recorded, mixed & mastered by Zach Miller at Noisewar Sound.
Art by Cain Cox.
Buy To Wilt Without Shame digitally from Convulse Records or Protagonist Music.
Order the limited edition cassette from Protagonist Music via Deathwish Inc.