Pyrithe are a gift to heavy music. Far too few are the bands who eschew genre trappings so completely. The duo's artistic vision is such that no ideas that further the larger vision of the piece are rejected for not checking a certain stylistic box. Instead, Pyrithe and their brilliantly alchemical collaborators incorporate elements from across the map of heavy music. On one track, they can weave heavy doom sludge a la Primitive Man and Body Void with the new school grind of Magrudergrind and Dead in the Dirt, the environmental black metal of Dead To A Dying World and Panopticon, and the artful noise of projects like Sightess Pit and Lana Del Rabies.
Particularly on tracks like "In Praise of the Enochian Trickster," "Heaving Roots II," and Earthen Anchors," the band demonstrates that they understand not only how to create a catchy, heavy-as-an-anvil-through-the-floor song but also how to gift a song its own organic life. While plenty of bands are experimenting with flouting genre conventions, few have Pyrithe's courage when it comes to breathing room, stillness, mood, and the gradual development of an idea. In this way, they are closer to Swans than they are to many of their heavy music contemporaries. Composers and stylists in the truest sense, they are masters of tension and release, cultivating innovative and inspirational musical spaces that envelop the listener, such that the album really is best consumed from start straight through to the end, in a sensory deprivation tank, if possible.
Monuments to Impermanence is a powerful musical experience that rivals any produced in the heavy music world this year. Fans owe it to themselves to dive headlong into its electrified hot spring; other bands would do well to drink from it, for the artistic invention here is something shocking, healing, and earth-shaking.
Read Cvlt Nation's interview with Pyrithe below, and read our review of the album here.
What direction did you want to take for a sophomore release following the excellent WRCT? What were your goals?
WRCT is a snapshot and a solid representation of where we were at the time. Monuments to Impermanence is probably best viewed as an evolution more than a refinement. As we continued to work on the songs together in our practice space, new structures and melodies and opportunities for expression presented themselves. It wasn't trying to be heavier or louder or more complex, but just discovering where the road would lead.
Pyrithe is amazingly good at balancing experimentation with creating memorable, catchy songs. Can you describe the writing process generally and for this album specifically?
No song ever comes to the band fully formed. Most of the ideas on Monuments to Impermanence originated with Zach (with a handful from John and I), which we then worked on over days and weeks and months together. That's been true from the very beginning of the band. There are some practices where hours are dedicated to the same snippet of a song, just trying different configurations until it feels right. And then it'll change next practice.
When it comes to balance, I think all of us love the feeling of a catchy melody you can get lost in, but we also love the feeling of subverting that. In general, song ideas are sketched out on guitar in either unamplified or low-wattage situations, so any riff that survives is inherently catchy. And when it moves into a louder band situation opportunities for nuance or juxtaposition often present themselves.
What were the musical influences for Monuments to Impermanence? What about lyrical influences?
There are plenty of reviewers guessing our musical influences, and honestly, it's kind of fun to watch. We're drawing from our collective music influences, heavy and otherwise, and seeing how they come together.
Lyrically, we're largely inspired by the natural world and our place within it. To say any more would give away too much of the bit.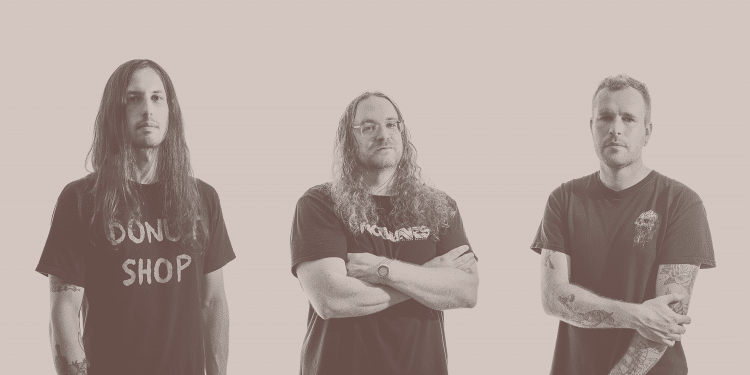 How did you choose your collaborators? And how did writing for different musicians influence the composition process?
The collaborations were organic, but nothing was really written for them. Going along with our normal creative process we just asked some friends and well-wishers to collaborate and waited to see what happened.
As our original vocalist, Vicky wrote the lyrics and saw Glioblastoma—the first song we wrote together—progress and change, so having her sing was important to us. Max and Shalin were in town to record Noltem's mighty Illusions in the Wake and it was a no-brainer to ask them to contribute. (John also drums for Noltem.) Jason Cantu played an important role in the band's origin story and having him represented aurally was great. And Doug's graciousness and support as the album took form was a tremendous boost.
These songs were originally recorded in 2019. How were the band and this release influenced by the major world events of the last three years?
After the studio we continued to refine the base tracks, overdubbing and experimenting with different sounds. Even as the pandemic limited our ability to practice together, we were able to take a step back and listen to those tracks, determining what we really wanted them to sound like—almost with fresh ears. We'd share ideas, create tracks in our home studios and integrate them into the song. This also speaks to how great Spenser Morris is, as he took every whim we had and made mixes that sound amazing.
Had it not been for the pandemic there's a possibility that Monuments to Impermanence may've come out sooner, but it may not have sounded like you're hearing it today. But there's also a good chance that, given that timing, we wouldn't have been able to work with Gilead, so it worked out.
What do you love about heavy music right now? What should change?
Gilead Media had an ad back in the day that said something to the effect of "support honest and sincere art. Everything else is a waste of time". There's fortunately a lot of that going around in heavy music right now and hopefully that trend will continue.
What should people know about Pyrithe? About Monuments to Impermanence?
Pyrithe is three friends making music together, and the album hopefully represents that. We never talked about genres or labels during the writing process and just focused on sounds we wanted to play and to hear.
Is there anything else you'd like to say?
Thanks to everyone who has listened to Monuments to Impermanence so far. It is available now on CD and cassette from Gilead Media. The vinyl will be out later this year.
Monuments to Impermanence was mixed by Spenser Morris, and it was mastered by Justin Weis. The cover artwork is by Caroline Harrison.
Get a copy of the CD and cassette at Gilead Media. Keep ears to the ground for upcoming vinyl.