If you missed out on the Faster than the Fucking Devil comp, courtesy of Wise Blood Records, last year — you fucked up. To make things right, you can start by picking up the sequel Faster Than the Devil 2, out now.
Don't let the more family-friendly title fool you, this is some nasty shit. If last year's split found the middle ground between Midnight-inspired metal and relentless German thrash, this sequel pushes a bit more against the boundaries without losing sight of what made its predecessor so good.
Pittsburg-based death thrashers Vicious Blade would've sat most comfortable among volume one's lineup. Surely Destruction, Kreator, and Sodom feature prominently in their collective vinyl collections, along with some Aura Noir if one were to hazard a guess. "Scorched" and "Martyr" both feature barbed wire riffing organized into the most painful configurations possible. "Venom and Grit" proves equally as effective but has a bit more of a D-beat influence.

Goddamn, Blasted Heath rule. If you missed last year's Vela hunt it down immediately. Then dive into these three tunes. Bathory and Venom launched into outer space; beautiful, brutal, and psychedelic. "Refuse to Die" rips right out the gate but has a bass break that sounds like it could have come from a Gasp song. "There are Four Lights" is even darker as the vocals proclaim "What do you see? You see what I want you to see!". "Spiraling (Crossing the Event Horizon)" adds insane blast beats to their already potent sound while leaning a bit more into a Norwegian black metal feel.
Gauntlet, a self-described stadium Bathory solo project, is up next and has no issues maintaining the intensity. "The Labyrinth" is a bit slower than some of the other material here, but its Darkthrone meets Celtic Frost stomp levels everything in its path. "Screaming Steel" rectifies any speed concerns, a thrasher fast enough to sound at home next to any classic black metal tune. "Rest in Fire" kicks off with the sound of revving motorcycles and splits the difference tempo-wise between the other two tunes. It's simultaneously raw and fist-pumping, a true metal anthem.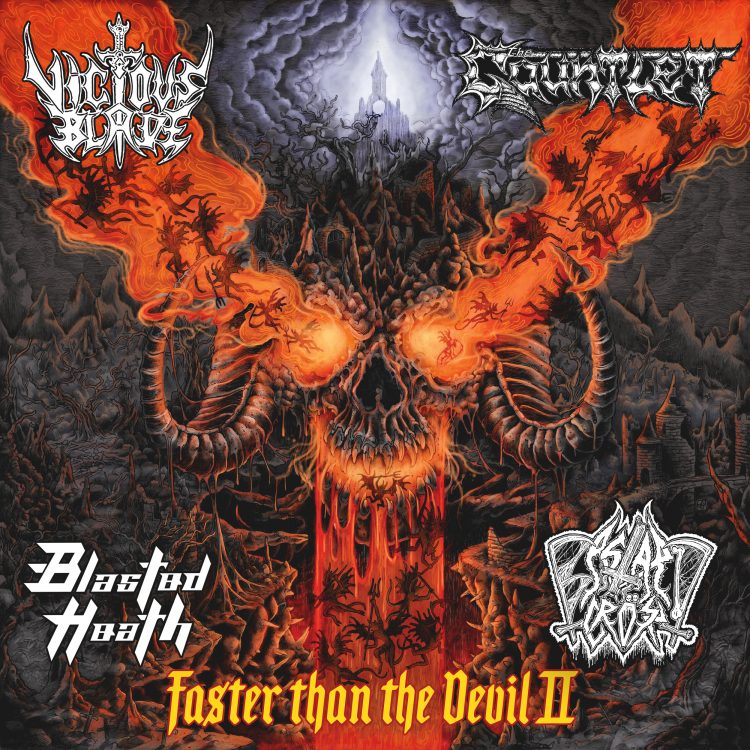 Bastard Cröss might be the biggest surprise on the split. Their unique blend of thrash, black metal, and crossover is undeniable. "Nocturnal Ecstasy" somehow makes me want to start a circle pit with corpse paint on. Thank god I'm too old because I'm sure no one wants to see that. The uptempo blues progression that kicks off "Whore and Hexes" sounds like a necro Mötorhead. When the riffing switches up, we are treated to a Midnight-esque anthem with the occasional Maiden-inspired guitar harmonies thrown in for good measure. Extra credit goes to the shredding guitar solo. They close the split with the excellent "Beasts of the Night", a title that could apply to all four of these acts. The verse riff almost reminds me of classic Metallica and they then maneuver more blackened crossover riffs and a little bit of early Slayer as well. Despite the old-school nods, these guys have an identity all their own.
Major props to Wiseblood Records for this excellent split. Last year's Faster than the Fucking Devil absolutely ruled and I daresay this is even better. My only issue is I am already looking forward to volume three.