Watch the Unearthly, Hallucinatory, Psychedelic D-beat Dirge of DEAF KIDS LIVE!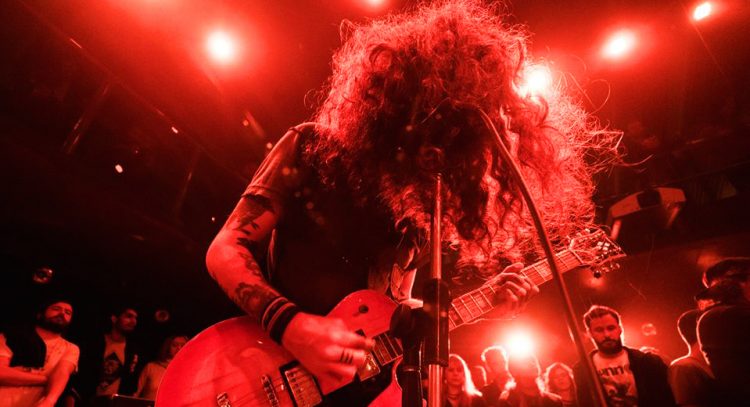 DEAF KIDS have been one of our favorite bands since we heard 6 Heretic Anthems For The Deaf for the first time. Flash forward to 2019, and they have released METAPROGRAMAÇÃO which is out now via Neurot Recordings – it's one of our top picks of the decade! DEAF KIDS and PETBRICK did a collaborative set at this year's Roadburn, and it looked unreal from what I can see. Our UK comrade RIFF Underground captured DEAF KIDS wrecking shop with PETBRICK, and my brain is melting!!! The video you are about to see is next level!!! DEAF KIDS are still touring Europe with Rakta plus they are coming stateside for some dates with NEUROSIS // BELL WITCH starting on Aug 8th in Atlanta. Do not miss out on their new remix project, "Permanent Dystopia: Configuração do Lamento Remixes" that is also streaming after the video. Thank you so so much RIFF Underground for sharing this footage with us!
4/24/2019 The Cluny – Newcastle, UK
4/25/2019 Rough Trade – Bristol, UK
4/26/2019 Olympic Cafe – Paris, FR
4/28/2019 SWR Barroselas Metalfest 2019 – Viana do Castelo, PT
4/29/2019 Mag4 – Bruxelles, BE
4/30/2019 Bar Hic – Rennes, FR
5/01/2019 Tri Martolod – Concarneau, FR
5/02/2019 Léo Ferré – Brest Espace, FR
5/03/2019 Les 3 Pieces – Rouen, FR
5/04/2019 Het Bos – Antwerp, BE
5/05/2019 Donau Festival 2019 – Donau, AU
Deafkids tour dates with Neurosis and Bell Witch:
8/07/2019 The Masquerade – Atlanta, GA
8/08/2019 Cat's Cradle – Carrboro, NC
8/09/2019 9:30 Club – Washington, DC
8/10/2019 Theatre Of Living Arts – Philadelphia, PA
8/11/2019 Brooklyn Steel – Brooklyn, NY
8/13/2019 Paradise Rock Club – Boston, MA
8/14/2019 Corona Theatre – Montreal, QC
8/15/2019 The Opera House – Toronto, ON
8/16/2019 St. Andrews Hall – Detroit, MI
8/17/2019 Thalia Hall – Chicago, IL
Enjoy this post? Donate to CVLT Nation to help keep us going!