Virgin In Veil's "Deviances" LP Review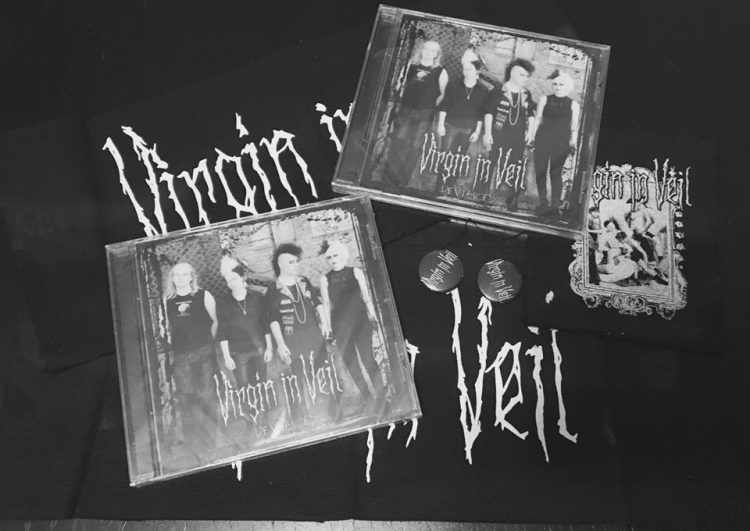 Virgin In Veil are a Finnish deathrock band featuring Jacques and Suzi Sabotage of Masquerade. Their Deviances album was released in October 2016, and they subsequently toured Europe to promote it (check out my interview with them about the tour). Now I'm reviewing the album itself, which I recently received on CD.
The introduction, "Live Like Suicide", is the only track on the album that was not previously released by the band in 2015, which makes it their newest song. It opens with a spooky guitar hook in the vein of mid-00's deathrock revival that evolves beautifully after the first verse. Lyrically, the song is an intense, passionate one with an important message, so it really makes a fantastic opener for Deviances.
The next four tracks are a re-release of The Glory Hole EP that was released in November 2015. "Lovestains" is one of my personal favorites, about a couple in love and on the run. "Sexual Sin" is next, and it felt like the focal point for Glory Hole. It points out the hypocrisy behind religions demonizing sex while condoning violence. "Decay" has the least to offer lyrically, but it has one of the best guitar riffs on the whole album and encapsulates their sound well. That being said, the fifth track, "Seduction," is the one that gets stuck in my head most often and it's probably the one I would choose if I could only show somebody one song on Deviances. It's very lust-filled with punk vibes.
The rest of the album is a re-release of their original demo released back in March 2015. "In The Name Of God" points out the hypocrisy of religion, boasting a truly badass deathrock guitar riff. "Drown In Flesh" is a passionate love song about intimacy. My personal favorite of these final tracks is the very last one, "Heartthrobs." It has the best intro and a fantastic guitar hook, not to mention some great backup vocals from Suzi. My favorite lyrics are "Worst case scenarios intrude / Neurosis plagues this mood."
Enjoy this post? Donate to CVLT Nation to help keep us going!