The Wild Kingdom is at Peace with Andy Kehoe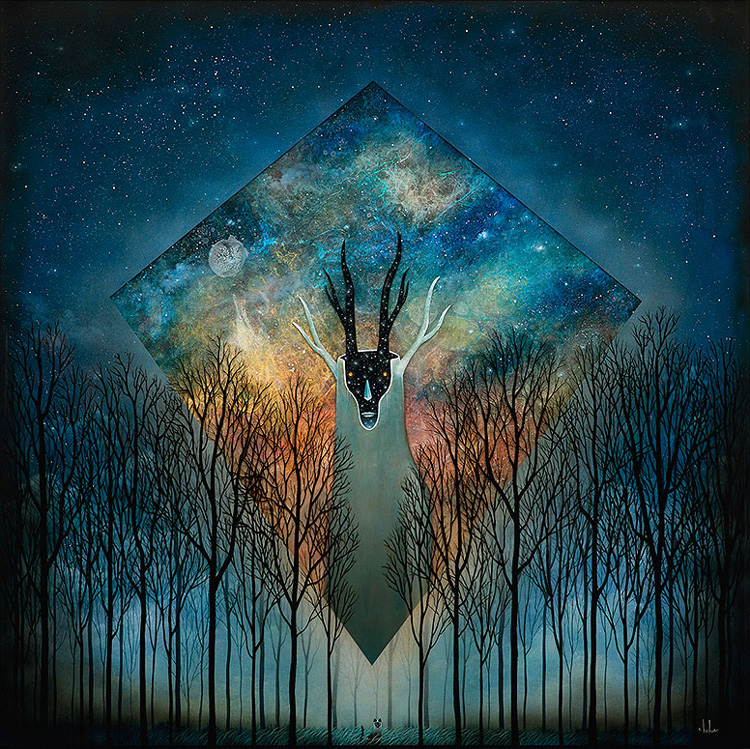 "The less you know, the safer you'll be." A common phrase for an uncommon artist, but it could suit Andy Kehoe just fine, considering that his various stories in the biography part of his websites all tell ridiculous but quite inventive origins. One thing is for sure, he definitely wants to entertain the mystery. That said, I am much more interested in his peaceful artworks rather than the man himself. He does the kind of design that I find in perfect adequacy with the inner force of nature. There is beauty, silence, loneliness and gigantism in some of his work that made me literally stare at it.
The color palette he uses and the idea of small characters facing the vastness of Gaia reminds me of Michelle Blade's work, another artist that I admire. I'd also say that the starry nights in some of his backgrounds are things that will never leave me unmoved (I mean look at "Transdimensional Emissary," "Our Wondrous Journey" or "Monument of Solitude"). I truly fell in love with Andy Kehoe's artworks, and I hope you do too.
Transdimensional Emissary
Monument of Solitude
Our Wondrous Journey
Enjoy this post? Donate to CVLT Nation to help keep us going!