Celebration, Love, Revolution, Inspiration, Unity, Ancestors, Gratitude, Black Power, Hardcore AF, Doing for Self, and Perseverance are some of the words that come to mind when I think of one the greatest tours I have ever seen! The tour I'm speaking of is THE DARKSIDE OF THE MOON TOUR ll featuring Buggin, Zulu, MoveBHC, and Playytime. It's really hard to put into words how important these shows were to our global underground community.
Firstly, I need to break this all down on a personal tip. I have been going to shows for 40 years, and I had never been in a room filled with so many people of color and Black Joy. I remember going to hardcore shows in the 80s in SoCal, and all of us POC punks had a love for each other. That being said, we never felt that our voices were the loudest in the room. During the 80s, my mom made me attend a Pan-Africanist school in Los Angeles called WEB Dubois Academic Institute. I had to catch the bus for two hours each way to get there and back home. While I was reading Things Fall Apart by Chinua Achebe or Stolen Legacy by George James, I was doodling Venom's logo in my notebook. As I look back on my life, I'm really thankful to my mom for sending me to this school because it gave me a great foundation and balance in who I was. During the week, I was a uniform-wearing young Black scholar, and on the weekend, I was a young Black punk, running wild in the streets and going to see Suicidal Tendencies perform! The DSOTM tour reminded me of how I lived in these two worlds growing up.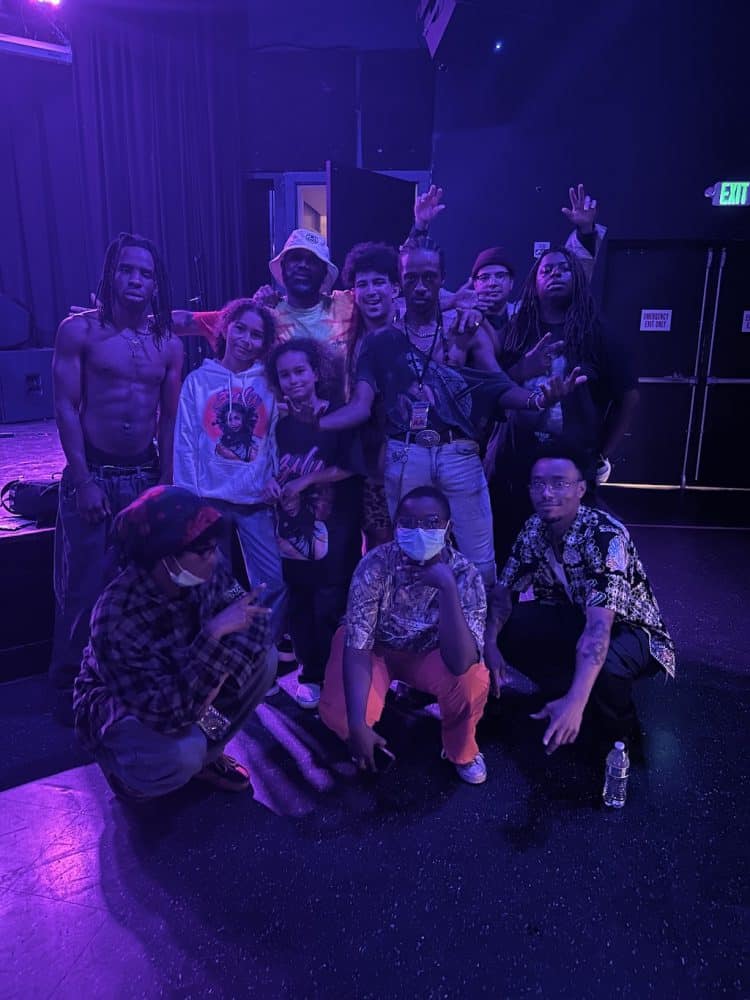 I want to say thank you to all of the bands that took part in the DSOTM tour because I know they had to make sacrifices to make it happen! I also want to say thank you to all of our ancestors for the sacrifices y'all made to get us here. Some people just talk about revolution, but these shows were a sonic revolution in real-time. Being a parent to two young warriors, it was awesome for them to see their people unified in creativity and positivity. It was priceless seeing our 11-year daughter losing her mind to ZULU!
I hope all of the bands realize that this tour has changed the underground for good and its impact is going to be felt for generations to come. I know for a fact that future Black and Brown videographers, chefs, bands, clothing designers, singers, and other creatives were in the house in every city that DSOTM came through. These shows really were by us for us, and I feel so blessed knowing that our future is so bright!
Don't get it twisted Buggin, Zulu, MoveBHC, and Playytime all KILLED IT. During all of their sets, the circle pits were intense AF. Today I want to celebrate the greatest tour of the decade, The Darkside of the Moon Tour ll, with this in-depth feature!
DSOTM TOUR 2 RECAP by Bryanna of BUGGIN
Anaiah Lei Of ZULU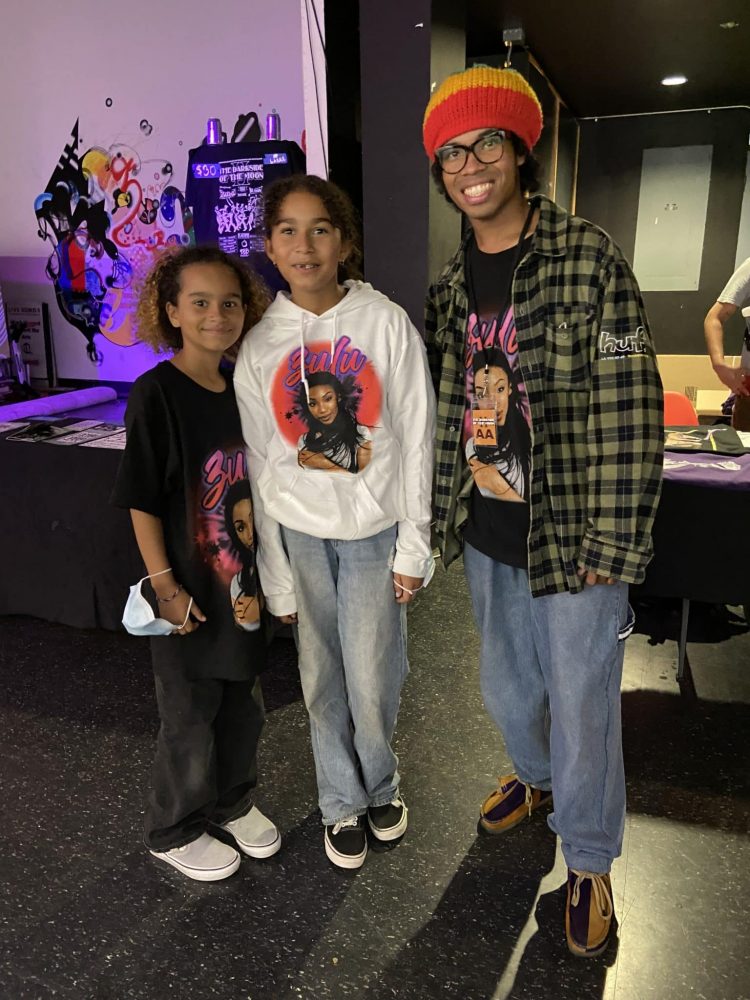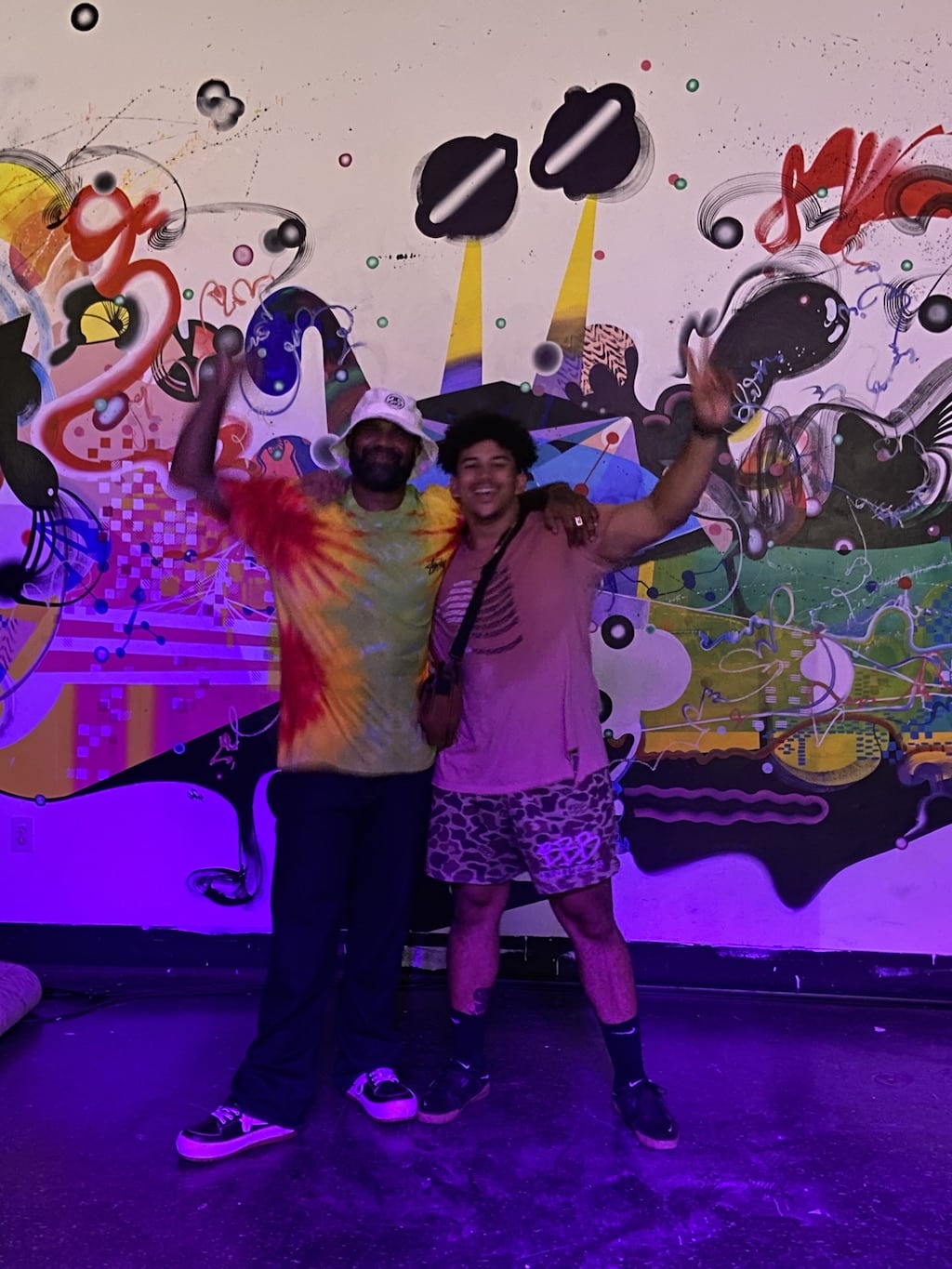 What are some of your fondest memories of the tour?
Bryanna (Buggin): For me, I'd say my fondest tour memories were the drive from Portland to Reno, and Reno itself. I'm from the Midwest and everything is flat, and I've never been to the Pacific Northwest before. We were driving in the middle of a forest fire, but some of the sights we got to see were so incredible to me. A lot of the scenery on tour was the prettiest stuff I've ever seen.
When we got to Reno, it was pretty late and we stayed at this casino resort. Reno is probably the most fried place I've ever been. We were kinda hard pressed to find vegan food for the three vegans out of like 20+ people but found this pizza spot that had regular and vegan options. We decide to go check it out with everyone and it turns out it's just a spot attached to an EconoLodge. It was straight up some of the most mid food I've ever had, but the experience was fun to look back at. The venue in Reno was super sick too. It was mainly a DIY art space and they had a photo lab with a darkroom attached to it. We tried to hit the casinos after the show thinking it would be bustling and entertaining and it was just kinda bleak. It was super funny and strange to experience that place, but I'd probably never voluntarily go back to visit that city.
Obi (Playytime): All the new people we got to meet, and seeing people from far away who dig our band or walked away as a new supporter. This was our first real tour and it was super special and unreal the reactions that we got every night. Also Za.
Corey (MoveBHC): The planning ahead of the tour, mainly because it was a collective effort to figure out all aspects of the tour — from our route, the vans, our guarantees, and playing order. Everything was done as a unit with everyone on the same page and full transparency into how this tour came about, while also being able to ask questions. Then, at the first show in Seattle was the first time everyone actually met in person, it was beautiful. It actualized what we had been working so hard to make happen.
Anaiah (Zulu): There were so many moments that really stuck out to me, but one of my favorites was watching the ending of Buggin's set in San Jose, where everyone was just going bananas in the crowd and I had a bird eye view of all the wildness. Seeing different people from the tour just going off was such a jaw-dropping moment.
PLAYYTIME Seattle @ Vera Project
BUGGIN Seattle @ Vera Project
ZULU Seattle @ Vera Project
Chrisy Salinas DSOTM II Seattle @ Vera Project
I would say — it was incredible to watch a tour where the majority of the package was Black and Brown people. It was incredible watching my friends get shown love the way they deserve for the talent they have! The Black community deserves recognition and a space to create and make art and I'm glad I got to see my friends have that. Every single person in Zulu, Buggin, MoveBHC, and Playytime are incredibly talented individuals. I loved watching them do their thing and I'm very grateful for the friendship I have with Zulu. I'll always be their biggest fan. 

Chrisy Salinas aka cuhhrissee
ZULU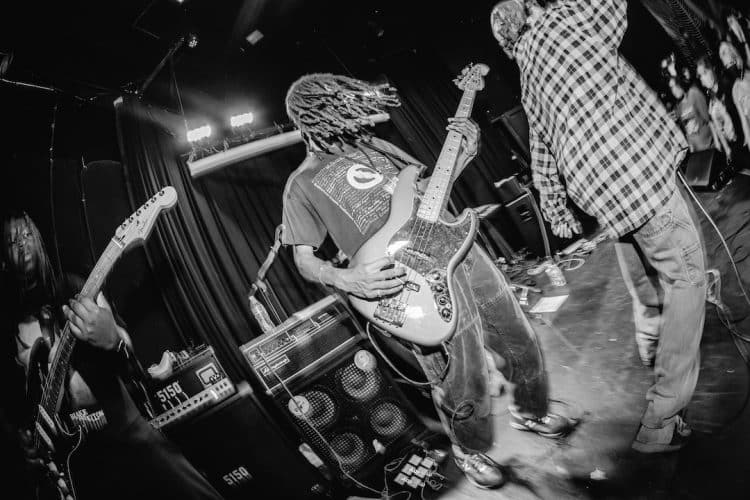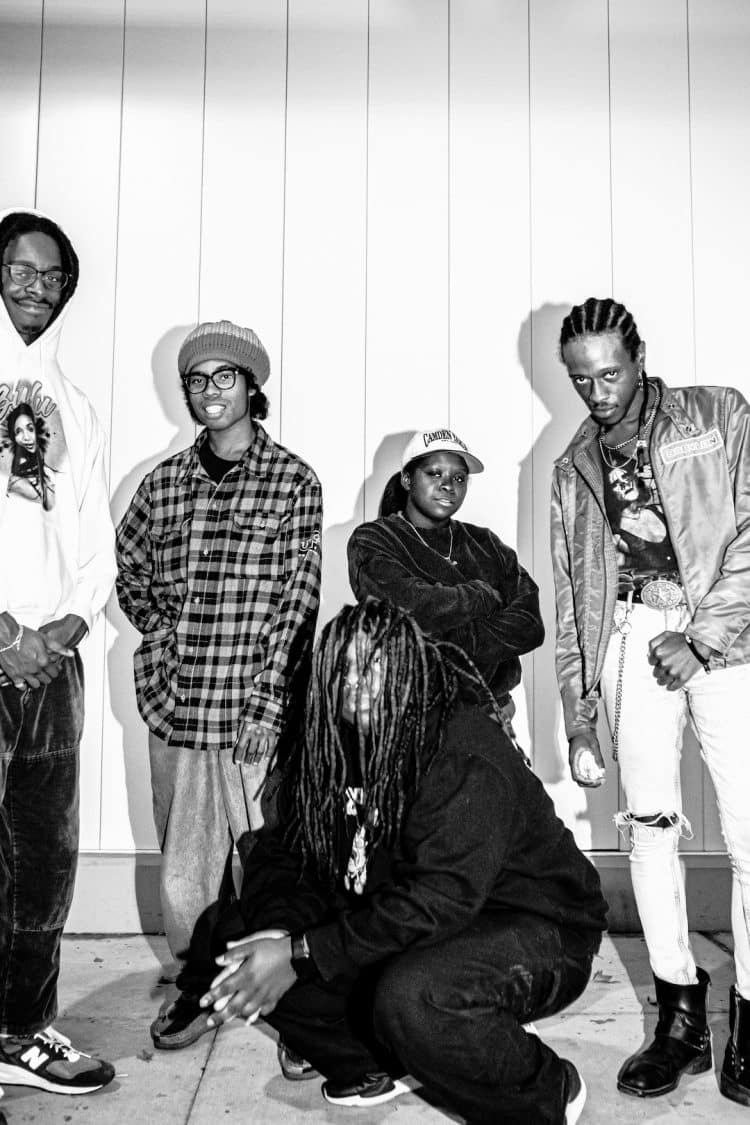 PLAYYTIME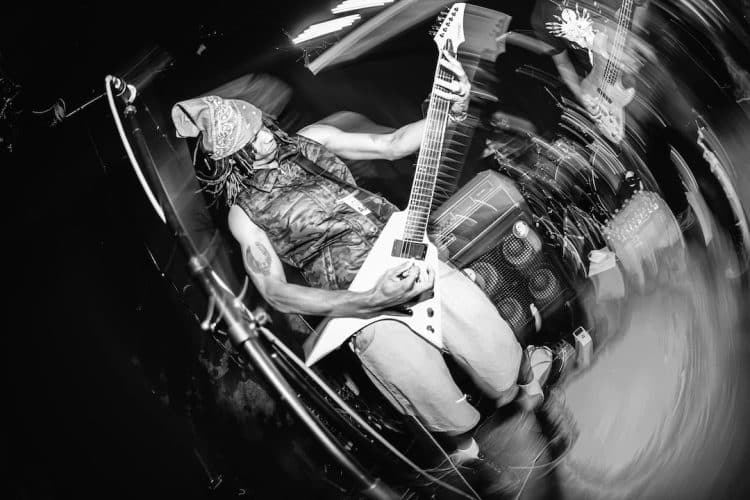 BUGGIN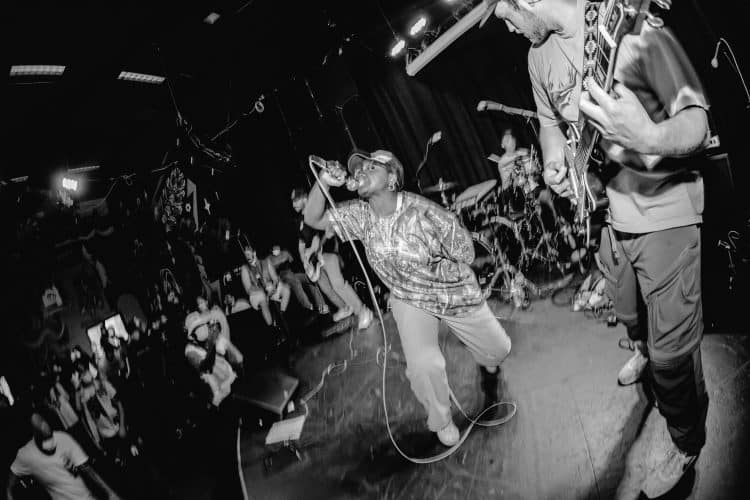 MOVE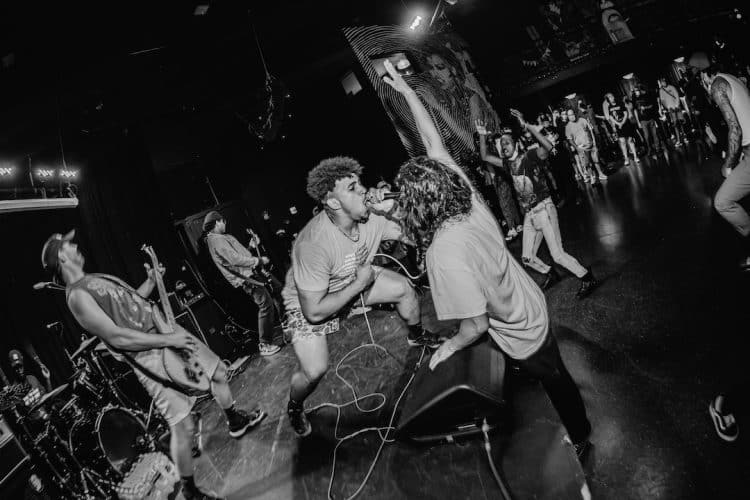 Gabe Becerra DSOTM II Mano Oculta PDX
ZULU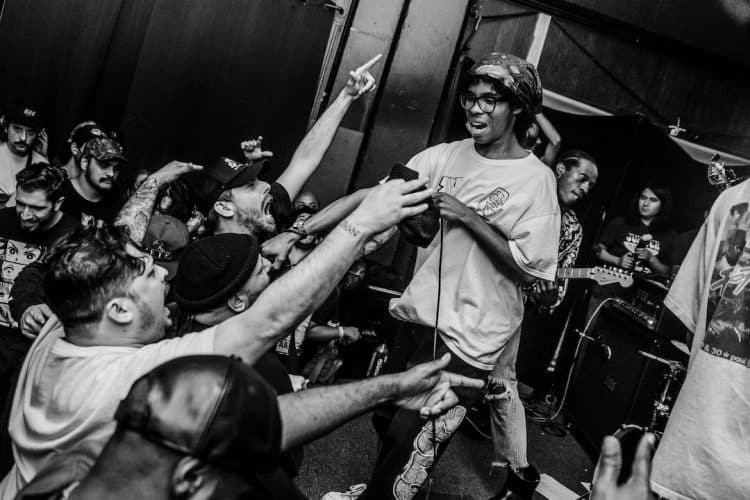 BUGGIN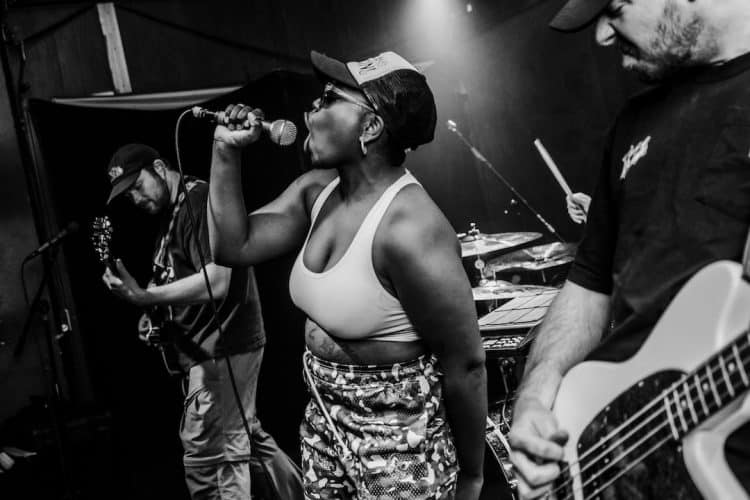 PLAYYTIME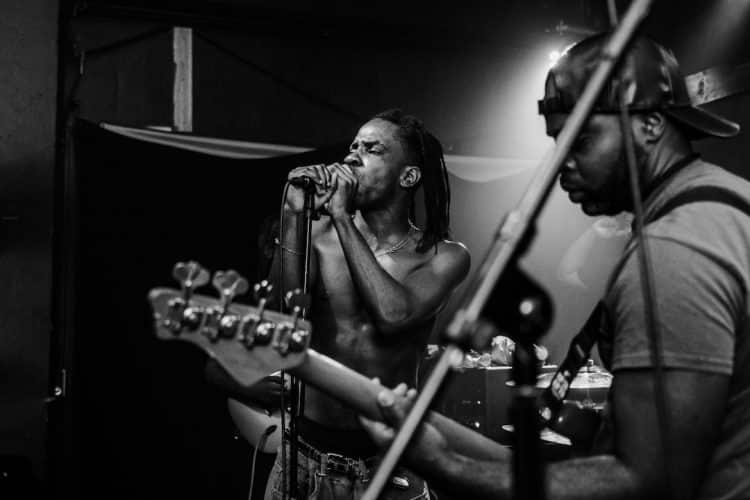 MOVE BHC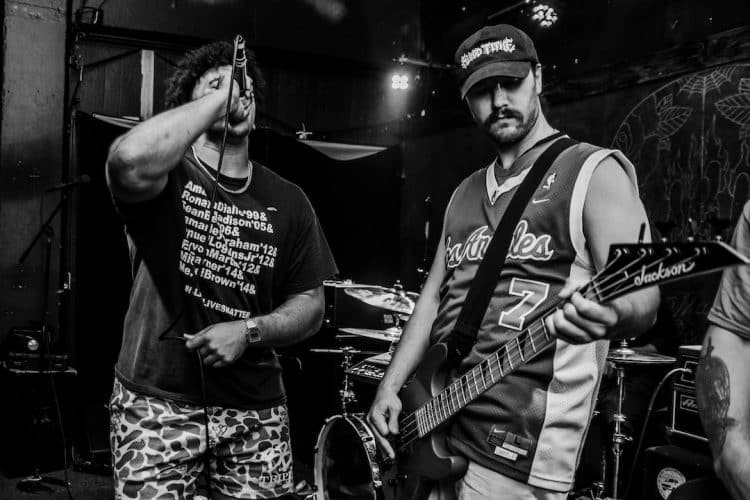 hi8hound DSOTM II @ The X Bar
Being able to experience the Darkside Of The Moon tour was an incredible experience and a first for me. Seeing that many Black and Brown bodies come together for the same reasons and to have that scale of representation was something I'll never forget. I hope this is the beginning of a new era for the scene and that this becomes the norm, not just a select few shows or tours where we can be at the forefront. I can't express my gratitude enough towards everybody involved and for using this as a platform to elevate Black and Brown voices. We are the future and I'm forever thankful for the opportunity to document a part of it.

Steven Thomas aka hi8hound
PLAYYTIME
BUGGIN
MOVE
ZULU
Darkside of the Moon II Tour was more than just a few hardcore bands rolling into town; it represented a step towards equality in the midst of an extremely challenging time. In recent years, the hardcore scene has grown to set an example promoting diversity in its audience, partnered with the inclusivity we all crave and deserve to feel as artists and people. This message couldn't have rung louder through DSOTM, especially given that this particular tour date happened to fall on the day after Indigineous People's Day. Ultimately, the importance of being an ally, a friend, and an advocate for our hardcore people of color is what DSOTM stood for and what hardcore will always stand for to me.

Ashley aka Ash Bucket Photos
MOVE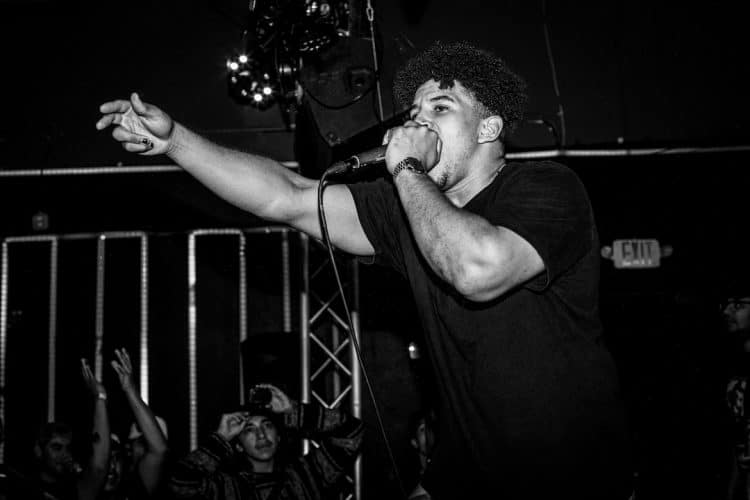 PLAYYTIME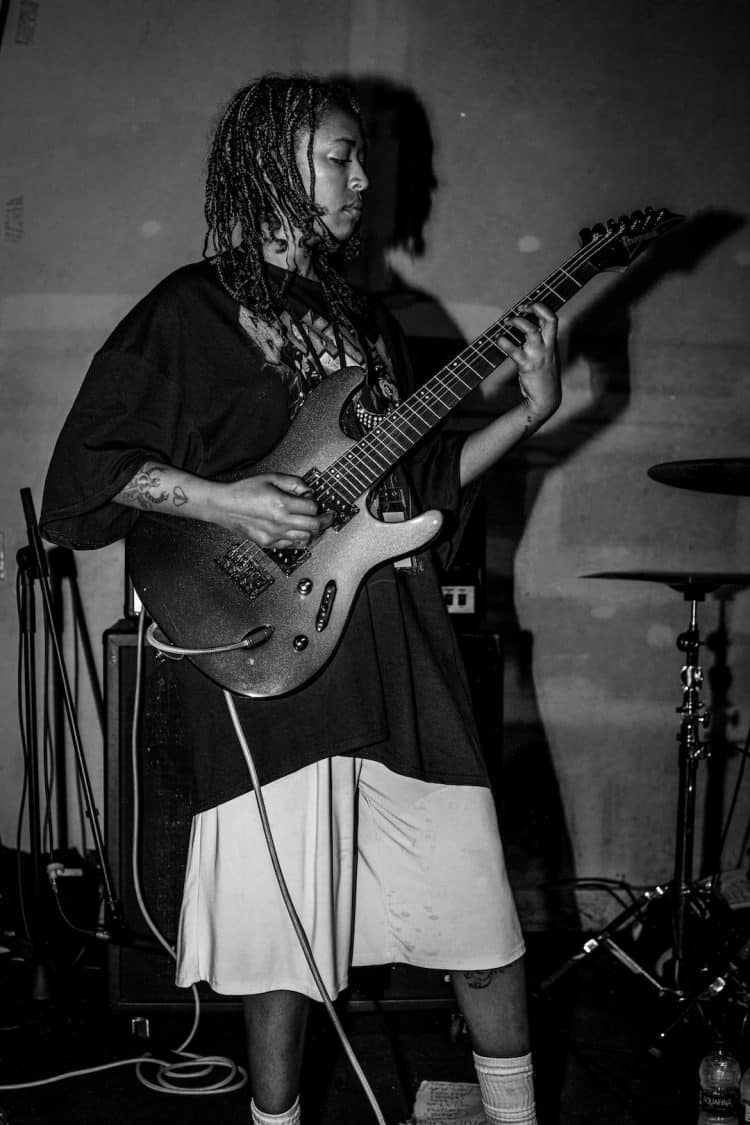 ZULU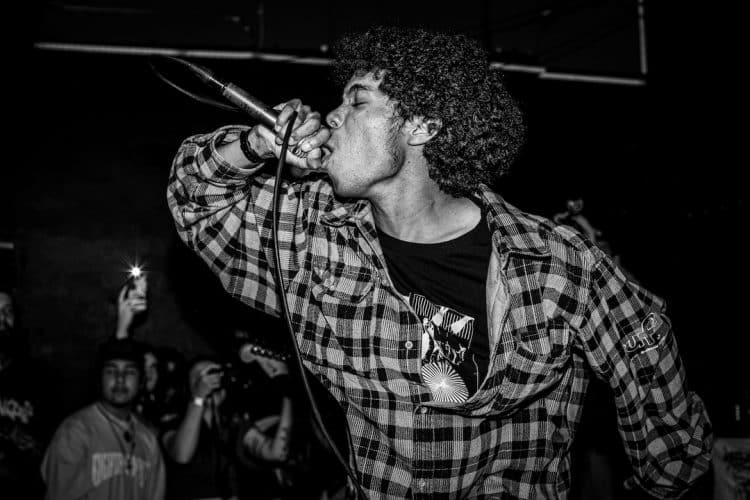 BUGGIN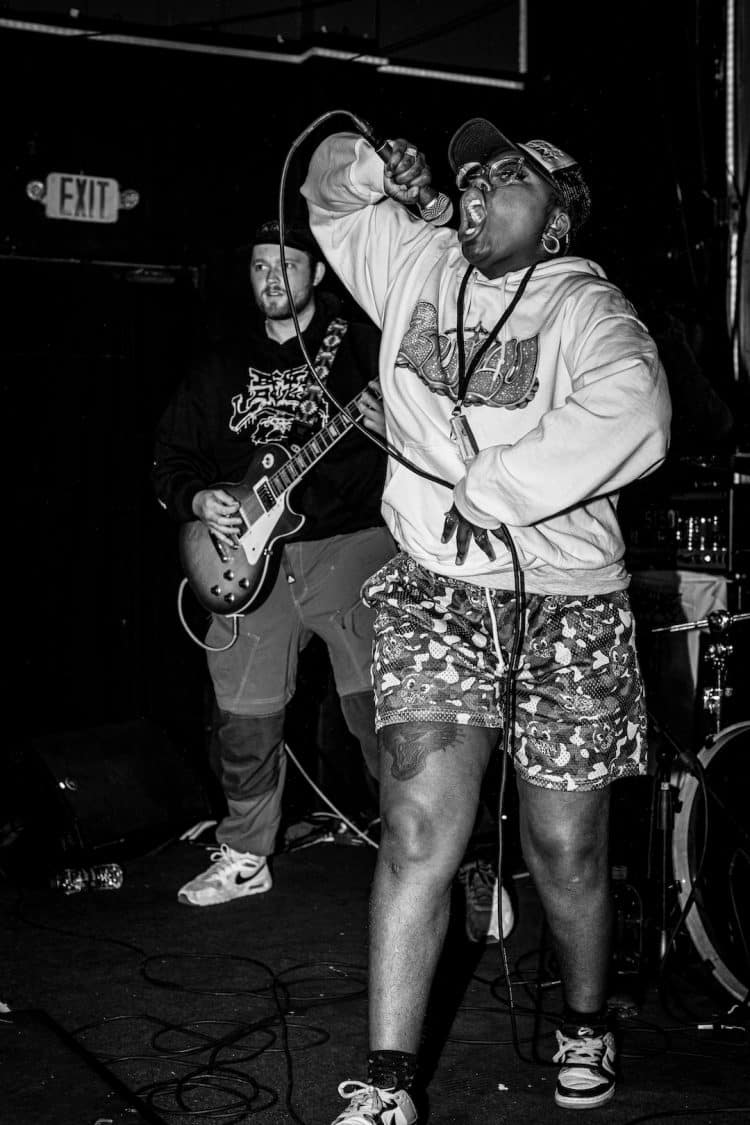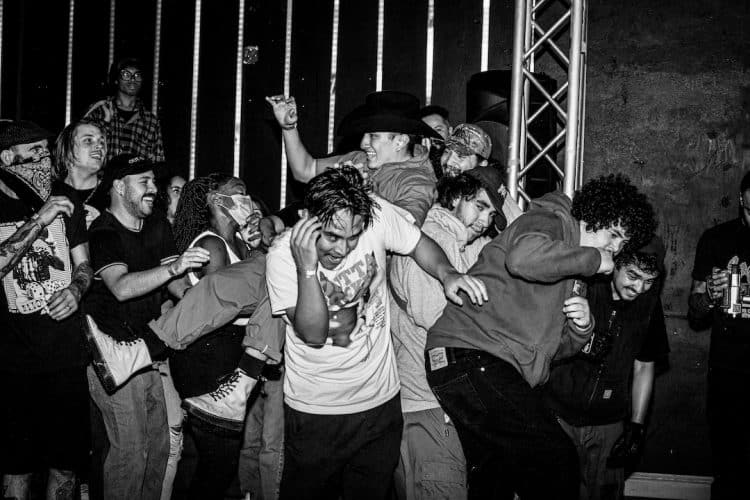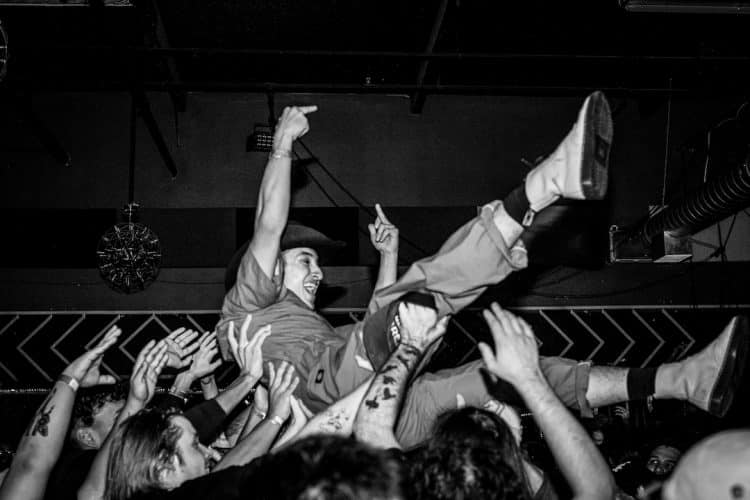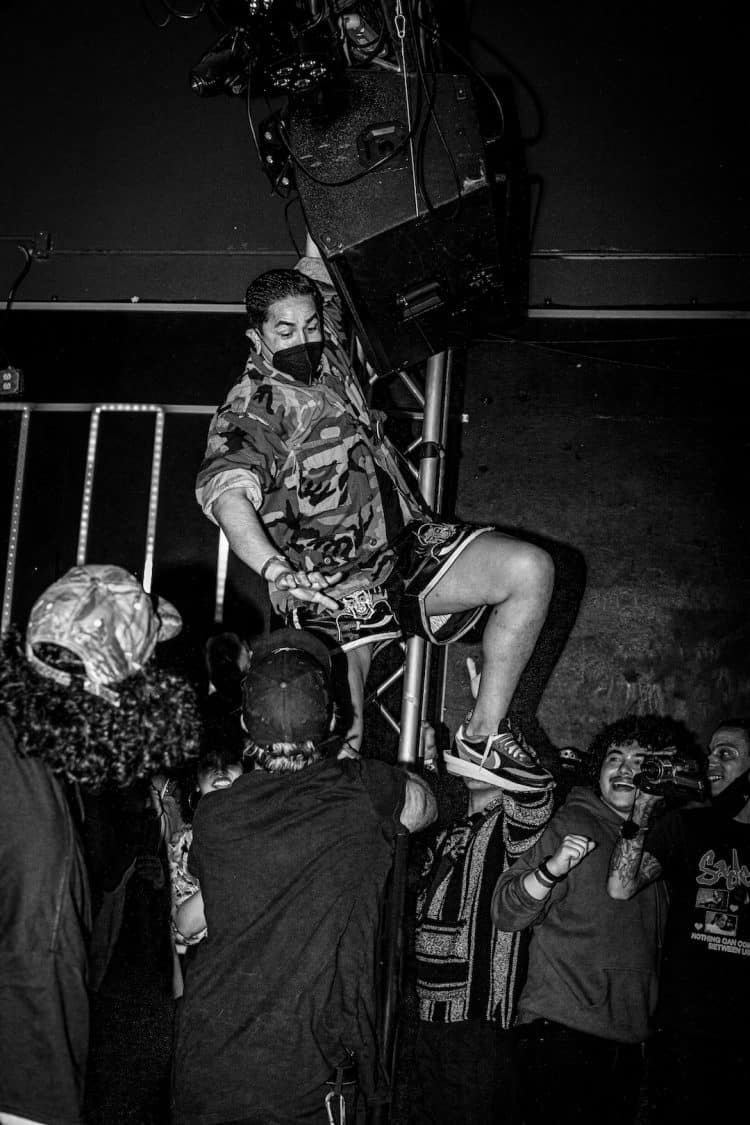 What impact would you like to see the DSODM tours have on the culture?
Bryanna (Buggin): As far as impact goes, I'd just love to see more kids doing their own thing and contributing to the scene. It's one thing to just go to shows and listen to the music and it's another to make actual contributions to your community. I want to see more younger kids starting bands, learning to book shows, and making zines after being inspired by us. Especially if you're taking photos at shows — do something with it and post them to a blog or make a zine!
Obi (Playytime): Community and friends working together is the only way this tour could have succeeded the way it has these past 2 years. I hope young Black kids that are new to this see what we're doing and know they can do the same tomorrow if they want to.
Corey (MoveBHC): More Black people creating their own spaces within hardcore in their region and beyond, and more people in the margins doing the same. We aren't the first group of people to have this idea or even do a tour like this, and I know we won't be the last. We want to show that you can say, "hey this is for my people and if you rock with it BET, and if you don't, well this wasn't for you anyway."
Aniah (Zulu): I think we all share the same sentiment in wanting other people to do exactly what we're doing. Having more people join in and start their own bands and shape their own scene is what would love to see, which hopefully brings people in that would have never thought to get down with heavy music.