THE ABYSS STARES BACK # 2…
HESSIAN / PRIMITIVE MAN Review + Stream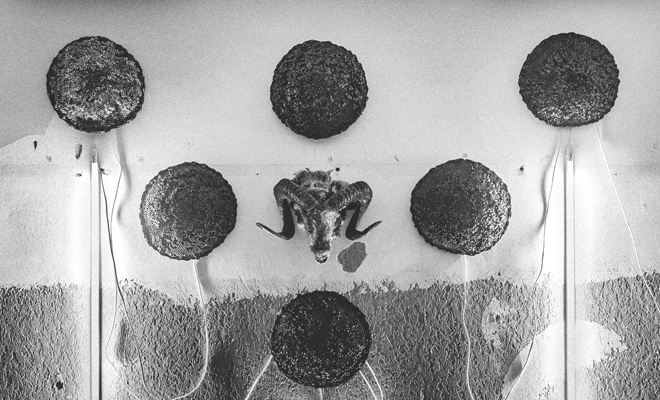 The latest in Hypertension Records' series of "The Abyss Stares Back" splits, feautring a new song each from Primitive Man and Hessian really keeps the black cloud overhead that they set off with Vol. 1 (Amenra & VVovnds). I think it's a super cool idea to do a series of records as well as a club/subscription series. Not a lot of labels do that anymore, but Hypertension has killed it with these first two, showcasing some of the best bands and artists in heavy music right now.
Primitive Man starts off the split with a sludgy, dirty, nine and a half minute crusher complete with builds and breaks, as well as plenty of self-loathing to go around. The song starts with a surprisingly melodic repetitive riff that sounds very somber and mournful, until the vocals kick in, and all that is just absolutely laid to waste as the song continues to get uglier and uglier with every downstroke.
5:25 of their crusher shifts from the feedback-laden funeral march, and the song begins to fold in on itself in the best way possible, with a very trance-like riff that trudges along for a punishing two minutes. Until the last minute, when you are abruptly jerked out of the false sense of security that the aforementioned trance-like riff just lulled you into and takes a very violent left turn with a an erratic, chaotic breakdown complete with a killer fast part that will have you d-beat fist pumping yourself into oblivion.
Hessian, on the other hand, continues their aural assault on the senses which established heavily on their last LP Manegarmr. These Hessian heshers from Ghent, Belgium keep their death-n-roll meets metallic hardcore campaign rolling like an unholy steamroller with the 11 and a half minute long crusher of "Inward Dawn". Hessian do a pretty fantastic job of rolling together Death Metal, Drone and Hardcore/Blackened Crust into one misanthropic, hateful shot to the gut.
Be sure to check out this split if you have any interest in either of these bands, a label doing really cool shit, layouts, great art and just an all around cool vibe. Check out the previous split available, as well as the three remaining splits in the series, including artists such as Scott Kelly of Neurosis, Mathieu Vandekerckhove, Drums Are For Parades, Nihill and Alkerdeel. Head over to Hypertension Records to order the complete package loaded with a bunch of cool extras.
***PRIMITIVE MAN European Tour, all dates with Wake***
June 18 Antwerp BEL Kavka w/ Weekend Nachos, Ekzeem A, Nervous mothers
June 19 Hannover GER Stumpf w/ ◯
June 20 Torgau GER Grind The Nazi Scum Fest @ Brückenkopf
June 21 Kiel GER Kiel Explode Festival @ Alte Meierei w/ ◯ , Svffer, In The Hearts of Emperors, Afterlife kids
June 22 Köln GER AZ
***All dates with Opium Lord***
June 24 Brighton UK Green Door Store
June 25 London UK The Unicorn
June 26 Bristol UK St John The Baptist Crypt
June 27 Nottingham UK Stuck On A Name Studios
June 28 Edinburgh UK Bannermans
June 29 Birmingham UK Wagon and Horses
PRIMITIVE MAN/HEXIS U.S. TOUR 2014
July
18th-Fort Collins, CO@TBA
19th-Denver, CO@hi-dive
20th-Omaha, NE@west wing
21st-Kansas City, MO@Davey's uptown
22nd-Peoria, IL @ at RAIL 2
23rd-Indianapolis, IN@The Melody Inn
24th-Detroit, MI@corktown tavern
25th-Chicago, IL@Cobra Lounge
26th-Appleton, WI (MATINEE)@the underground
26th-Milwaukee, WI@Cactus Club
27th-Saint Paul, MN@The Triple Rock
28th-Winnipeg, MB, Canada@Zoo Cabaret
29th-Calgary, AB, Canada@Palomino
30th-Vancouver, BC, Canada@Biltmore
31st-Seattle, WA@highline
August
1st-OFF
2nd-Portland, OR@Tonic Lounge
3rd-Sacramento, CA@starlite lounge
4th-San Francisco, CA @Sub Mission
5th-Oakland, CA @ first church of the buzzard
6th-Santa Cruz, CA @ Witch House
7th-Los Angeles, CA@ 5 star bar
8th-Reno, NV@Holland Project
9th-Salt Lake City, UT@The Sugar Space
10th-Colorado Springs, CO@Triple Nickel
Enjoy this post? Donate to CVLT Nation to help keep us going!