Blood Incantation's Hidden History of the Human Race is the centerpiece of progressive/technical death metal releases of this year. But, don't be fooled into thinking that this was all that 2019 had to offer in terms of forward-thinking, technical death metal. Just a week after Blood Incantation's masterwork, the fiendish California act Teeth returned with their sophomore work The Curse of Entropy. Interestingly enough, Teeth did not always display an affection for the technical edge of death metal. Back in their early days, Teeth were enamoured by the heavier doom applications in the death metal form, with their debut record Unremittance being drenched in this hazy, otherworldly recipe that resulted in an absolute subliminal, guttural bliss.
Label: Translation Loss Records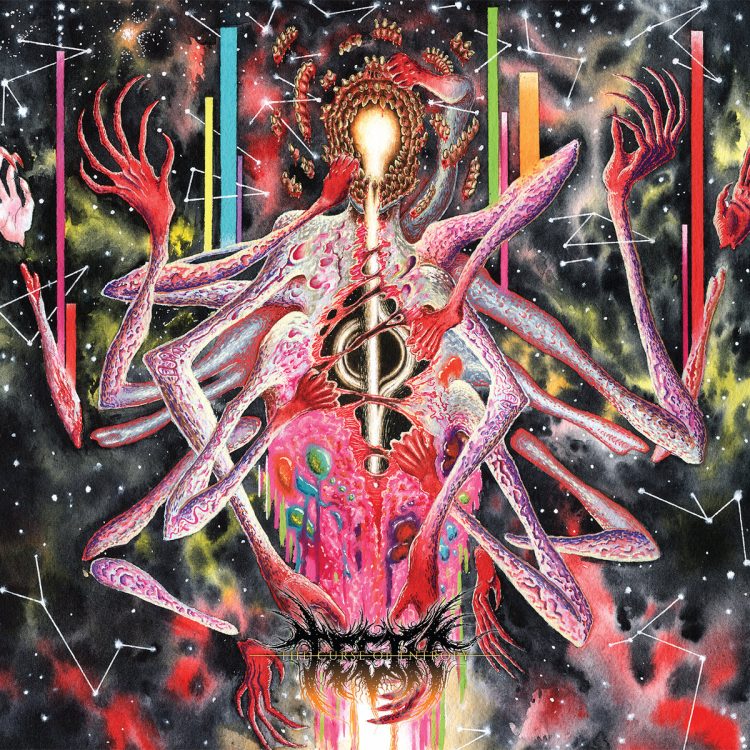 Slowly but steadily Teeth begun to evolve, shedding away many of the sludge inspired influences and the hazy aspect of certain post-metal leanings. Their split releases with Fister and the great Barghest were harbingers of this impending change, and this metamorphosis is now complete with The Curse of Entropy. The kick off could not be more potent and ravaging, as the layered brick wall of guitars and the relentless blastbeats of opener "Enlever" introduce the new form of Teeth. This manifestation is one of raw power and unyielding conviction, with Teeth applying constant pressure and never letting their foot off the gas. Yet, there are further layers to the band's entropic visions.
Being aware that an overwhelming approach on its own is not enough, Teeth meticulously set up the surrounding environment in brilliant fashion. The dissonant lead work spuns through the barrage of riffs in "Husk", letting a bitter sense to shine through. It is a disturbing moment offering a glimpse into the band's distorted viewpoint, feeling like a momentary lapse from the harsh reality of The Curse of Entropy. It is something that always affects Teeth's lead work and it really makes moments like "Dread" and "Vessel" appear that much more compelling. Especially in "Entropy", the slitherine movements that the guitars produce are truly sickening, moving almost out of sync with the stellar drumming to increase the dosage of cognitive dissonance.
The finishing touches of course come in the forms of breakdowns. Even though Teeth have left behind much of their slow-paced, heavy past they are still eager to produce moments of pure headbanging goodness. The breakdowns of "Wither", as the band subtly adjusts the pace introduce this notion, but it is something that becomes much more devastating later on in the likes of "Birthright." This constant, grinding progression feels like being hit by a shovel in the back of the head, and Teeth keep applying the same pressure that results in a monstrous explosion with a savage groove in "Cretin." It is this that puts the finishing touches on The Curse of Entropy, revealing the depths of Teeth's coherent vision of a brutal, technical and forward thinking death metal paradigm.