When I took my partner to her first heavy music concert, she was struck by how warm it was, by how quick people were to embrace after a spirited session in the pit, by how eager fans were to talk to one another about their patches, pins, shirts, or tattoos. After we left, she said that she couldn't imagine that kind of climate existing within any other genre. It's something I take for granted, after all these years, but a year with no shows has made it crystal clear how truly special the communities in hardcore and metal scenes are.
To outsiders, hardcore seems hostile, exclusionary, and dangerous. Once someone has attended a few shows, though, they realize that the culture of hardcore can be the most supportive, inclusive, and uplifting community one could ask for. Hardcore becomes a home for those who haven't found one elsewhere, for those who have lost theirs. For those who have found a place in hardcore, the genre means positivity, loyalty, and guardianship over the most vulnerable.
Ryan Butler is a musical titan, having played in a number of important metal bands and living in the culture for most of his life. In an interview with Cvlt Nation, Butler says, "I first discovered Metal really young in early elementary school in the early '80s from my friend across the street's older cousins. I was hooked on anything with a distorted guitar instantly. In the late 80's it led to me getting into crossover and starting to hear punk and hardcore.
"My parents were super overprotective but started letting me go to shows with an older friend when I was 15. Seeing raging punk and hardcore live just made me even more addicted. I had been playing stringed instruments in orchestra since 4th grade and messing around with guitar and bass before then. I jammed a bunch with one of my closest friends who would later do Wellington with me. I started playing in punk and hardcore bands as soon as I could get rides to practice and it's been chaos ever since. I've since toured the world and spent 15 plus years recording and producing records of all kinds. I've played with Landmine Marathon, North Side Kings, Unruh, Wellington, Structure of Lies, etc."
Though a mountain of a man, a formidable presence in any mosh pit, and a tower on stage, life has put Butler in a position of vulnerability over the last few years. He says, "Well, I'll try and keep it brief. In 96, my mom died from Wilson's Disease when I was 19 and she was 43. It was extremely devastating. I was always told to be checked for this super rare genetic disease and I always brought it up to doctors. In 2014, my platelets started showing really low. I met with this hematologist for years who my wife and I both brought up Wilson's to multiple times. He told us over and over that I didn't have that. A few years ago, I went into the hospital for water retention and they had no idea what was wrong with me. I started feeling pretty messed up often but often attributed it to getting older. In the spring of 2019, I ended up getting acute angle glaucoma from out of nowhere, which is really rare, especially for someone my age, and lost most of the sight in one eye. They had no idea what could have caused that except maybe genetics. They did a bunch of procedures and surgeries for the next six months and I would get sick for weeks every time they gave me antibiotics, anesthesia, anything. I even started getting cataracts between procedures. Super weird. They had no idea why. I went for my last surgery and I had a 103 fever and had no idea. They talked with me for a long time at the surgical center and told me something was really wrong with me and I needed to go get every test in the book. (Side note: Wilson's causes cataracts and major eye issues).
"I went to my GP and did everything under the sun, test-wise. They called me the week after my 43rd birthday, (my mom was 43 when she passed), and said my numbers pointed to Wilson's. I was obviously upset no one had caught this before. My hematologist called to book a bone marrow biopsy because he couldn't figure out what was wrong with me. I told them nope. Fast forward, I finally get with a hepatologist and he looks at my numbers and scans and said I was deep into Wilson's and pretty much definitely needed a transplant. By the time I got to him I was feeling so sick that I wasn't functioning well in life.
"It took almost a year and I got lucky enough to get a liver. I went through a zillion treatments and procedures and was on a $92,000 a month medication just to try and keep me alive until transplant. By the time one finally came in, I was pretty much toast. They had taken me off all meds because my liver just wouldn't process them anymore I could barely walk, eat, sleep or function, but had trouble getting out of bed. They definitely saved me in the nick of time, but it was an insane rollercoaster of a process, especially with Covid hitting right in the middle of it."
As they are wont to do, hardcore and metal musicians and fans nationwide answered the call to help one of their own in his time of need. In November of 2020, powerhouse bands such as Dropdead, Ugly, Exhumed, Goya, Lago, Sorrower, Pointbreak, and Fall Silent convened digitally to pay tribute to and raise money for a struggling friend. All proceeds from this powerful virtual festival went to helping Butler to cover medical expenses.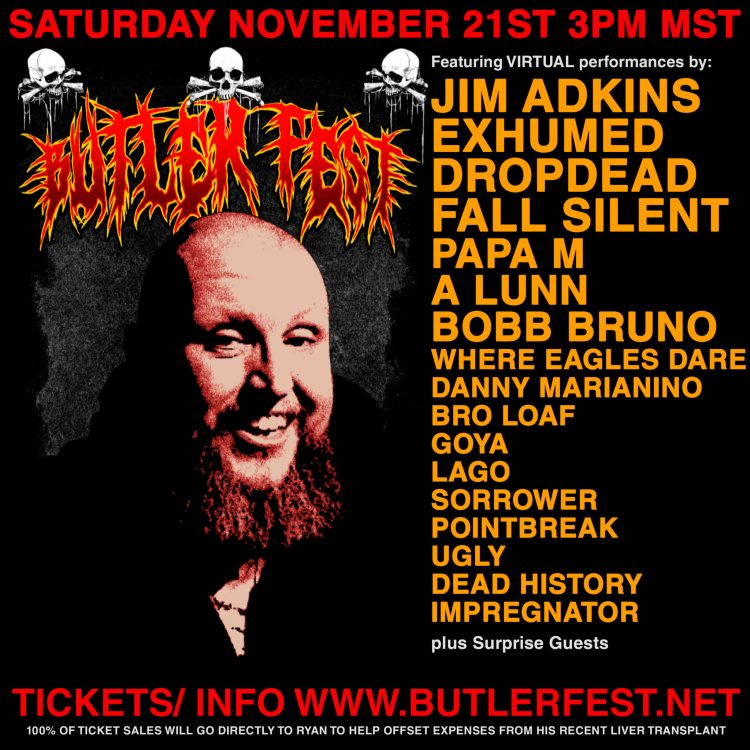 Regarding how Butler Fest got started, Butler says, "That was all Matt Martinez. He knows that I'm stubborn and independent, (just like he is), and would not ask for help. He set up the GoFundMe and the fest and honestly saved us financially, and he also worked closely with Michelle Donovan at the Nile as well as a number of amazing individuals. Just the costs of my wife and I not working for months on end were tremendous, not including all the stuff you have to buy, the medical bills, groceries, etc etc. We could have never done it without him and everyone's insane generosity. As far as the bands, he just went out to friends we knew from our long history in music. He got an insanely diverse lineup of such wonderful friends/amazing artists and it was a great display of the love within music in general."
A highlight of the fest–truly a highlight of any fest that features them–was Dropdead. Anyone who has seen the legendary Providence hardcore outfit knows that their performances are unforgettable. For three decades now, their brand of crusty, violent d-beat and raw punk has been redefining hardcore for a generation, literally, and any newer or younger band owes them a debt for their years and years of essential recordings and can't-miss live shows. The band, and particularly vocalist Bob Otis, have also never been afraid to speak truth to power and to defend the most vulnerable in society, whether they be victimized populations or animals in testing facilities.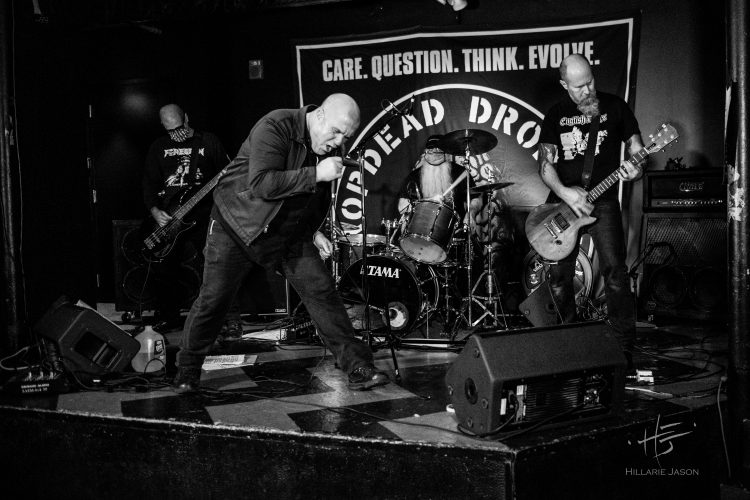 "I've been a fan of Dropdead since some of their earliest touring and records and always went to see them live," Butler says. "Unruh played a show with them on a huge tour they were doing, I think in 98, and they ended up staying with me for most of a week while playing Tucson and having some days off. I lived in a big house with punkers and indie rockers and we always put bands up. I definitely hit it off with them and have done a zillion things with them since. They're such fabulous guys and super caring, not to mention a face-ripping band. I'm so honored that they would even say a kind word about me, much less do all of this."
In an interview with Cvlt Nation, Ben Barnett, Dropdead guitarist and co-owner of the Boston and Providence Armageddon Shops, had plenty of kind words to say about Ryan Butler and the fest, as well as about the upcoming cassette of Dropdead's fest set, out through Mike Genz's King of the Monsters label.
"I first met Ryan by mail in the early/mid 90's," Barnett says. "I think he wrote to order some shirts and we corresponded a bit. It's hazy stuff from that long ago. We played with Unruh when we went through Arizona in '98. Mike Genz might have a better memory of that stuff, but we consider him AZ family."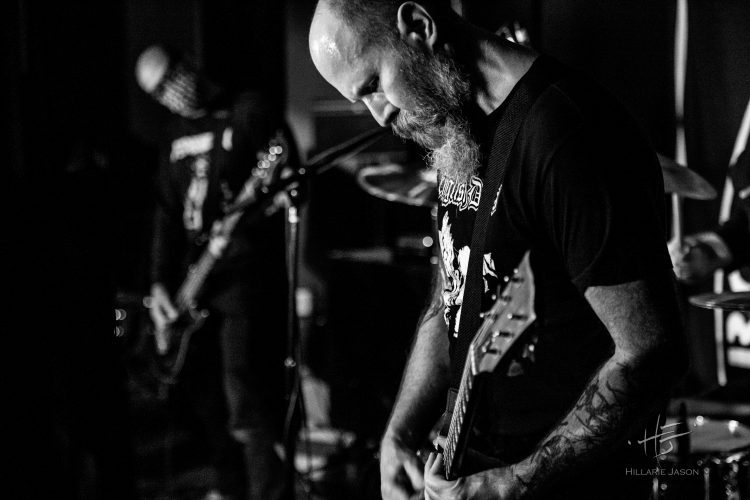 Barnett continues, "Mike, Matt, and Michelle Donovan asked if we would be down to participate in the event. We were happy to be invited to help out. Ryan and Unruh/Landmine Marathon have always been nothing but top-notch people from the get-go. Being able to help out was a no-brainer for us."
The timing of this festival was fortuitous for Dropdead fans, as the band had released their highly anticipated third album less than two months before. Dropdead 2020, their first full-length since 1998, is an evolution in their sound, drawing on more classic Massachusetts and DC singing styles, especially reminiscent of Siege–after whose demo Dropdead takes its name–SSD, Faith, and Void. The album also sees the band exploring some longer compositions, with four tracks nearing or surpassing the two-minute mark and "Book of Hate" surpassing the previous record-holder "What Once Was Life." While these changes, along with some more flexible shifts in tempo, might catch longtime listeners off-guard, Dropdead 2020 really shows a band that has matured into their sound but who isn't in a rut, a band whose legacy is secure but who is still experimenting and growing.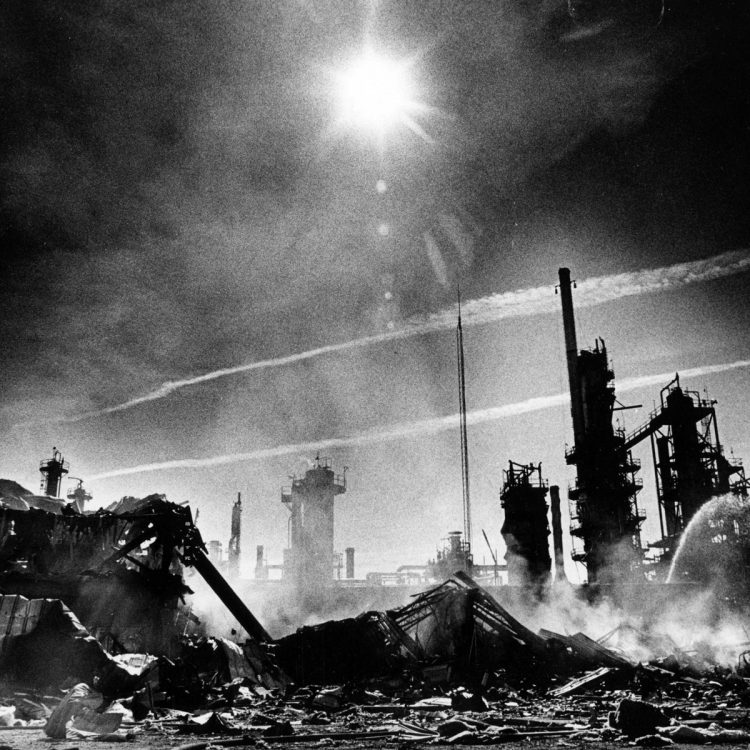 About the reception of the album and the inability to tour to promote it, Barnett says, "Most of the feedback has been positive. Some people don't like the new vocal approach and had complaints. We intentionally did something different so the lyrics could be heard a bit more. As for the touring to promote thing, we had a couple fests lined up that the pandemic canceled outright or have been rescheduled for 2022, but no tour was planned, so that really wasn't an issue."
The live set preserved on this KOTM cassette is not only an artifact of a very special moment in modern metal and hardcore, but it also shows the band in top form, playing these songs for the first time in a "live" setting while also playing many fan favorites. Barnett says, "We play songs we will have fun playing, plus 'the hits.' We usually try to mix it up a bit across the catalogue."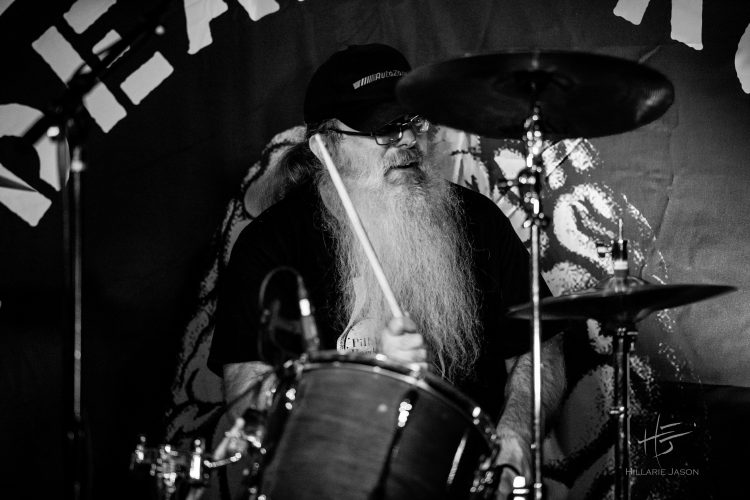 About future plans for Dropdead, Barnett says, "Bob is about to have knee replacement surgery on both knees back to back, so we will just be lying low for a few more months while he does that. We will be practicing in the meantime. Some things and possibilities on the horizon, but that's the next hurdle to clear for now. Represses of all the vinyl are in the works as we are out of them all."
In reflecting on experiencing the fest, Ryan Butler says, "Oh, man. It was really special. I had no idea what a streamed show would really be like, but it was so cool. I didn't know there was gonna be all these testimonials and Darkest Hour throwing a song on. When Matt told me the original lineup while I was still in the hospital. I was so blown away. My wife and I set the day aside and sat and watched it together and cried a lot, (I was on a lot of drugs). So many great musicians and friends and just such a great experience. The recovery process is, (still), really hard and that definitely gave me a happy kick in the pants. Changed my mood immensely for a long time."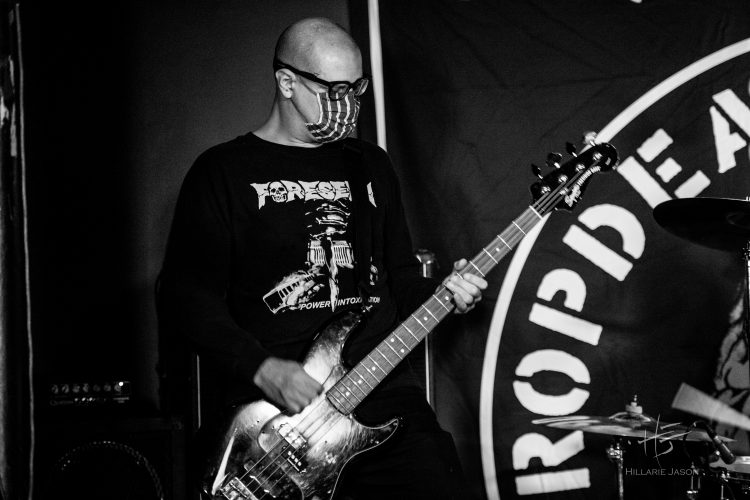 Asked for an update on his health, Butler says, "Well, it's up and down. It's about a year to recovery and I'm still battling a lot of tough things, but I've also made a lot of progress. I took two very easy and short mountain bike rides over the last month, which was a huge goal. I'm still battling the water retention and some other things but slowly progressing through them. I haven't been able to feel my left hand since surgery and my right goes numb every once in a while. I can't seem to get in to see a neurologist to address it, so not sure if I'll be doing much guitar work in the future
"Working for long blocks at a time can definitely be tough, but you can only go so long without doing that. It keeps you sane, too. I'm just grateful to still be here. These speed bumps are frustrating, but nothing if I look at the big picture. One day at a time!"
"I hope Ryan keeps getting better," Barnett adds. "We miss our AZ punk and metal family and hope people enjoy the live tape. Thanks to AS220 and all who helped with the video and audio, and Hillarie Jason for the photos. We're lucky to be surrounded by great people that can pull together to make good things happen."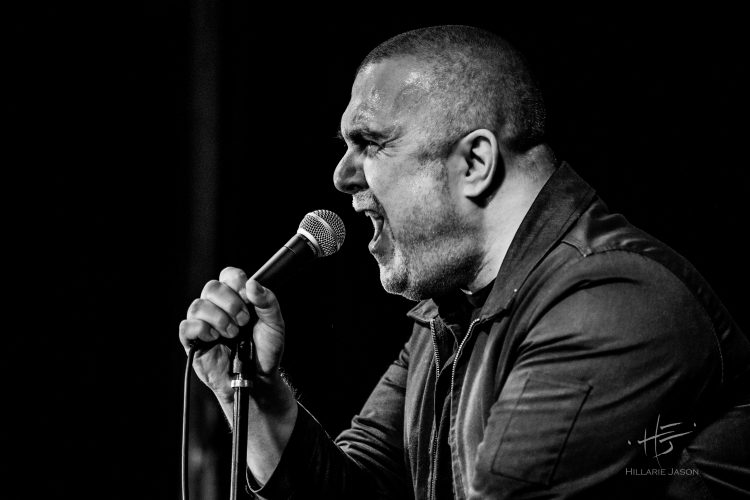 This festival and this tape are evidence of all that is great about metal and hardcore. These are people who have formed lifelong bonds through a shared eye for justice and a shared love for the catharsis that comes from loud, fast, angry music. The nationwide support for Ryan Butler proves what those who have been in music communities for a while already know: this is more than music; this is family. And you don't leave family behind.
Ben Barnett says, "This cassette is a small tip of the hat to both Ryan and Mike Genz (of King of the Monsters). Two humble and awesome people who have our love and respect. It's just a small thing to help out, and hopefully, people will grab one to help Ryan and his family out. The photos used are related to the Unruh killings from way back, just a subtle wink to the old days. Chris Corry was kind enough to mix the audio for the cassette release."
Butler agrees. "I don't think we can fail to mention the main man, Mike Genz, who is putting out this cassette. He's also been extremely supportive through all of this and is one of my oldest friends. I've known him since high school and, despite his tough exterior, he's just a big softie and I love him." Truly, it takes one to know one, as anyone who knows Ryan Butler will happily gush about the gentle giant's kindness and sense of humor.
In a time when the news will have you lose faith in others, events and community efforts like this are enough to stoke the flame of love for your fellow humans. It's a beautiful thing.
Pick up the limited edition Dropdead Butler Fest Live At AS220 cassette is available through King of the Monsters Records.
Audio and visual were by AS220.
It was mixed by Chris Corry.
Dropdead photos in this article were taken by Hillarie Jason.
Also consider supporting Ryan Butler by shopping at Heavylow Merchandise and/or contributing to his GoFundMe.