Though famous for its desert landscape, Arizona has, over the past few years, become quite the cultural oasis. With an ever-growing list of bands in the Arizona heavy music scene garnering national and international acclaim, the Sonoran Desert is experiencing a years-long monsoon of musical ingenuity.
Along with Bloodquest and Sycophant, one of the newest green shoots sprouting from the desert clay is Civilian Mind. Featuring Martin Miramontes Jr (Pointbreak) on vocals, Bryan Greenberg (Ritual of Decay) on guitars, and Ryan Walkney on bass, this straight edge sandstorm is a stern refutation to anyone who thinks that hardcore is dead. Their heartfelt, grab-you-by-the-collar compositions blend the sounds of Down To Nothing, Sweet Jesus, Carry On, Alone in a Crowd, Champion, Comeback Kid, and Drug Control, and this first EP promises that this band is here to add some extra vitality to this current movement of straight edge hardcore.
Vocalist Miramontes says, "Civilian Mind got started from me hitting Bryan up about doing some stuff along the lines of All Teeth. Although this went nothing that way, I'm happy it didn't. Shortly after the demo was written, I hit Ryan up about doing bass for us. We also started this band because we feel there isn't a big Straight Edge movement in Arizona like it used to be. We wanted to bring that back, in a sense."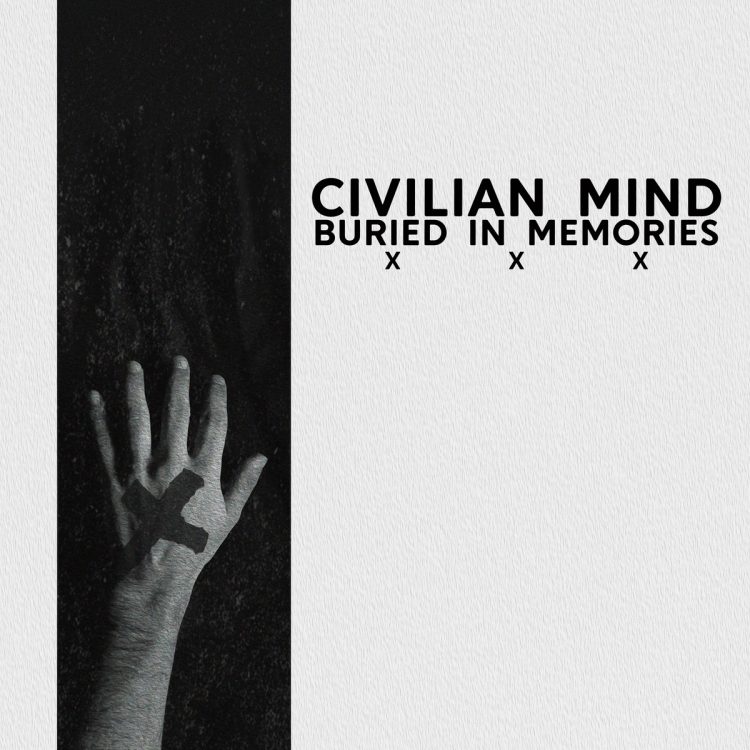 The band's eponymous first track is a roundhouse-inducing introduction to what this band is about: no-holds-barred hardcore immediacy and chest-thumping sincerity. The track "Civilian Mind," in under a minute-and-a-half, is enough to convince any veteran hardcore listener to add this band to their list of "must-see after quarantine" bands. It is no small task to communicate the ineffable, invaluable live energy through a recording, but Buried in Memories feels like it was recorded in a packed venue, before the world came to a halt, so vibrant and vivid is its sound.
Track two, "Where Do I Begin?" offers even stronger evidence that this band is the real deal. Breakneck compared to the mid-tempo breakdowns of the previous track, this song will have you circle-pitting in your living room until that beautiful day when venues book bands like Civilian Mind again. Melodic and urgent, the galloping youth crew sound of this track begs to be delivered to a stage-diving, fire-code violating crowd. Miramontes's vocals are intimate and truly felt. He says, "All my lyrics mainly talk about childhood traumas. They talk about the things I dealt with as a kid from seeing and dealing with abuse with a physical and verbal form." As with the best vocalists, Miramontes makes the listener feel as though they, specifically, are the person being addressed. They feel like they've been invited in to a private show for close-knit friends, one where guards are down and feelings are shared, one where catharsis is reached through full expression of the complex hardships of life. Greenberg's production choice to layer the vocals is a masterful touch that furthers the experience of community that these songs create so well, that feeling of community that, for many, is what hardcore is all about.
About community, Miramontes says, "I have been going to shows since I was 12 (17 years now) and I have seen a huge change in the scene. We have so many great bands from here that are active right now. We have Arm's Reach, Skin Ticket, Woundvac, Slow Descent, POINTBREAK, Beg For Life, and many more. As cliche as it sounds, the scene is more than a family."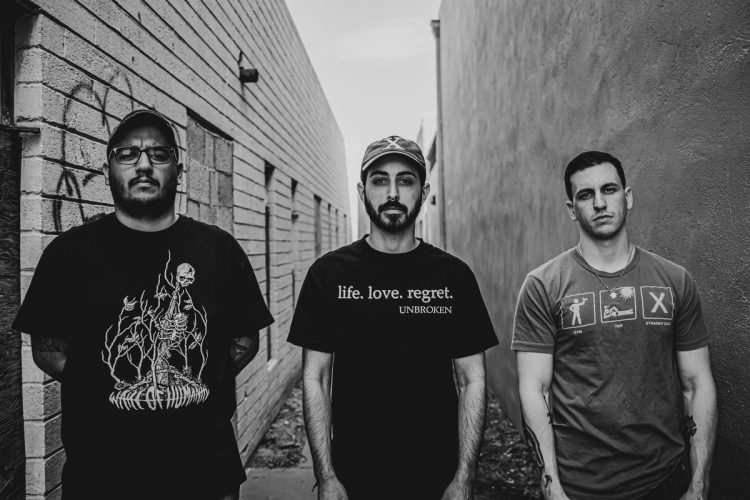 That feeling of family, particularly for those who don't truly have one elsewhere, is largely what makes hardcore so special to so many. This genre–and perhaps straight edge in particular–offers therapy, rehabilitation, for so many of us who have been damaged by life, by people we call family, and by drugs and alcohol. For so many straight edge fans who discover the genre for the first time, they find the power to make choices that can change their lives for the better.
Miramontes says, "Straight Edge to me means everything. It means I wanna have control of my life. It means I wanna be able to have fun without the need of anything to make me not be me. Knowing at the end of the day, my life is clean. I personally feel people are claiming Straight Edge nowadays without really doing it for the right reasons. People wanna fit in and feel accepted. But I also know a lot of people out there are doing it for the right reasons. We live in a world where people can't be themselves because someone will judge them for the choices they make."
There is nothing disingenuous about the music that Civilian Mind is making. Track three, the final track of the EP, is honest, personal, and philosophical. "Buried in Memories" is a fitting title track, as it represents the breadth of the band's stylistic fluency, shifting between melodic, beatdown, posi, and youth crew, all with total fluency and sincerity. On this track, Miramontes's vocals are more emotional, more confessional, channeling Scott Wade and Aram Arslanian. His lyrics, especially on this track, stand as a sort of mission statement for the band, ending the EP with impassioned conviction: "Straight Edge! 'Til I'm six feet deep!"
In no time, Civilian Mind ought to be catching the ears and hearts of any fans of early Atomic Action, Victory, Triple B, or New Age, and they should absolutely be spoken of in the same, intoxicant-free breath as straight edge bands like Year of the Knife, Struck Nerve, Incentive, Life Force, and Magnitude. This band is absolutely locked in musically, creating some of the best new hardcore of the year, and most importantly, using it as a vehicle to deliver meaningful messages that come straight from the heart.
About the future, Miramontes says, "We're not stopping anytime soon. This is just the start."
Buried Memories was recorded, mixed, and mastered by Bryan Greenberg. Pick it up now through Wide Eyed Noise (USA), Ugly and Proud Records (Europe), or Conviction Records (UK).