SKULL FEST Day Three Photo Essay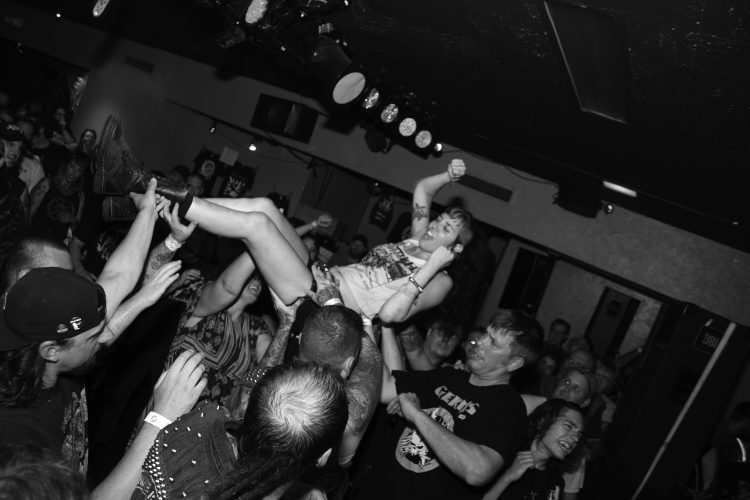 Photos: Em Demarco
DAY 3 – SATURDAY
I miss the record/vhs sale/bloody mary bar/breakfast burrito show featuring PREPPERS, UNSTITCHED & HUMANMANIA for the sake of slumber and sanity. Back at the Shop, I miss The Mud City Manglers & Axe Ripper and instead indulge in an Indian food buffet. If you ate the things I ate, you, also, would not be sorry.
I wake up out of my food coma as I stare at VIDEO FILTH and KONTRASECT, who both helped bring me back to life. I am sorry that I missed TORSO (I will one day remedy this) but had to be elsewhere to mess with the sound system for the outside "stage." I saw CAUSTIC CHRIST under what was a moderately well-adjusted star we call the "Sun" in an alleyway known officially to the city of Pittsburgh as Clement Way, and it was good. Six to seven years had passed since I last saw that group of humans play together in such a way, and it felt not like a day had passed. In that moment, I felt truly content. Their set ended and I high tailed it on my bike down the road to Cattivo to run the door for that evening's show (Sorry again for being late!). Money is taken, hands are marked, bands play in a basement approximately 27 steps below me. The gig sells out and I am able to view BEHIND ENEMY LINES for the first time since their breakup over 5 years prior. They play with the same fight and intelligence they have always had and sound just as good as ever. I saw CAUSTIC CHRIST and BEHIND ENEMY LINES in a single day (What year(s) am I living in and do any of these bipeds feel as perplexed as I do?). I return to my post. THE PIST from Connecticut play as I finish my duties. The show is still swelling with people enjoying themselves feeling as uninhibited as they perhaps ever have. THE PIST serves the same amount of energy as they put forth to them in their wonderfully aggressive set.
I pedal up the hill back to the Rock Room where yet another show is starting. I quickly exit the venue to make some much needed food for myself and the organizer of the show. I missed S.L.I.P., JAVLA and most unfortunately CRUELSTER, who are one of the best bands currently making and performing punk style music in the entire world. At some point, the show is shut down by the police. At some point later, we decide to go on with the show. PRISON MOAN not only play, but absolutely slay. Their set is one of the most memorable for me, of not only the night, but the festival. The late addition of SICKOIDS was one of my most anticipated sets of the night, and despite technical issues they played faster than most every band, giving sight to some truly incredible drum/bass syncopation . Local hardcore deviants CONCEALED BLADE ended the night in style creating a collective stomp that seemed almost cult like in it's following. I finish my hundredth whiskey and retire home to sleep a meager amount of hours before …
CAUSTIC CHRIST
CONCEALED BLADE
CRUELSTER
EEL
KILLER OF SHEEP
PRISON MOAN
SICKOIDS
THE PIST
TORSO
Enjoy this post? Donate to CVLT Nation to help keep us going!