GNOD IG
If you had to compare GNOD to a force of nature, what would it be and why?
Paddy: Gnod is a Supernatural force, no explanation has arisen to its meaning or probable consequences.
Let's talk about your LP, La Mort Du Sens, that's dropping soon. Can you tell us about the process that leads to its creation?
Paddy: We had a couple of new tunes developing our 2019 big band live set so we set out to record them over xmas 2019. We wrote the rest of the album on the fly. We worked on a couple of ideas that one of our drumbods Jesse had, one of those became The Whip & The Tongue, lots of double kit rhythms that Jesse and drumbod JP came up with were jammed on. Raikes, our live sound engineer, did a sterling job on the setup and recording. It was all live in one room and he had set himself up a cozy control room. We drank some beers and smashed it out.
What kind of mental journey do you want the listener to embark on as they blast your new record La Mort Du Sens?
Paddy: This is not a head trip record, to be honest. It's physical and aids mindlessness. Best to turn it up and get a bit stoopid.
Chris: Why did I buy this? Oh yeah!
What art movement has had the biggest impact on the way you see the universe and why?
Paddy: The Art of Bullshitting, the oldest and most influential art movement still in existence.
Chris: I dunno if there's a particular movement that's had a great impact on me as there are always good & bad things in any movement or trend. In visual art, I have always loved MC Escher & Bridget Riley. Fillipe Pantone is currently my favorite visual artist. The reason why is I love interlocking patterns and portals to other worlds.
How did the idea for the GNOD "Pink Champagne Blues" video come about?
Paddy: We got linked up with Foz from Heroin Skateboards a few years ago when a Gnod track ended up on Heroin DVD comp. Nice guy, the video was cool. "Pink Champagne" was crying out for an UNSANE – SCRAPE style video, so Foz linked me up with the Baghead Crew who made the video. I think it's great craic, they're all mad bastards, fair play to them. I don't skate meself but always loved the skate vids as a kid. Those skate vids introduced loads of heads like me to new music back in't day.
Was skateboarding a gateway into underground culture for any of y'all?
Paddy: See above.
Chris: Not really. I had a skateboard but cos I grew up in the 80s, skateparks didn't exist so I used to skate around the estate at the back of my house. It was newly built and had lots of smooth flagged and tarmacked pavements & walkways. We tried a few petitions to get the council to build a skatepark but they refused, saying they couldn't spend their money on fads! I've always love skate vids though. The only reason I played Tony Hawk's games to completion was so I could unlock & watch the skate vids.
Do THC or psychedelics play any part in your creative process?
Paddy: Nope never heard of them.
Can you describe your album Easy To Build, Hard To Destroy as a mind-altering substance what would y'all name it and what would be the effects?
Paddy: First cig of the day: a mild panic attack followed by a dash to the toilet to have a shit. Order is restored.
LABEL: Rocket Recordings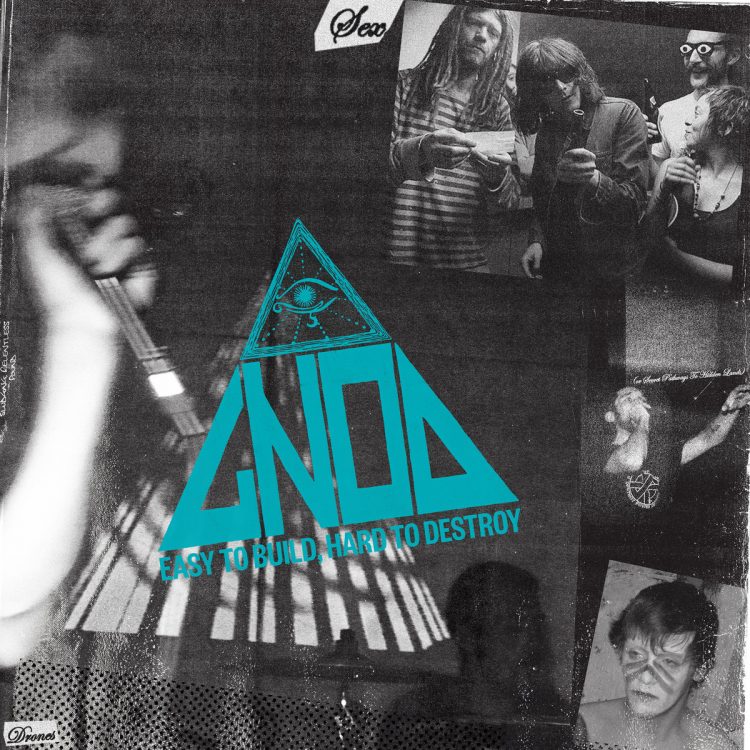 How do you translate your emotions and life experiences into the sound of the band?
Paddy: I have no emotions and zero life experience so that's a tricky one to answer honestly.
Chris: We don't really make that kind of music.
Do you ever go see UK Dub sound systems like Jah Shaka or Aba Shanti-I?
Paddy: Yes indeed, I used to go see Shaka for sure and mostly two local Manchester sounds, FREEDOM MASSES, and JAH YABBYS. Freedom is my favorite sound in town. BIG vibe. Iration Steppas, too, absolutely insane sound, but they are no Freedom Masses when it comes to vibe.
I know we're living in crazy times, so what do you do to keep your Mental Health on point?
Chris: Humour.
Does anyone in GNOD partake in the powerful experience of Meditation?
Paddy: Yes we have developed our own technique based on mindlessness, something I've touched on earlier. There's too much mindfulness in the world today so we are trying to create a balance. It's becoming quite popular as a tool. Mindlessness is not for everyone, though.
Chris: I'm a 7th level imaginationist.
If you could put three of your songs into a time capsule to be opened in 2060, what songs would you put in there, and why?
Chris: Who's gonna be around to open it?
Is there anything y'all want to say about your music that you have never been asked before?
Chris: How are you not deaf?