Anyone who has made the ill-advised decision to visit a comment section on a social media post focusing on grindcore has found themselves shoulder-deep in the decades-long discourse around grind gatekeeping. Lamentations are legion about the lost golden days of hardcore and the irrepressible influx of modern grind flavors that are deemed trendy, clout-chasing, or false. Once-pure grind from yesteryear has, one is led to believe, been polluted by too much metal, or too much hardcore, or too much melody, or too much groove, or too much production quality. If only one could wind back the clock to that narrow window of time when Earache truly focused on pioneering sounds in what would eventually become the grindcore genre instead of just reissuing classic albums year after year.
Fortunately for the toughest-to-please of modern grind listeners, they live in the same epoch as Horrible Earth. For a decade now, the Boston band has been executing some of the truest-to-form grindcore of our time. Boston has, deservedly, become synonymous with hardcore thanks to its decades of changing that style one subgenre after another, but even if Horrible Earth were the only grindcore band in Massachusetts, the power and passion behind their approach would be enough to put the state in the international grind almanac.
Having released an amazing career retrospective in the form of a 29-track discography through Horror Pain Gore Death Productions in 2020, the band re-emerged this year with Weakened By Civilization, a 17-track assault on the senses that does more to show in vivid vermilion how alive no-prefix grind is if one knows where to look. It is easy to get caught up in the negativity spiral that insists that grind today isn't what it was in the times of Nasum, Repulsion, Brutal Truth, Terrorizer, and Kill the Client. Meanwhile, Horrible Earth, with true labor union-approved integrity, persistence, work ethic, and calloused everything, has been putting in their dues to write and perform serious grind that doesn't take itself too seriously, punctuated as it is by a smooth jazz interlude and by well-timed samples about religious propaganda, ignorance of the populace, urban dischord, trepanation, and french fries.
With the bite and precision of a diamond-tipped power drill letting spirits out of a cursed person's skull, Horrible Earth approaches the classic grindcore sound with veneration and precision while exploring the creative potential within the confines of the genre in a way that few bands have, in a way that few bands could. Blastbeats, buzzsaws, samples, guttural growls, and punk politics blend into an arsenal of songs that, while invoking a specific era, resists comparison to any specific band, freely moving, song-by-song, through the stylistic field of grind legends like Napalm Death, Siege, Rotten Sound, Cretin, Pungent Stench, Carcass, and Insect Warfare.
Technical guitar and bass wizardry, heart-palipitating drums, and the willpower-shrinking shouts of the man-mountain Milionis, all combine to make this rarely-perfected genre seem effortless and, in truth, fun. With the skill of experts but the passion and love of amateurs, Horrible Earth shows on Weakened By Civilization that their 2013-2019 Discography was not, in fact, a look back on a career concluded, that it was, in fact, a look at the many years of workshopping that went into making the work of genius that it is.
Pick it up at Horror Pain Gore Death Productions.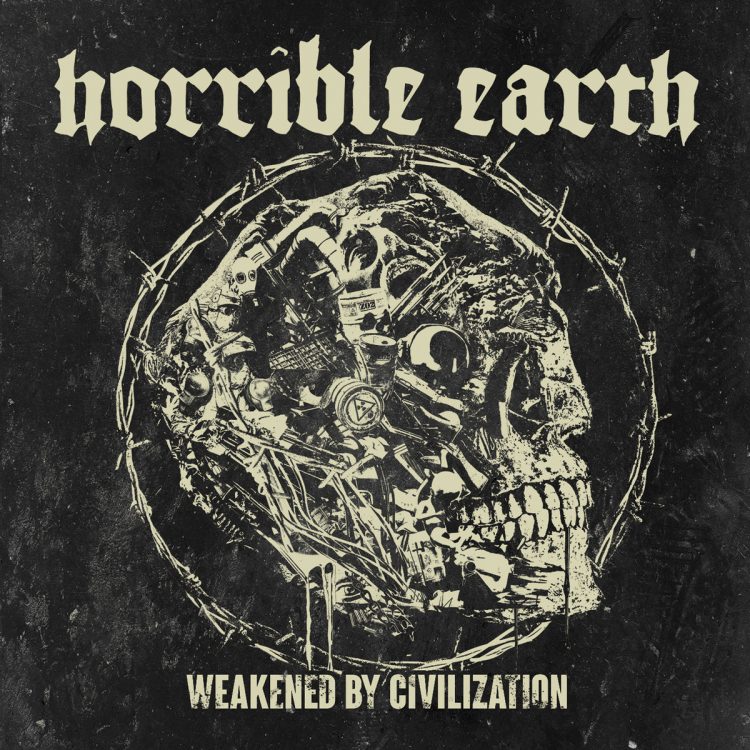 The members of Horrible Earth spoke to Cvlt Nation about Weakened By Civilization.
Please introduce the members of Horrible Earth.
Hi Evan, Frank Remick on Guitar, David Court on Drums, Alex Lynch on Bass, and myself, Stephen Milionis, on Vocals.
Weakened By Civilization marks the 10-year anniversary of your first demo. How would you say the band has developed and/or changed over those years?
Stephen: The short version? We keep getting faster, and that's on purpose. Personally, for me, it's been an awesome experience watching Frank and Alex's writing evolve since 2012, and with the addition of David and his blast beats, it's just been amazing. I just stand there in the practice room in awe of these guys and what they churn out.
Alex: Yes we have gotten much faster. As we have changed drummers three times, each evolution has headed into faster, more technical riffs.
What were some of the musical inspirations for this release? What about lyrical inspirations?
Stephen: We use a lot of the old school Grindcore, Hardcore punk, and Death metal for inspiration and as a blueprint for a lot of what we do. Lyrically, I'm usually inspired by whatever I've been reading lately and current events. My writing style is definitely influenced by Jello Biafra (I can't stop rhyming!!!)
Alex: For me, the musical place that I come from is always Nasum. Specifically, Human 2.0 from Nasum for this record. I felt that with the addition of Dave Court on drums, we could get to that velocity and filth.
David: I like that we all enjoy different styles of grind and other subgenres of heavy music. Steve likes early grind and hardcore, like Repulsion, Siege, Sheer Terror, and Discharge. Frank likes thrash and early death metal like Slayer and Morbid Angel, old-school thrash. Alex enjoys a lot of doom and instrumental bands but is the genius behind our punk-style riffs. I like hardcore in the styles of Converge and Integrity, and Grindcore, anything Napalm Death, Rotten Sound, or Suppression. 
This is your second release with Horror Pain Gore Death, following their 2020 release of your discography. How did you get connected with them, and how has it been to collaborate with Mike?
Stephen: I met Mike when we played Maryland Deathfest in 2018, and we just corresponded online after that. During the pandemic, we talked and came up with the Horrible Earth Discography, and we were all very happy with Mike and his effort in promoting the discography. It was an easy decision working with Mike again with Weakened By Civilization because Mike works hard at getting the music out there . . . a consummate professional, a heavy metal soldier! No Huss!
Alex: He did such a great job with the discography. It was a no-brainer to work with him again.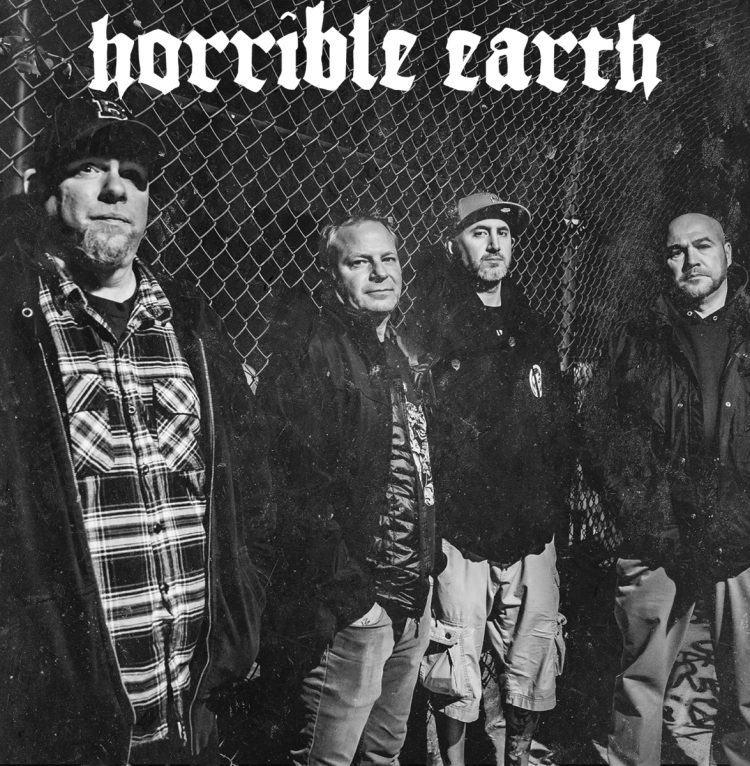 While Grindcore hasn't ever really gone anywhere, it seems to be experiencing a surge in popularity right now. What are your thoughts on grindcore's popularity and relevance right now?
Stephen: I think it's fantastic that there seems to be a popularity surge! Grab a friend and start a Grindcore band everyone (I especially like the rise of the two-piece Grindcore and noise bands . . . Awesome)
Alex: I feel that Grindcore speaks to the times right now. There is chaos and disorder everywhere. The mounting disasters and political strife are more acutely felt as we can be everywhere all the time with the sheer amount of information we can get online. A kind of flip might be grind fits the attention span of today.
David: The nice thing about Grindcore is all you really have to do is chaotic guitar/bass stuff, blast beats, and angry vocals. What's not to love? Ha-ha
As is often the case for underground art forms experiencing more mainstream success, there have been a lot of discussions about gatekeeping/quality control in Grindcore. Do you have a stance on that? 
Alex: Ha, no the kids are alright. I have no time for any kind of gatekeepers, etc.
Stephen: Gatekeeping in Grindcore??!!! Why would that even have to exist . . . bands and people starting bands, just keep doing what you're doing. Don't conform to a certain style or sound that fits the "Grindcore" mold (Ska-Grind? Shoe-gaze-Grind? Who cares?). I'm sure most people reading this know this already. The frauds that gatekeep always get exposed eventually and these weird scene police "Grindcore should be this…" elitists should maybe devote more effort in volunteering in their community or shutting the fuck up. I guess if gatekeeping in a Subgenre of heavy metal is all you have, it might be time to re-evaluate what you're doing with yourself.
David: Quality control?? Get the fuck outta here. There's high-produced excellence like Pig Destroyer and low-quality DIY production like Crossed Out, both bands highly appreciated, and styles of grind that should continue to exist. Grindcore isn't for nerds who want to make up rules, since both musically and lyrically it's more about being against the rules. But hey, if they want to start a nerd-grind band, I'll check 'em out. 
Boston mostly has a reputation for hardcore. Can you describe the Grindcore scene in the city? Who are some bands that deserve more recognition?
Stephen: The Grindcore scene in Boston right now is pretty good! Blast Shield, Brain Famine, Strictly Hip Hop, and Rotbus are doing some great Grindcore out of the Boston Area. If I missed anyone, sorry.
Alex: Boston, and Massachusetts in general, has a great heavy music scene. It's very much alive and well. We play mixed bills all the time and I am always pleasantly surprised with the depth of talent.
David: Hivesmasher all day deserves more recognition.
What should people know about Horrible Earth? About Weakened by Civilization?
 Alex: Horrible Earth is fun. We try and bring the heavy but you can't take yourself to seriously. That's what leads to the whole crossed-arms frowning guy thing. That's a bummer. Yeah, we want you to mosh and go crazy, but have a bit of fun too. 
Stephen: The members of Horrible Earth are dedicated to writing and playing Grindcore, Weakened By Civilization is our best effort yet but we plan to be around for a long time and we are already working on new material. Thanks to all the bands and friends that have been supporting us. We sincerely appreciate it, and you know who you are! We will be coming to a city near you soon, so please come out and see us. I promise I won't point out your crocs to everyone during our set . . .
 David: Weakened has opened our minds to a bunch of new ideas. I am excited about the direction it's going to take us. If you've enjoyed Weakened, the next one will knock your shitty crocs off. 
Is there anything else you'd like to say?
Please check out Alex Goulet who did our artwork and his band Apes, and a special thanks to Jon Taft at New Alliance Audio and Nick Zampiello at New Alliance East for making us sound great.