Melting Across The Bay
Full Sets and Live Review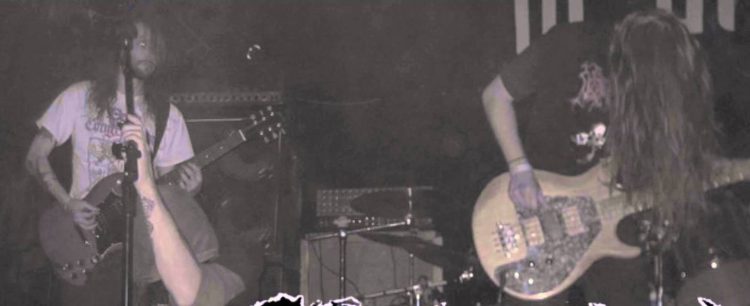 Melting Across America Tour was an offering of two of the best Underground Death Metal bands in the world presented by Signature Riff and Dark Descent Records, pairing Undergang from Copenhagen(((Denmark))) alongside Spectral Voice from Denver(((Colorado))). This month long hellride through America wrapped up in the Bay Area, strategically planned so that the execution of the new release from Killtown crushers Undergang was undertaken by Greg Wilkinson at Earhammer Studios in Oakland, California. Undergang is lead by a Dane named Dave, he is also the overlord at Extremely Rotten Records and has done artwork for tons of the best Death Metal bands in the world. I caught up with David to ask him if he was worried at all about the power of his voice for the recording he was about to do after their final show, and his response was, "I'm a professional." It is true, he is; and everything that he does is worth knowing about. I am a huge fan of Undergang and the style of extremely heavy groovy Death Metal that they create. I remember seeing their band in 2011 at Victory Warehouse and being blown away with their brand of destruction. Follow this hyperlink to see a video of that performance captured by one of the most prolific videographers in the Underground, Dan/KillThatCat, who was a huge inspiration for me to pick a camera back up to capture footage and document a scene that I am a fan of. Bone Sickness toured with Undergang in 2011. In 2016 Undergang picked up super shredder Sam Osborne formerly of Bone Sickness to play Bass with them. Sam has spent time playing in Demoncy, Funebrarum, Trepanation, Scolex, and several others. Much like David in Denmark, Sam is one of the busiest guys in American Underground Death Metal.
Spectral Voice are one of the Heaviest Death Metal bands on the planet. This is a band I have been following since their inception because of the people involved. Spectral Voice was formed by Paul Reidl, a very respected person in Underground Metal. Paul is the overlord of the amazing Underground Tape Label Woodsmoke, and one of the pioneers of the Cascadian Black Metal sound with his previous band LEECH and the legendary community that they cultivated in Salem(((Oregon))). I have known about this guy and been a fan that has followed his progression in Extreme Music over the last decade – from LEECH, to the incredibly HEAVY Merkstave and Ancestortooth, with Velnias, and in live HELL performances and now alongside Spectral Voice bandmates in BLOOD INCANTATION. Constant hustling has lead him and his peers to the forefront of Modern Extreme Music from Black Metal and Doom to Death Metal. It is no surprise that Paul is now in two of the most exciting bands in American Death Metal. This has been a long time coming, and it is time for the world to realize how great this particular time is for Underground Metal.
When I heard that this tour was going to be hitting Oakland and Sacramento, I knew that I had to make sure to catch Undergang and Spectral Voice.
Here's footage of both bands melting Across The Bay Area in Sacramento & Oakland:
In Sacramento, Minenwerfer was picked to open the show. Minenwerfer plays a traditionally catastrophic form of Black Metal. Featuring members of the bands Chronaexus, Lycus, and Larry David. It had been nearly half a decade since I last saw Minenwerfer perform alongside Kommadant, Black Fucking Cancer, Cyanic, and Killgasm at Burnt Ramen in 2012. I was looking forward to seeing them and they did not disappoint. Minenwerfer has a new new split coming out with a band called 1914. I captured footage of them performing their tracks, "Weisskreuz" and "Teufel mit Uns."
Atrament from Oakland(((California))) were tapped in to be direct support for this tour package on the stop in Sacramento. Since they are my buds, I reached out to them and they let me hop in their tour van and make the trek with them to play this evening. Atrament is a killer Black Death Punk band featuring members of Abstracter, Black September, and Caffa. Atrament is my favorite Punk band in The Bay. Here's their entire set from Sacramento:
In Oakland, Death Metal Titans NECROT were slated to set things off. The place was packed before they started playing and the energy was high all night. The really set the pace for an evening of punishment. David from Undergang has done a majority of artwork for all of the Necrot releases and they have been long time supporters of each other. Necrot was recently picked up by the finest active label in The Bay Area, Tankcrimes. This Death Metal trio is incredibly active and also spend time playing in Vastum, Mortuous, Saviours, Acephalix, Rude and Leather Glove. If you have been living under a rock for the last couple of years, here's your chance to familiarize yourself with the best Death Metal band in America – NECROT \m/
Enjoy this post? Donate to CVLT Nation to help keep us going!