With Dopethrone turning 20, it feels like a good time to explore the rest of the Electric Wizard records to see how their particular brand of monolithic horror-doom has developed. Today, we explore their developmental phase, Come My Fanatics.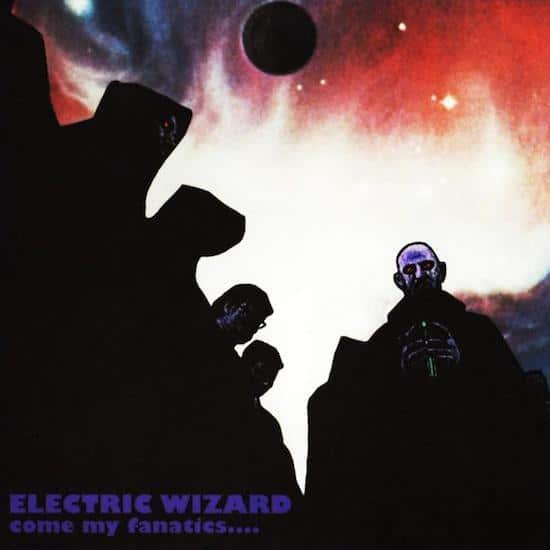 Their second record is more accomplished, noisier and layered more heavily; it's a touch heavier than that which came before it, if such a thing could be measured. Importantly, the ideas that were presented in Electric Wizard are better fleshed-out, and the line between psych and metal is blurred, the blend a little more effective.
Return Trip, kicking things off, is a growling, swirling monolith, a base layer of thick psych sludge over which a growling riff is scraped, achingly slowly. Fittingly the longest track on the album, starting things with a mammoth endurance challenge, it sets the tone as unyielding and antagonistic. They also play with film quotes a lot more here, adding an extra level of obscure horror vibes; this comes out of leftfield, and roots the listener in something more solid, snapping attention back just as the vocals come in, barely intelligible. These themes continue through the riffier Wizard in Black, which features Oborne's mournful howl a little more prominently. The film clips separate tracks out a bit, giving the riffs more of a sledgehammer quality when they snap back in.
Doom Mantia is a little more of a slow burn, the riff growling around some sharp, quick snarework. There's more of a psych feel to this one, although it's a little less ethereal than on their previous outing. When the vocals hit they come in through a heavy delay effect, accentuating the watery feel. Ivixor B/ Phase Inducer continues this theme, a slow grind with some ghostly, high-pitched vocals sitting on top of the mix; by the mid-point, its clear that there are a lot more influences working here, a lot more ideas which are floating to the top than on their previous effort.
Return to the Sun of Nothing harks back to some of the brutal caveman riffs before the previous record, uncompromising and spiky. Everything feels pretty loose throughout the album, but the playing on this one feels like it's barely held together, bursting at the seams with malevolent energy. There are some strange, almost synthy swooping sounds later on which add a little flavour to the cut and thrust of one of the more violent tracks, suitably rounding the sound out. Solarian 13 starts a little ponderously, before bursting into another trademark imperious riff. The separation between psych and metal is a little more pronounced here, leaning more into the interplay between guitars and the swells of the synth layers.
Demon Lung is a lot bouncier than anything else here; more fun, almost with the same sort of easy swing and groove as Orange Goblin or Clutch. There's a lot of swagger here, adding a lot of unexpected life to the last quarter of the album; it's the easiest song by far, breaking with the dour atmosphere previously. It does dissolve a little towards the end and the energy fizzles out when it loses the groove. This is recalled in Return To The Sun Of Nothingness, an odd uptick in energy that caps off the record. It's not especially jarring, but until now the mood has been distinctively negative, and the record – at least musically – ends on an unexpectedly high note.
A lot that works on this record is the successful marriage of all the old influences they had. When they bring in new things, like the bounce and swing of Demon Lung, they fall apart a little; this is a much more accomplished album and a more consistent effort, but in a lot of ways it's very much a consolidation of their previous efforts into something sharper.
We'll see later on what their efforts blossomed into: Come My Fanatics is a snapshot of a still-young band taking disparate elements and corrupting them, learning better how to weave their threads together into something darker, sharper and less bloated.