Punk was the first genre I ever became obsessed with and 80s hardcore was the lucid lifeblood that coursed through my veins as I began to form my worldview. I spent countless hours scouring record store bins, reading, researching, and trading information with anyone who could lead me towards a new obscure gem to uncover and covet. Despite all of my manic excavations, I never unearthed the eclectic hardcore sounds of Spike In Vain until Scat Records reissued their material earlier this year.  
Existing from 1982 – 1985, this Cleveland, OH band played the type of art rock-infused hardcore you would expect to hear on SST alongside bands like Saccharine Trust and the Minutemen or on a bill with anti-punks No Trend. On their sole LP Disease Is Relative, Spike In Vain incorporated elements of punk, post-punk, no wave, and deathrock without sacrificing an ounce of their desolate aggression. This balanced blend makes their avant-garde concoctions extremely potent for purists and art punk aficionados alike.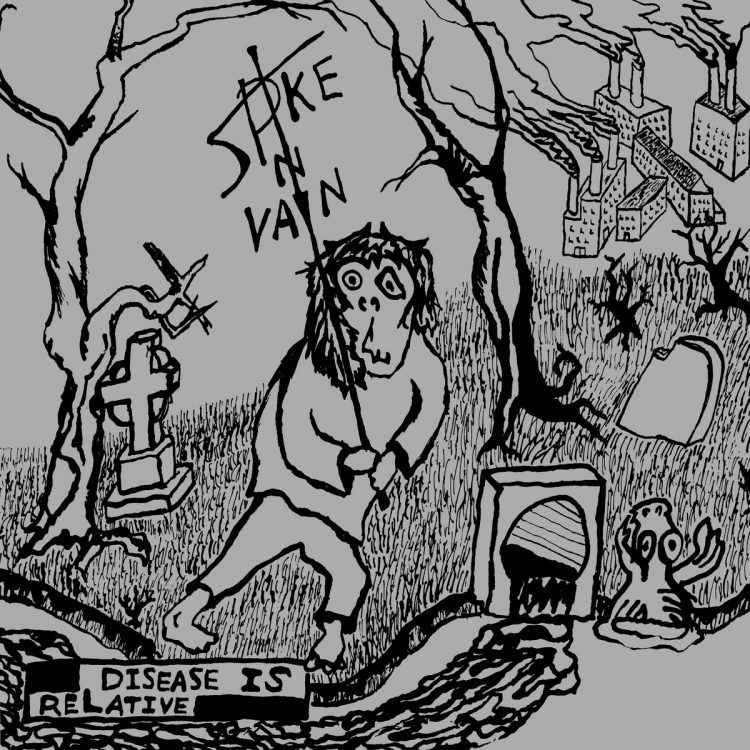 With most of their songs under the three-minute mark, Spike In Vain swiftly takes you through various midwestern hardcore movements that include Glenn Branca-inspired clang, angular post-punk rhythms, spazzy jazz guitar freak-outs à la Greg Ginn, and claustrophobic chorus tones that bring Part 1 to mind. The spoken word intro of "No Name" invites you to take a closer look at the lyrical content. Songs like "Disorder" read like post-apocalyptic poetry: "see the lines in my face fall to disorder and crawl like spider's legs to the dust in the corner".
From top to bottom, this is a criminally underrated LP that deserves to be heard. Remastered from the original tapes, the Scat Records reissue provides the definitive version at a much lower price than the original pressing from 1984. As if Scat hadn't provided enough of a public service already, they also pressed Death Drives A Cadillac, an unreleased Spike In Vain LP from 1985. This is the first time this record has been released in any capacity. The inventive arrangements remain intact, but they begin to also venture out into twang territory with songs that fall somewhere between the second Meat Puppets LP and Beasts Of Bourbon. This one may have a little less bite, but it is still worth every minute of your time.
Grab both records from Scat while you can!