One thing I love about Philadelphia is that it is not only one of the US scene's best kept secrets, but within its own scene, there are even better-kept secrets. DRIDGE is one of those secrets, and they're one of the best current bands you haven't heard yet. Want to know why? Well, I'd hazard to guess the answer is yes, otherwise you wouldn't be reading this. 
DRIDGE is a band that is hard to pigeonhole because they have so much going on, but let me make some comparisons to help. Their sound is an abomination, combining death/doom bands such as WINTER, GRIEF, CIANIDE, and AUTOPSY with post-punk bands such as CHRISTIAN DEATH, NO TREND, BAUHAUS, and PLECID. Hell, I even hear DRUNKS WITH GUNS in there. I once heard them described as "tricking goths into listening to Grief," which I found hilariously accurate. It's heavy, it's dark, dirty, mean, and it's got an ethereal edge and dancy quality at times, something not as common with your typical death/doom. Is it goth made by metalheads, or metal made by art punks? Who cares, because it fucking rips.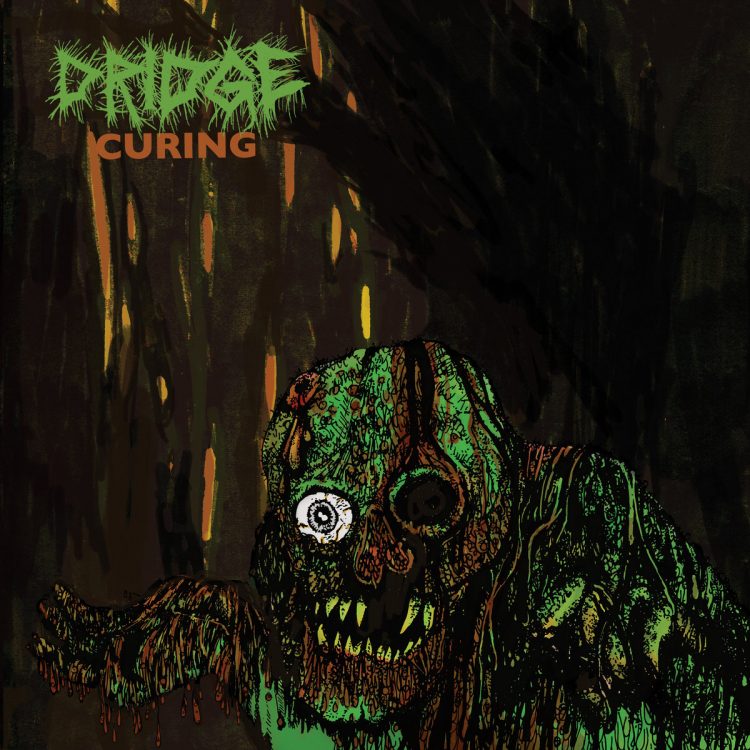 Their new LP, Curing, out on Philadelphia's own WORLD GONE MAD (home to HALDOL, BLANK SPELL, and other Philly stalwarts, in addition to bands from around the world such as HEZ and REPTOIDES), is a punishing trudge, taking the listener through sonic swamps of death and delusion. It's got riffs, and it'll keep you headbanging until your neck snaps. When shows become a thing again, this is one band you absolutely won't want to miss — that is if they come out to play more than once a year. 
Did I mention the band itself is shrouded in mystery? The photo included in this feature is the only one they'll release. I've only ever seen them play live once, and the only video I ever saw of them was so dark you'd think it was from a found-footage horror flick. In the internet age, where every band has an Instagram with their faces plastered all over it, this kind of reclusion is as refreshing as it is fitting for the band's sound. There are few true weirdos out there, but I know that members of this band are a part of that population.
Do you want feel-good jams to keep the party rockin' all summer long? Me neither. That's why I choose to listen to DRIDGE, and you should too.