DIY Dadaism…
When 80's Punk Posters and Flyers Ruled!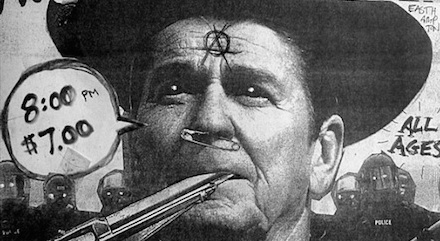 Usually when we would leave a show in the 80's, there would always be people standing outside handing you flyers to the next show, something that's lasted through the decades. One way to make sure people did not throw them away was by having killer art on them. Not only did many illustrators from the scene get their start from drawing handbills, other creative beings also got their message across using the xerox machine. Artists used these pieces of paper as a way to announce the next show and as a way to express their political beliefs. I'm not sure if many of the people creating xerox flyers realized they were manifesting their own DIY version of Dada art. When I contrast and compare these two forms of artistic expression, I can see the connection. I can also see the same creative spirit flowing through young heads that are making flyers in 2015. Punk does not die, it just get's weirder!!! These flyers take me down memory lane because I was actually at some of these gigs…Check out all of these rad punk handbills from the 80's.
via Flashbak
Enjoy this post? Donate to CVLT Nation to help keep us going!