SLOWBLEED IG Label: Creator-Destructor Records Bandcamp
What does a beautiful day look like to y'all?
Well as we speak we are in Austin TX for SXSW so I'm watching Scowl play twice today with a beer in my hand and a gang of friends. I can't fathom anything more beautiful.
I know we're living in crazy times, so what do y'all do to keep your Mental Health on point?
Most of the band is pretty into fitness, helps a lot. I'm super into cooking and cleaning when I'm stressed also.
How does the cover of The Blazing Sun, A Fiery Dawn convey the sound of the album? How important is the art direction and product design behind what y'all create?
We have always used religious iconography on the covers, it's a callback to growing up in a predominantly Mexican catholic hometown (Santa Paula, CA) I wanted this one to be a bit meaner tho. I sent the record to Ridge Rhine and he delivered. Even the inserts and album Merch really helped make for the feel. I used old Paradise Lost stuff as the reference.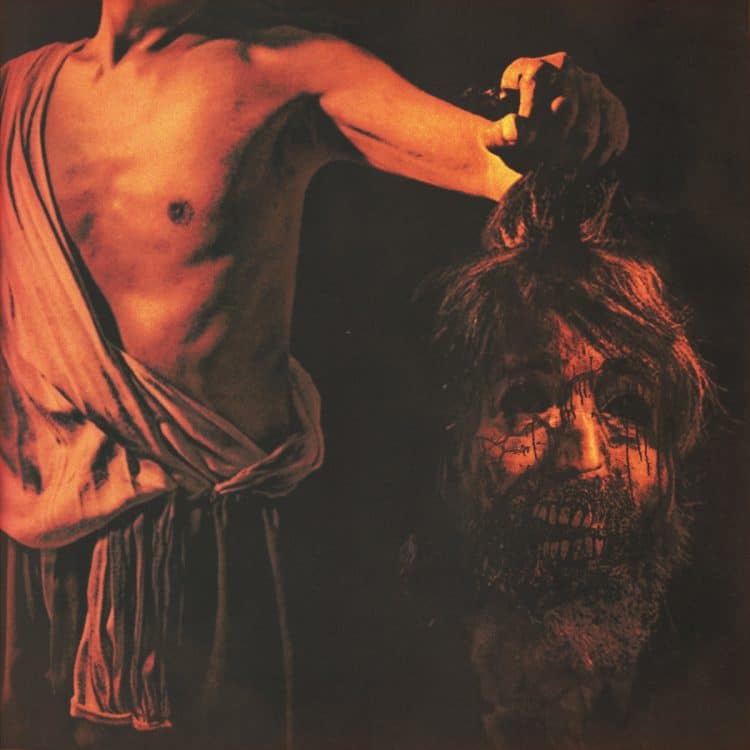 If you could put three of your songs from The Blazing Sun, A Fiery Dawn into a time capsule to be opened in 2060, what songs would you put in there, and why?
The Law, Hung At Dawn, Sangre.
What was the moment when y'all knew that SLOWBLEED was going to be a band? Why the name SLOWBLEED?
Well, Slowbleed was a project we recorded in our guitar player Logan's room, years before we were a band and I remember us arguing endlessly about the name but somehow that one just stuck.
If you had to describe the sonic energy of "No Shepherd (Of Wolves)" in terms of a historic seismic event, what would it be and why?
For the sake of satire… The Crucifixion.
What four albums have had a major impact on your creative spirit as a band? ⁃
Cowboys From Hell through Southern Trenkill. I have been best friends with the original three dudes in this band since the like 8th grade and Pantera was a staple in our friendship forever
I love y'all's song "Driven By Fire" — talk to us about how this killer jam came about?
We wanted to write a ballad so bad, like from the moment we started writing a record and I'm glad it worked. All the hardest songs are also the softest songs. Little know fact there was also an Alice In Chains cover prepared for this record
Describe SLOWBLEED's sound as a weapon of mass change or a superpower—what impact do you want to see it have on culture or our society?
I hope that it above all makes people stop and think. Think deeply about your own ego and insignificance on a universal level. We live on a dying planet, under evil leadership and we still spend our whole lives scraping for money we can't with us when our relatively short lifespan is up

How do y'all see the intersection between slavery, the destruction of generational wealth, housing segregation/redlining, underfunded Black and Brown schools, and the prison industrial complex reflected in our communities today? What solutions appeal to y'all?
I wish I had an answer to solutions, all I can do is continue to educate myself to grow closer to that answer. I feel society is on the presuppose of major change but majorly distracted. We use things like infographics and call it "change." Assuming we can fit an understanding of 10000 lifetimes of oppression into essentially a flashcard. It would take a whole interview to really get into everything I have to say but my voice isn't exactly the most important on the subject. I think that black and brown voices should be uplifted. I really just want to suggest a book that really affected me recently. "Blood In My Eye" by George L Jackson. It gives a peek into a world that I could never possibly understand.
Top 5 MCs, dead or alive?
Koopsta, Project Pat, Gangsta Boo, Pimp C, Bun B
Y'all got any shout-outs?
Big thanks to Ben at Creator Destructor Records for always seeing the vision. Thanks to Taylor Young for helping us make the exact product we wanted