Holy shit! In the unrelenting tsunami of Metal and Hardcore releases it's easy to forget that nobody has made a Grindcore record quite like Internal Rot's Grieving Birth in a long time, or if they have, it's slipped beneath the proverbial radar.
Internal Rot successfully marry their spiritual predecessors, namely Assück and Repulsion, into a unstoppable killing alchemy, but one could easily include a host of other influences, such as Siege, Extreme Noise Terror, Agathocles and of course Napalm Death as contributors to their sound. Their take on the genre leans more toward the Death Metal end of the spectrum but is unmistakably Grindcore in its heart. Only one song breaks the two-minute mark with some clocking in around thirty seconds. The two speeds Internal Rot typically employ is fast and faster. Every once in a while, they'll throw in some D-Beat just for fun, and only on the closer "Dolor" do they really slow down any further, finding a couple head-nodding riffs and riding them out for more than a couple seconds. Even then though, they find their way back to blasting quickly. And it is difficult to speak to individual songs, but for something like this, that's not a problem. This isn't Folk music, no singer-songwriters here.
Label: Iron Lung Records
Pre-order INTERNAL ROT Grieving Birth here!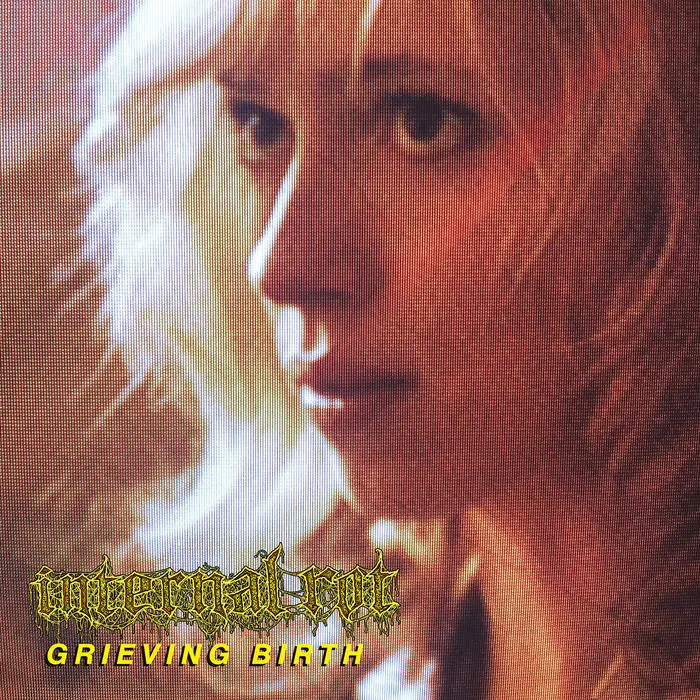 What immediately jumps out about "Grieving Birth" is the raw production. It's easy to imagine this is what the band sounds like live, like someone letting loose a pack of rabid wolves at a basement show. Opener "Transmission" sets the tone. No intros, no moody sounds or atmospheric keyboard swells, just instant Grindcore madness that's over before the one-minute mark. Then before you can catch your breath, the next song explodes from the speakers. One riff follows the next, each feral attack stacked upon each other.
Don't let the raw production or unrelenting speed fool you though. The playing here is top-notch. The drumming is superhuman, possessed of demonic blasting abilities and agile as shit in the turn arounds. The riffs are no joke either, often employing an early Napalm Death sound with power chords flying up and down the neck of the guitar. The vocals are reminiscent of the aforementioned Assück or even Nasum in their more Death Metal moments.
A lot of recent Grind bands have been pushing the boundaries on what's possible within the genre and have done a damn fine job of it. Cloud Rat and Immortal Bird immediately come to mind. Internal Rot on the other hand, are painting well inside the genre's established lines, but goddamn if they haven't crafted a masterpiece. "Grieving Birth" is paint-peeling and utterly exhilarating. If you don't love pure Grindcore this probably won't change your mind, but for the real hyperblasting freaks out there, this record is vital.