Blood Everywhere… Self-Mortification During Thaipusam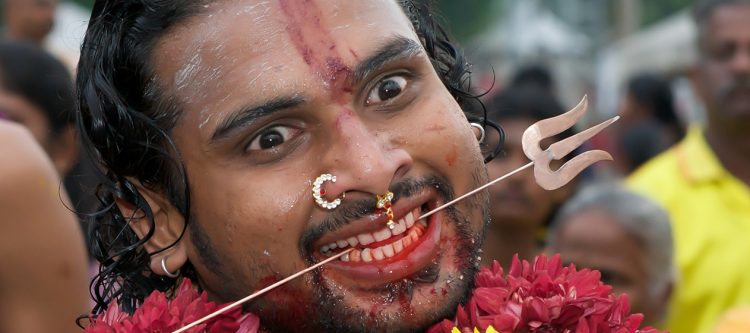 While teens in North America get their tongues pierced so they can give better oral sex (a ball on your tongue is not the key to that, btw) or just to annoy people, in countries like Malaysia, Singapore, India and Sri Lanka, Hindu devotees give up their tongues to Lord Murugan for his brave defeat of demon hordes, allowing their tongues and cheeks to be pierced by huge, decorated needles in front of a crowd of similarly bleeding people. Thaipusam is a festival that happens during the Tamil month of Thai, this year falling on Feb. 9th, where Tamil Hindu communities around the world celebrate with self-mortification in the form of piercing their flesh with large skewers and hooks. Lemons are often hooked into the flesh of mens torsos, as well as carrying structures called kavadi, multi-skewered aluminum sculpture which embeds itself into the bearer's flesh and can weigh up to 30kg. The bearers walk in processions of up to 4km, bleeding with every step, feeling no pain in their trance state. Looking at the images below makes the superficiality of western cultures so blatantly clear. Besides my children, my family and myself, what or who would I bear this kind of pain for?
Enjoy this post? Donate to CVLT Nation to help keep us going!