This year has challenged us all to follow our passion for music and performance in a different way. For Sean and I, that meant finding a way to recreate the sustenance we got from live shows, as best we could in a world that insists on keeping us apart. For artists like AMENRA and TREHA SEKTORI, it meant finding a way to create a virtual vehicle for their creations that would move the audience without the physical energy their sounds carry in person. We were lucky to have Treha Sektori agree to capture an absolutely stunning performance for our CVLT Nation Live series, and Amenra delivered an absolutely blistering and heart-rendering performance for the European Metal Alliance online festival. Both videos went dark immediately following the initial stream, but today we're excited to share that they'll both be going live once again for their collaborative 'Le Cercle' live stream event on December 12th, 2020 at 11AM PST | 2PM EST | 8PM CET. I've heard of the haunting beauty of the Amenra set, I've witnessed the unforgettable vision that Treha Sektori conceived, and I'm waiting on bated breath to watch them together – you should be too, so make sure to get your tickets here. The trailer for the performance is below, as well as another special announcement from Amenra about their upcoming Fall 2021 Tour with Japan's ENVY and the UK's Jo Quail – check out the info for that at the bottom of the post. I'm wondering how much longer I can go without shows in my diseased hometown and if I maybe need to find my way to one or more of the dates on that tour! For now, I'll stick to my living room live stream setup and continue to learn to astral project myself into the performances I'm watching from home…
AMENRA – European Metal Alliance stream
On a summer night this year we all came together on a meadow in our hometown, Kortrijk, to play our latest album, MASS VI in its entirety. This recorded performance was as a part of the European Metal Alliance online festival, and was the last concert we would be playing with our bassplayer, Levy Seynaeve. For one last time the circle of that AMENRA era was complete. We would now like to provide you with another opportunity to view this memorable meeting of friends. It was only us, and a crew of extremely talented friends. The sparse natural setting, special light set-up and drone footage makes for a unique concert experience like never before. 

A link to be replaced in this chain of strength.
A circle of fire to be drawn over and over again.
TREHA SEKTORI – CVLT Nation Live stream
Proximity despite distance. While giving birth to this new piece of music, the idea grew to honor the sacred nature of the Horizon. To face Nature's torn flesh. I joined forces with my brethren of L'Homme Sauvage Festival, who made it possible to film on their unique and magnificent grounds in Auzas, South of France during the summer of 2020. Commissioned by Cvlt Nation, directed and edited by William Lacalmontie, mixed and mastered by Tim de Gieter.

A gathering in absence.
AMENRA announce Fall 2021 headline tour dates throughout Europe. AMENRA will be joined by Japan's ENVY and UK's Jo Quail. 
We are really looking forward to hitting the road again after this vast period of "nothing". No one of us ever expected our livelihoods and passion to be taken away from us for so long. I think when everything goes back to normal at some point, everyone will appreciate it all a lot more. I know we will. Being on the road together means the world to us, seeing our friends worldwide, visiting your cities. To seek inspiration abroad, in all your cities, your countries… Fatum nos Iunget.
– CHVE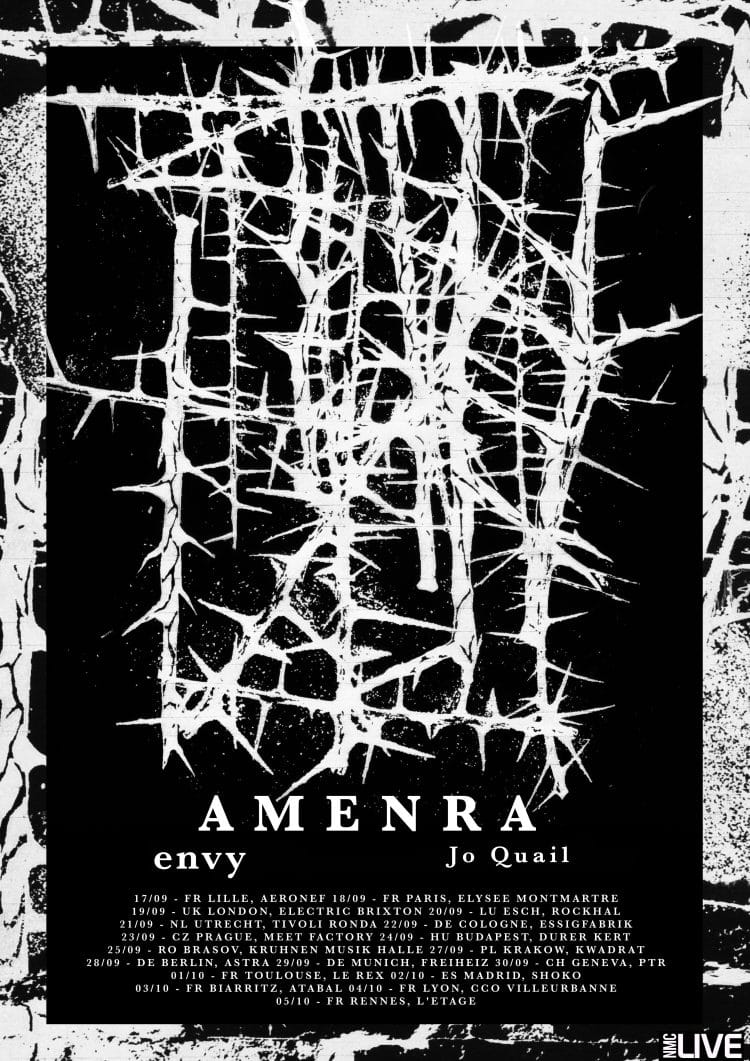 AMENRA Tour Dates:
All Dates w/ ENVY & Jo Quail
17/09 – FR Lille, Aeronef 
18/09 – FR Paris, Elysee Montmartre 
19/09 – UK London, Electric Brixton
20/09 – LU Esch, Rockhal
21/09 – NL Utrecht, Tivoli Ronda 
22/09 – DE Cologne, Essigfabrik
23/09 – CZ Prague, Meet Factory 
24/09 – HU Budapest, Durer Kert
25/09 – RO Brasov, Kruhnen Musik Halle
27/09 – PL Krakow, Kwadrat 
28/09 – DE Berlin, Astra 
29/09 – DE Munich, Freiheiz 
30/09 – CH Geneva, PTR
01/10 – FR Toulouse, Le Rex 
02/10 – ES Madrid, Shoko 
03/10 – FR Biarritz, Atabal 
04/10 – FR Lyon, CCO Villeurbanne
05/10 – FR Rennes, l'Etage