Japanese bands have a special knack for taking genres that originate elsewhere, that dominate elsewhere, and making them totally their own. Perhaps being an island nation creates a musical culture wherein these styles of music can be cultivated, where they can gestate and grow into something totally innovative and uniquely Japanese. Just like Boston Hardcore, just like Swedish Death Metal, any genre that gains a foothold in Japanese soil becomes its own monster. There was Western grindcore, and then there was Bathtub Shitter, Flagitious Idiosyncrasy in the Dilapidation, Unholy Grave, and Self-Deconstruction. Noise was totally redefined by Masonna, Merzbow, Hanatarash, and Gerogerigegege. Doom metal found new expressions in Corrupted, Church of Misery, and Boris. And while hardcore is often considered an American artform, enthusiasts know that Japan has been producing powerful, influential hardcore since 77, with Japan's S.S., G.I.S.M., and The STALIN being contemporaries of Black Flag, The Middle Class, and Bad Brains. Bands like Acute, GAUZE, The Comes, Aburadako, Kikeiji, Tetsu Arei, S.O.B., Disclose, Zouo, Crow, Judgement, Lip Cream, Framtid, Systematic Death, Death Side, Bastard, Anti Septic, Inzest, Ikkashinju, Kuro, Confuse, and Googol Plex are classics of 80's-90's hardcore that belong in any American or European punk library.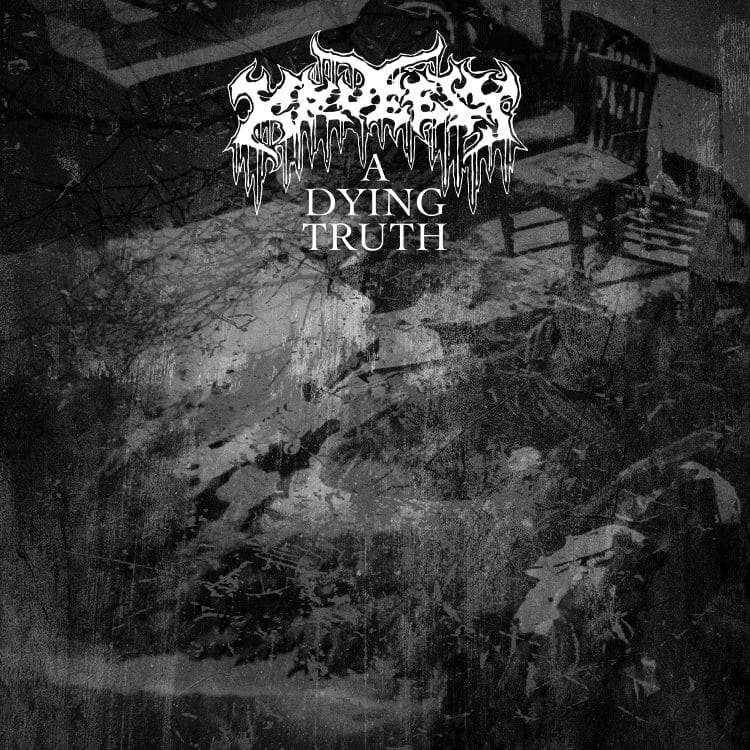 Along with powerviolence behemoths Fight It Out, it's time to add Kruelty to the pantheon of Japanese hardcore bands who show Western bands where they are slacking. Forming in 2017 and bearing balaklavas and bandanas, Kruelty have wasted no time in establishing their own brand of beatdown hardcore, drawing on elements of death and doom to create a sound totally their own. They name One Second Thought, Swear to God, Straight Savage Style, and the Japanese Second to None as influences, as well as Asphyx and Coffins, though one can also hear some Death Before Dishonor, Madball, Terror, All Out War, Merauder, and World of Pain in their take on angry, tough-guy punk.
Kruelty's debut full-length A Dying Truth shows a band honed by years of live shows, splits (with Moment of Truth, Mirrors, Universe Last A Ward), and an EP. Taylor Young (Nails, Twitching Tongues, Eyes of the Lord, Disgrace) was the perfect choice to run the mixing board, as he honors all the death and doom elements of this band's sound while maintaining the irrepressible, righteous punk energy that really takes center stage on this album. An ominous, funereal opening sample, guttural vocals, and buzzsaw guitar tones give Kruelty an instant death feel, but the snare and ride cymbal are an early indicator that this album is replete with breakdowns. A Dying Truth is a godsend for rough moshers, as the riffs alternate often and compellingly, beckoning the listener to stop what they're doing and start picking up change and throwing spin kicks in your local coffee shop or DMV. There is never a dull moment in listening, but this is a band that deserves a live audience. Did I mention breakdowns? In "Ancient Words," after an opening of tremolo picking that would sound at home on a Cannibal Corpse album, it switches to a galloping, snare-driven section that breaks down further before speeding back to the opening riff. That's right. This album has breakdowns of breakdowns, where one feels like the tape reel has been slowed and all the jaws are being broken in quarter-time.
It sounds like lip service to call this band a mix of brutal death and beatdown hardcore because those terms have been around for long enough that they are somewhat divorced from their own descriptors. It is worth emphasizing that on A Dying Truth, Kruelty plays a brand of death metal that is truly characterized by old-fashioned, axe-to-the-head brutality mixed with hardcore that is for tough people beating down other tough people. These songs are long, with all but track 2, "Definition," landing at over 4:30 and with most clocking in at over 6 minutes. That said, there is no fat on these. The diversity of tempos and styles means that A Dying Truth never gets stale.
With some of the toughest riffs on the globe, Kruelty deserves a planet-wide fanbase. A handful of Hate5Six videos has likely stimulated some more international recognition, and A Dying Truth will doubtlessly earn this hard-hitting, hard-working band more listeners. Although we can romanticize the time when one might only hear about GAUZE or Gerogerigegege through zines and a cassette that's a copy of a copy of a copy, hardcore and metal fans can be grateful that this music is a click away.
Kruelty's A Dying Truth is out on CD/Digital on March 4 through Daymare Recordings, and on vinyl this April through Profound Lore.