This is the trillingest trilling album I've ever trilling heard. So much trilling, in fact, that it completely distracted me from just about everything else Spirit Possession was doing on this album as a whole. Also, in fact, it made me sort of hate the record at first. But as I sat with it, other factors began to set in, and I got a deep understanding of just what exactly, I think, was going on here.

Of the Sign…, the second full-length from this dastardly duo, brings together S. Peacock (of Ulthar, Mastery, and Pandiscordian Necrogenesis) and A. Spungin (Vouna, Ormus, and Taurus), who weave an unholy concoction of Black and Death, with lots of Thrash and Trad seasonings, and yes, plenty of trilling. Peacock provides the gutturals and the strings, Spungin provides the drums and the handmade synthesizers. Their first record was a bit rawer (hard to believe) while their second offering tends more towards the epic while still staying true to their bleeding and brutal roots. It's sort of like climbing a majestic mountain but making sure to stop off at every cave entrance to sup from their dank and diseased waters on your way up. The view from the top is magnificent, but you never forget the earth beneath your feet.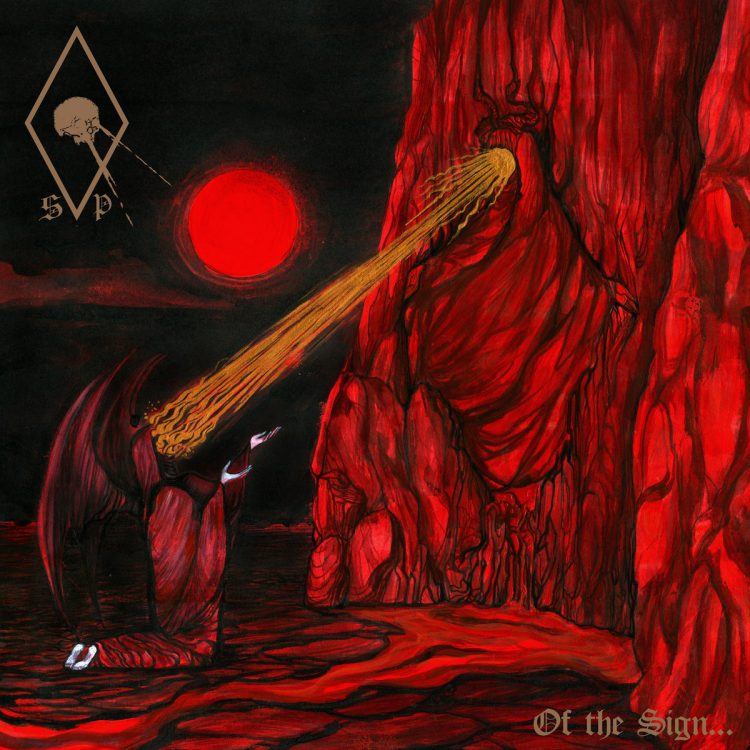 Songs like opener "Orthodox Weapons" are a prime example of what I'm talking about. Trills send chills and then cascade into an avalanche of icy riffs, all jagged and slicing, cutting to the bone. Those wild and evil vocals kick in and the whole thing is a chaotic mess, a jangle of noise. And just when you think you're lost in the maelstrom, about two minutes in, this galloping riff comes to straighten your ass right out and get you back on track. The drumming is simply pummeling, relentless and cavernous, echoey but tight as hell. And so it goes, all the way through the entire record, lots of insane leads and trills and knifing riffs, offput and reset by moments of Trad and Thrash.
Then there are those small, sometimes slight, Celtic Frost moments, with the guttural burp followed by that dark, cold riffing and plodding that made CF so remarkable in the first place. These are added here and there as spicy asides, used to at once tame the madness that is swirling all around, and to set the pace for what is about to erupt. Moments of respite are few, such as the title track, coming in at barely over a minute long, providing some atmospheric ambiance and serving as a lonesome, forbidding cry. As well as the outro track, "The Altar," which sort of lets you slide out of oblivion and back into the real world, brain and guts forever rearranged. Everything tumbles and tosses and streaks like lightning towards penultimate track, "Enter the Golden Sign," where it all coalesces into one remarkable glob of spirited cacophony and chaos, punctuated by those Celtic Frost grunts and those maddening trills.
Gotta say, it took me a while to like this record. But I'll be damned if they didn't win me over. At some point, all of the riffery and chaos and trilling began to coalesce and make sense, and then the headbanging started. Not an easy one to love, but once you do love it, you will hold it close to your heart. Dark, insidious, maddening, Spirit Possession have made a trillrific album that really stands out amongst the hundreds of new releases that come falling out of the skies every few weeks. Enter if you dare, for you shall not exit unchanged.