Louis Wain… The Schizophrenic Cat Man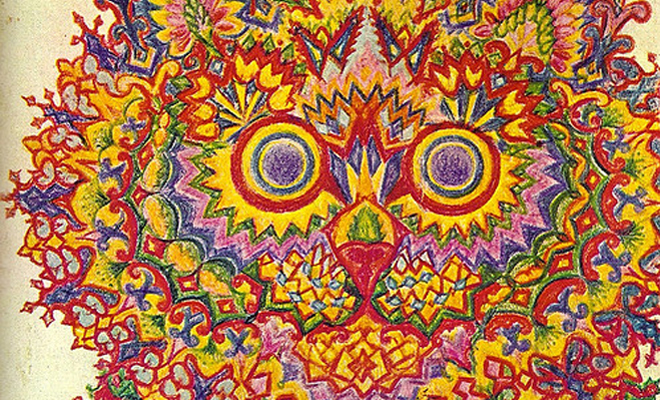 Schizophrenia is the subject of ever-developing theories and treatments; many say it's a disease of the mind, while others say that our society is not set up in a way to understand it, or allow for its participation in our culture as a gift rather than a disease. It's fascinating to have a glimpse into the mind of a schizophrenic person through artwork, and I feel that when looking at a schizophrenic artist's work, you sometimes catch glimpses of the gift. One very famous artist whose afflicted mind was captured in his work is Louis Wain – his cat portraits are straight out of the LSD playbook, but he drew them in the early 1900s. What began as cute anthropomorphized kitties for his dying wife's amusement and made him a respected illustrator of books and postcards at the turn of the century, became kaleidoscopic, psychedelic cat gods, almost aggressive in their use of color and pattern. This is what your cat looks like on acid.
Enjoy this post? Donate to CVLT Nation to help keep us going!