For a decade, Midwest brawlers Purgatory have been helping to define metallic hardcore for a new generation. With their releases combining the sounds of crossover and hardcore acts like Biohazard, Hatebreed, Merauder, Leeway, and Terror with the American death metal of Obituary, Dying Fetus, Vio-Lence, and Cannibal Corpse, the band quickly established itself as an important voice in moving the entire hardcore genre forward. Following up their fantastic and broadly-acclaimed debut Cold Side of Reality, their new LP Lawless To Grave builds on everything that has earned them their scene-wide respect and their dedicated fanbase. One of the most uncompromising hardcore releases in years, Lawless To Grave delivers metallic hardcore with a muscular, fearsome, and vengeful power that feels very real and very personal. If the listener thinks back to a time when they went to their first hardcore show, a time when they felt simultaneously unsafe and totally exhilarated, this record will bring back that feeling. Are you tough enough for Purgatory?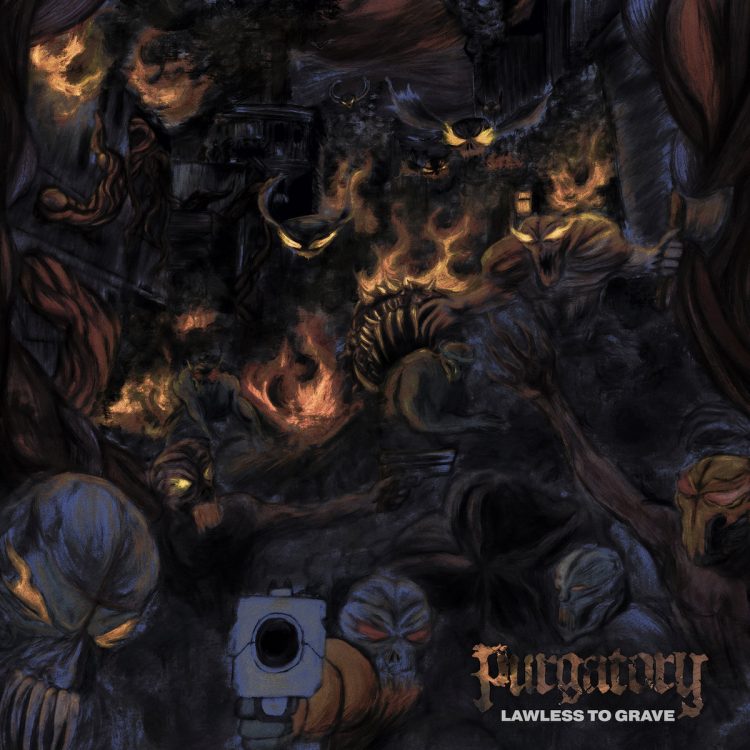 Brian Thompson's chilling monologue as the Night Slasher in Cobra is an appropriate mission statement for Purgatory's skull-perforating LP. "We are the hunters. We kill the weak so the strong survive. You can't stop the New World. Your filthy society will never get rid of people like us. It's breeding them! WE ARE THE FUTURE!"
Purgatory and their brand of menacing, knuckle-clenching metallic hardcore are the future, and with the unrelenting, tough-guy beatdown of Lawless To Grave, they are bound to usher in a generation of admirers and imitators. Along with like-minded hardcore innovators in bands like Kruelty, Carried By 6, Struck Nerve, Watcher, Whispers, Reserving Dirtnaps, and Faim, Purgatory is leaving its bruised and bloody mark in the forehead of the music world.
In an interview with Cvlt Nation, vocalist Matt Anderson introduces the band: "Purgatory is comprised of Matt Anderson on vocals, Josh Mata and Brian Pilla on Guitar, Tito Richmond on bass and Collin St. Mary on Drums. As far as active side project bands go, Josh is in a band called Skin Ticket from Arizona and Collin is in a band called Infamy from Milwaukee. There are some other projects we're involved in, but those ones are currently proactive."
The band grabbed the world's attention with their debut LP, Cold Side of Reality, in 2018, and they have shown no signs of slowing since that release sent ripples through the hardcore world with its melding of classic hardcore and death metal sounds into a barn-burning uproar that makes the listener want to tear a police station down with their bare hands. That album left much excitement and high expectations in its now ferocious fanbase. On following up such a successful debut with a sophomore album, Anderson says, "CSOR definitely had a very awesome and rewarding response, it was very fun watching things naturally happen for that release. We try and not set any expectations for things aside from delivering hard, real music we believe in and stand by. There's a bit of a contradiction in that belief stemming from CSOR to Lawless To Grave in the sense that with Cold Side we essentially wrote that record in a weekend. we love that record but it didn't have the capacity to harness a lot of what we wanted to write and capture the direction we arrived at now. So with Lawless, the mindset was to write and dissect every single song and take time and write exactly what the fuck we wanna write. Zero expectations, just write music that comes from all the shit we deal with and feel and capture as much of that through writing as we can. We want to put out the hardest, rawest, realest shit we possibly can, so moving forward with this writing process compared to last was give it time and make sure it's what we want as a band."
These five musicians have found a special hardcore chemistry. A highlight in an album full of highlights is "Can't Stop Our Reign," whose mid-tempo, palm-muting, and death-trilling is supremely fight-inducing and really deserves to be some unbeatable UFC fighter's entrance music. The breakdown will cost concert-goers their orbital sockets, and as these fans-for-life are escorted to the bar for ice, they'll be serenaded by the album's wild-card interlude: Robert Palmer's "You're Gonna Get What's Coming."
Anderson says, "The writing process for Purgatory is unique because we're spread out as a band. Three in Indiana and two on opposite sides of the country make for very strong creative influences and the need for great communication and drive. Me, Collin, and Brian physically spend every Saturday of every weekend together, sometimes more, writing and working on ideas while we might be on a call with Josh or Tito hashing out shit. Or we Prepro everything and send ideas back and forth over demos. When we meet in person as a unit, we spend every second we can punishing out these songs. Musically, we are influenced by all the classics that hold very true to our band. Cold as Life, Stout, Stigmata, Merauder, 100 Demons, Biohazard, all that stuff, and then all the metal we listen to: All Out War, Dying Fetus, Deicide, Morbid Angel, Crowbar, Pantera. There's are these little things from all of it and far beyond that help drive direction because it represents a feeling. When we listen to certain things, it makes us feel a certain way, so shuffle that dynamic into our creative process. 'Yo I have lyrics written for this and want the music to match it like this…' or we have a part we jammed on and it has a certain vibe, so I balance lyrics off of that specific feeling to coincide with what the song is about. Lyrically, there's so much hate and frustration on this record. It's like a vein pulsating with aggression, ready to burst. When the world offers so many things we disagree with, it makes for easy writing. Religion, political injustice, crooked cops, racism, suicide and depression, friends turned to enemies, forced ways of thinking that you end up lashing out against, living by our own fucking rules. Lyrically, it's a no-holds-barred onslaught against the whole fuckin world and every person in it."
Purgatory's music and the irrepressible, reckless moshing it inspires may be responsible for the shutting down of venues when shows resume. In the meantime, these songs will have you putting holes in drywall and playing chicken with trains. This teeth-grinding hardcore, with the seething anger that drives every moment of it, gives the listener the feeling that they've had an accidental stick from an epinephrine needle.
Anderson continues, "You see so much shit around you all the time. Terrible, terrible stuff. You have lie after lie spewed at you and so much manipulation to back it up. Society just eats that shit up and follows blindly. We don't. We think how we want, which is why so much shit pisses us off. After a while, you reach a breaking point and can't and simply won't ignore all the shit going on. It drives you to be hyper-aware and almost makes you feel like you're insane because of it. We address it because it exists and we acknowledge it. It's about being real and living by your own code. Again, we live by our rules."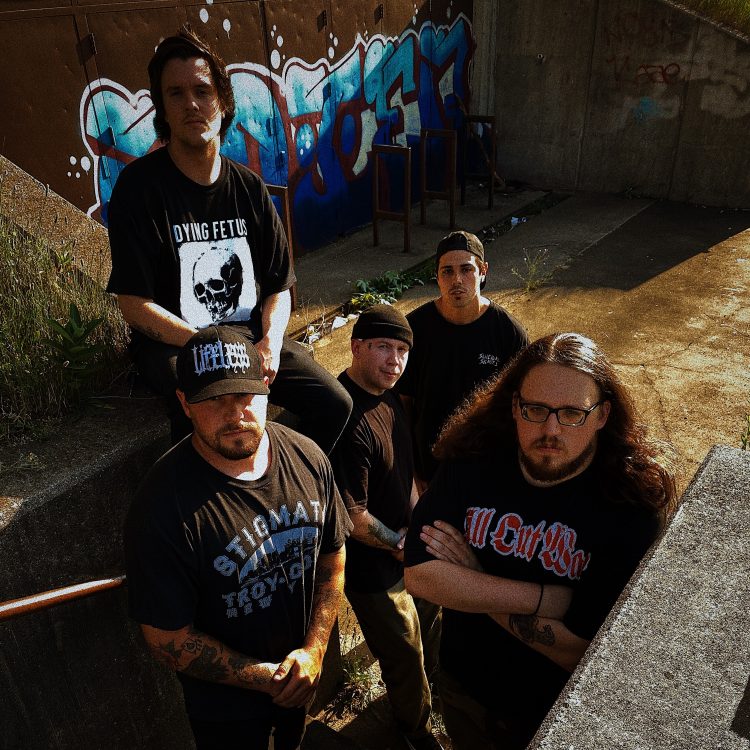 One aspect of a hardcore band's resume is their time paying their dues. Bands who have agents and riders and tour buses from their first single smell like industry plants and will struggle to earn the favor of longtime hardcore fans who consider a DIY ethic an essential ingredient in a band's ethos. Purgatory has been putting in the work for longer than one would expect, considering how much their sound defines the current state of the genre.
Anderson says, "We've been a band for 10 years putting in our work playing in the shittiest, sweat-filled, piss-soaked basements to venues that hold 3,000 plus people. The main drive is our endless grind. We literally never stop. We're always writing and looking to stay fresh and creative. Constantly pushing to be better and better and excel as much as we can as musicians, friends, individuals, etc. We weren't given the gift of being handed anything, so we keep pushing. That's contributed to us slowly rising each year. Having people like Buddy at Unbeaten and some other people certainly helps. The ability to have our music distributed worldwide plays a massive role in us being heard everywhere and having the chance to record at some of the places of our choosing obviously helps. We still have a strong DIY ethic, and anyone who's been a day-one can tell you that's not even up for debate."
The "Buddy at Unbeaten" Anderson mentions is Buddy Armstrong, head of Unbeaten Records and also member of bands Stigmata and Substance. Lawless To Grave is Purgatory's third release through Unbeaten. That and a look at Unbeaten's list of releases is enough to prove that this label is responsible for some of this generation's most important albums and bands in hardcore.
Anderson says, "Buddy Armstrong, the man behind Unbeaten, deserves nothing less than endless respect from everyone. The dude is a fuckin OG from a scene everyone wants to pretend to jock now, has had his ear to the street for decades, and has been grinding with his label for 5+ years now. He's given attention and brought attention to bands people may have not heard much of before, and he's one of the biggest reasons we've had a lot of our dreams become realities. He has an appreciation for us as a band and looks out for us for both his sake and ours as well. We speak on a very regular basis as homies, and as a businessman, he invests in his bands and puts in the work. An underdog label that's slowly become a staple name as far as labels are concerned. I just can't say enough good stuff about the guy as a friend and as the boss. Tha Don of Unbeaten Recs, I have eternal love and respect for the guy."
In vocalist Matt Anderson's own words: "Lawless To Grave is Purgatory. It's controversial and in your face. It's brash, raw, aggressive, angry. We're not afraid to speak our mind and act on our intentions. We don't intend to try and fit in or bend to someone else's thoughts and views just as we don't expect anyone to bend to ours. That's the whole point: think how you want. That doesn't mean you can live a life without consequence due to that, but as the saying goes . . . rather die on my feet than live life on my knees."
This truly captures the emotional impact of this band. This band, just like this album, is an unstoppable force. Either get on board or get out of the way, because they are only going to get stronger after this juggernaut of an LP.
Asked if he has anything else to say, Anderson simply says, "Final words? Put some respect on our fuckin name. Lawless To Grave – Forever Unbeaten."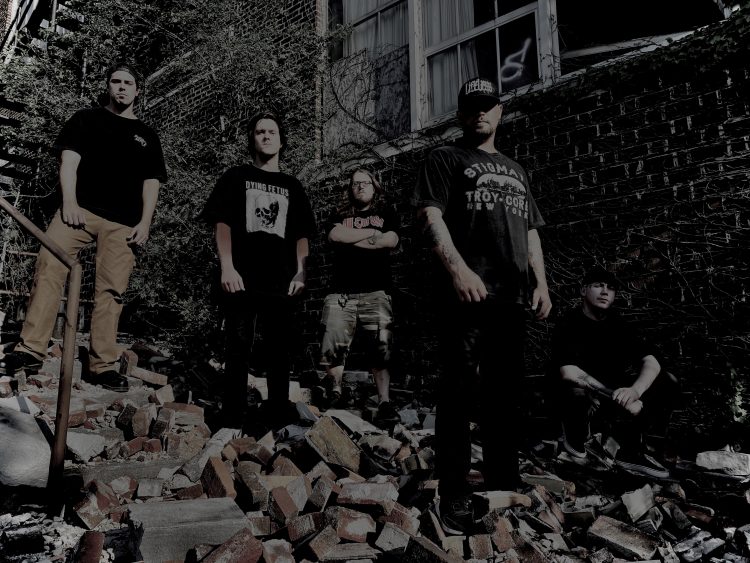 Purchase Lawless to Grave and Purgatory merch here.
It is out through Unbeaten Records.
It was recorded at Landmine Studios with Len Carmichael.